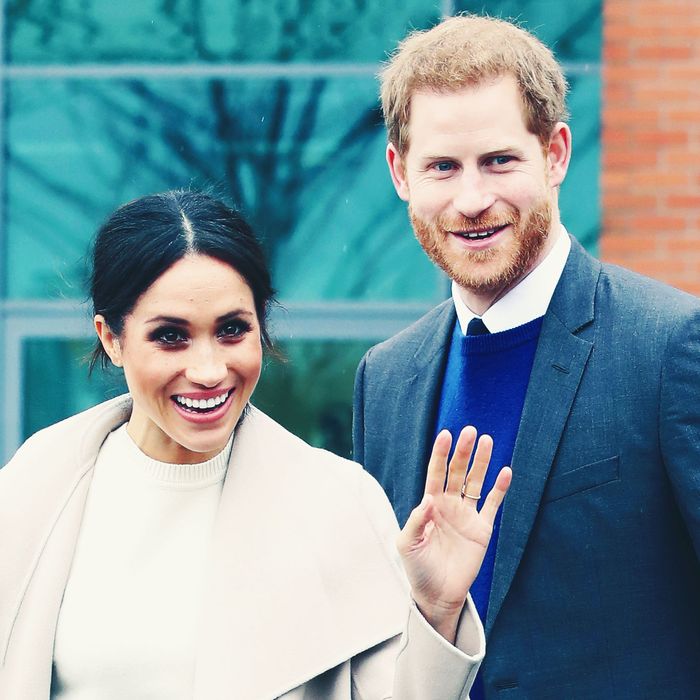 Meghan Markle and Prince Harry.
Photo: Chris Jackson/WireImage
We already knew that Prince Harry wants to have a baby with his soon-to-be wife Meghan Markle, like, yesterday. But guess what: It turns out Meghan wants to have a baby pretty much immediately with him, too. What a random coincidence!!!!!
In a stunning turn of events that has presumably blown your mind (I hope you're doing okay, but do let me know if you need any emergency medical assistance), the (future) royal couple reportedly has some big baby-making plans in the near future. According to a report from the Mirror, Meghan and Prince Harry are planning having kids "within a year" of their upcoming May 19 wedding. Per the Mirror:
A pal said: "They're desperate to have children as soon as possible, they're hoping it won't take long."
On top of that, Meghan's friend former agent Gina Nelthorpe-Cowne revealed in a new Sky documentary — Harry and Meghan: A Love Story — that screened in the U.K. on Wednesday that Meghan really wants to be a mom. "She said to me, 'I would absolutely love to have children, and I can't wait to be a mother,'" Nelthorpe-Cowne said, per the Daily Beast.
All of this, of course, comes shortly after Vanity Fair's Katie Nicholl divulged Prince Harry's desire for a family. "My sources are saying that Prince Harry, particularly, is very keen to start a family, pretty soon after the royal wedding. He's made no secret about wanting children," she said in March.
Honestly … thank goodness for this news. We were wondering how to function as humans in the world after the royal wedding is over and we no longer had anything to look forward to, but now we can just patiently wait for Meghan and Prince Harry to make a baby for us all to enjoy. How great for us!