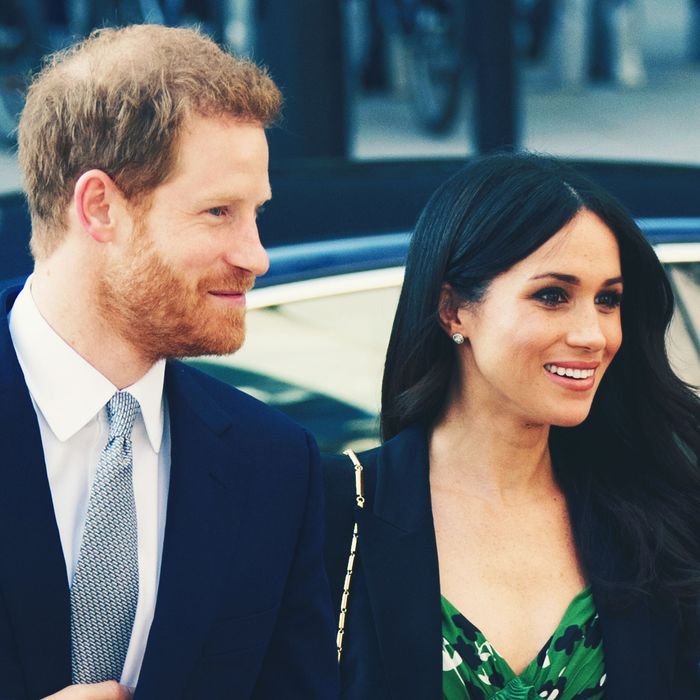 Prince Harry and Meghan Markle.
Photo: Samir Hussein/WireImage
Didn't you find it to be incredibly rude when Kensington Palace took its sweet, sweet time announcing the name of Kate Middleton and Prince William's third child, thereby torturing all of us? Well, the Palace redeemed itself on Friday, when it finally announced almost everything we've been dying to know about the upcoming May 19 wedding of my best friends Meghan Markle and Prince Harry.
From who will be walking Meghan down the aisle to what's actually going to be happening during the ceremony, here's what we found out from the Palace about the most important day of all our lives:
Meghan's family will play a big role in the ceremony.
While we all know that Meghan has unfortunately been cursed with an extended family that loves to say impolite things about her in the press, Kensington Palace has made it quite clear that her non-evil relatives are being embraced by the royal family and will play a big role during the day. Her mother Doria Ragland will travel with Meghan by car to the chapel and then walk her into the church, while her father Thomas Markle (yes, the one who was caught reading a picture book about the U.K.) will walk her down the aisle. Very sweet.
Princess Diana will be honored during the ceremony.
Prince Harry has made sure that his late mother, Princess Diana, will somehow be involved in his wedding day. According to Kensington Palace, all three of Princess Diana's siblings will be there, and Lady Jane Fellowes — her sister — will be giving a reading. "Prince Harry and Ms. Markle both feel honored that Lady Jane will be representing her family and helping to celebrate the memory of the late Princess on the wedding day," the Palace said in a statement.
Guests will start to arrive around 9:30 a.m. on the day of the wedding.
The lucky 600 people who were actually invited to the wedding (we're still waiting on our invitations, Meg!!!!!) will start to arrive between 9:30 and 11 a.m. in the U.K. the day of the wedding. So, that's 4:30 and 6 a.m. EST, which means we'll all be up quite early to watch all of this unfold if it turns out we aren't invited.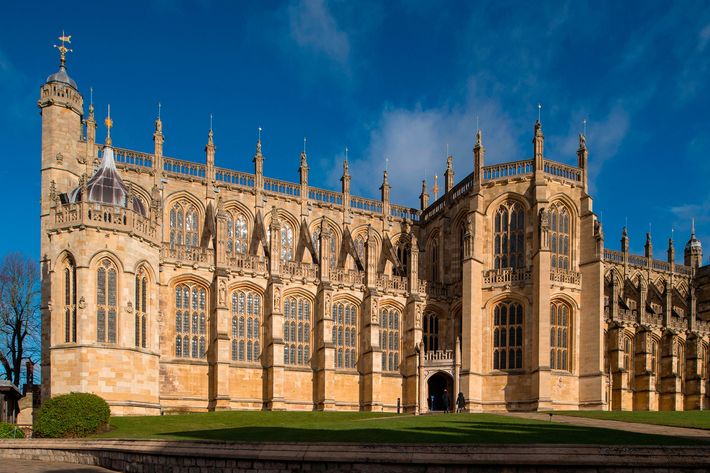 But the royals won't be arriving until later.
Of course the royals will be arriving last to this wedding! The Palace says they'll be showing up at St. George's Chapel, Windsor Castle around 11:20 a.m. (6:20 a.m. EST), and that some will be arriving by car while others will be arriving by foot.
Then, Prince Harry and Prince William will show up.
Prince Harry and his best man/brother Prince William will show up after that, probably on foot. They will acknowledge the people gathered around the wedding, as well as the 200 invited charity representatives.
And then … Meghan!
If we're being honest (and you know we are), we're mostly just excited to see Meghan and what she'll be wearing during the big day. So, when the royal family starts to arrive, that's when Meghan and her mom will head out in their car. Then, she'll drop her mom off at the Castle (how normal of her) and Meghan will meet up with her bridesmaids to enter the chapel so we can see a better shot of her dress (and so she can get married).
The whole thing will only take an hour.
Thank god. Long wedding ceremonies are the worst.
And the carriage procession will only last 25 minutes.
After the ceremony, Meghan and Prince Harry will greet some charity representatives (how humanitarian of them) and then go on a carriage procession around the grounds. We're sad this won't last that long, as we could surely watch beautiful royals going around in a horse-drawn carriage for hours.
But here's what we still don't know.
While we are grateful for all the royal wedding info Kensington Palace has blessed us with today, there's still a bunch of stuff that they've promised to announce in the coming days (weeks? years? lifetimes? who knows!). So, here's what's left:
• Info about Meghan Markle's bridal party, which apparently won't include a maid or matron of honor.
• Details about the "instrument of consent," which we googled. It seems like it is a document where the queen formally approves the marriage but the name is ominous!!!
• The full order of service, which should be published shortly for those of us who want to follow along at home.
• And more importantly, whether we are invited!!!!!!!!!!!!