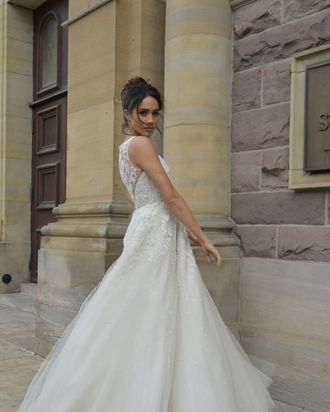 Meghan Markle in a wedding dress on
Suits
, not in real life.
Photo: Courtesy of Kleinfeld's
On Saturday, Meghan Markle and Prince Harry will marry in a very royal wedding. And the question on everyone's mind is: What will her wedding dress look like (and also, why was I not invited)?
Sadly, Meghan is being tight-lipped about the dress. But this shouldn't come as any surprise: Kate Middleton was just as secretive about her wedding outfit. It was only shortly before Kate's 2011 wedding to Prince William that we knew Sarah Burton of Alexander McQueen was the designer — and that was only because Burton was photographed leaving a fitting. The dress was otherwise kept a secret.
Meghan's dress — which, let me say, is not the dress photographed above; that's a dress she wore in character on Suits — will also be a secret until she steps out at St. George's Chapel, Windsor Castle. But in the meantime, we've heard bits and pieces about the royal wedding dress and designer. Here's everything we know so far.
Rumors keep swirling about the dress designer.
Remember Meghan and Prince Harry's absolutely stunning engagement pictures? Well, let me refresh your memory:
First of all, you're welcome. And secondly, Meghan is wearing a literal ball gown by British designers Ralph & Russo in the image. The Daily Mail's royal correspondent Rebecca English recently said that the duo is also designing Meghan's wedding dress. Several "royal and fashion industry sources" reportedly confirmed the news to English.
However, on Friday, "Page Six" reported that Meghan may instead wear a dress by Stella McCartney. British bridal designer Caroline Castigliano told the gossip column, "Stella is such a perfect fit for Meghan, she uses organic fabrics and her ethos is the same as Meghan. Her style is very underplayed, her dresses are very clean in style, very much Meghan — and they are friends." Lainey Lui also wrote that she's heard rumors of Stella designing the dress. The Cut's Emilia Petrarca also wrote back in January that she thought Stella would be the perfect designer for the dress.
So who knows! Some people think the designer may be Burberry instead — particularly since Meghan's mother Doria Ragland was pictured leaving her Los Angeles home with a Burberry dress bag.
The dress is reportedly heavily beaded.
Regardless of who designs Meghan's wedding dress, English reports that it will be incredibly ornate. She'll reportedly walk down the aisle in a "hand-stitched, heavily beaded design," that required "hundreds of hours of manpower" to create. Vanity Fair's Katie Nicholl has said that the ceremony dress will be "be traditional and elegant." Nicholl added, "There is talk of some lace and sleeves." How lovely.
And it ain't cheap.
Meghan's wedding dress reportedly costs a cool £100,000 ($135,000). But the hefty price tag will be covered by Prince Harry and his family.
Don't forget, Meghan is also going to have another dress for her wedding day.
Of course, the dress we've all been talking about is Meghan's actual wedding dress — the one she'll wear during the ceremony, the one that will be immortalized in history (and seared into our brains) forever. But just like Kate Middleton before her, Meghan plans to change out of her ceremony gown and into a different wedding dress for her private reception afterward. According to Nicholl, Meghan plans to wear a "glamorous, more sophisticated dress for the evening."
She apparently cried when she saw the dress.
According to her friend (and Quantico star) Priyanka Chopra, Meghan cried when she saw her completed wedding dress. On a recent episode of Watch What Happens Live, Chopra was asked whether Meghan cried during her fitting, which prompted her to smile, put her head in her hands, and then Sebastian Stan (who was also there) said, "Yes!"
Prince Harry will see her dress when we do.
He's reportedly being kept in the dark, too. How sweet and traditional.
But Queen Elizabeth will reportedly see it first.
On Wednesday, royal expert Omid Scobie tweeted that Meghan's wedding dress is "finished and safely hidden at Windsor Castle." The only person left to see it before her big day is Queen Elizabeth, whom Meghan will reportedly show the dress to later this week. Apparently Kate Middleton did the same thing before she married Prince William.
This post has been updated throughout.