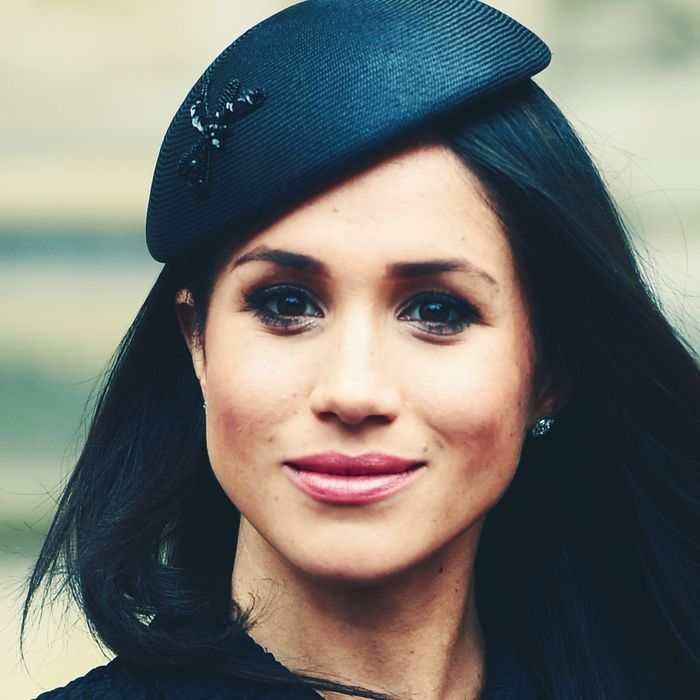 Meghan Markle.
Photo: WPA Pool/Getty Images
Oh hi, were you holding out hope that — despite not even receiving a wedding invitation — Meghan Markle might select you as her maid of honor at her upcoming May 19 royal wedding to Prince Harry? Well, at least, I certainly was. And I hate to break it to both you and me, but it turns out Meghan has decided against having a maid or matron of honor during her extremely British nuptials. What a blow to my ego.
It had been rumored that Meghan might select Canadian stylist and wedding expert Jessica Mulroney as her matron of honor, as the pair are incredibly close and Mulroney has been "secretly" serving as the royal wedding planner. Then, rumors started floating that Meghan might actually select writer Lindsay Jill Roth, her college best friend, as her matron of honor instead. (The rumors about me were only circulated on my dream board, but I assure you, they exist.)
But nope! Kensington palace announced on Friday that Meghan just won't be having a maid of honor at all — apparently, because she simply has too many friends. Per People:
"She has a very close-knit circle of friends and she didn't want to choose one over another," a palace spokesman said on Friday. "All have been actively involved in helping her prepare for the day and will be there in the days beforehand. She's very happy to have their support."
Despite the devastating realization that I won't be Meghan's maid of honor, I actually think this is really nice. The premise of the movie 27 Dresses is that some people have a lot of friends and also essentially that you have to ask someone to be a bridesmaid and/or maid of honor at your wedding if you are their bridesmaid and/or maid of honor at theirs. That's a bit much, in my opinion. Not picking between friends and not forcing people to buy particular dresses sounds better.
But never fear: Meghan will still have a "bridal party." Only, this "bridal party" will consist solely of the young girls selected to be her flower girls and bridesmaids — a list that reportedly includes Princess Charlotte and Ivy Mulroney (daughter of the aforementioned Jessica). I do hope Meghan knows I'm available for this role, too.