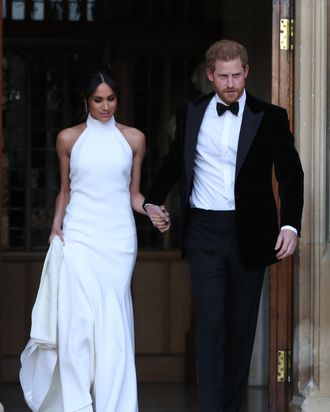 Meghan Markle and Prince Harry.
Photo: WPA Pool/Getty Images
As soon as you'd wiped your tears, taken your last sip of tea, and decided to move on with your life after the royal wedding of Prince Harry and Meghan Markle on Saturday morning — wait — there was more!
After the ceremony, Markle and her now-husband did a quick outfit change inside Windsor Castle. They emerged in dashing evening reception attire: the prince wearing a black tuxedo and the bride wearing a bespoke Stella McCartney silk crepe gown with a high neck collar. She also wore Aquazzura shoes – another favorite of hers – with soles painted in baby blue. Her second messy bun of the day was styled by George Northwood.
Markle's reception dress was in keeping with the minimalist Givenchy couture wedding gown she walked down the aisle wearing. McCartney was also a natural choice for the occasion, seeing that she is both the daughter of Beatles musician, Paul McCartney, and an eco-friendly designer.
After waving for the cameras, the newlyweds hopped in the back of a 1968 Jaguar convertible with a license plate that read "E190518," their wedding date. They then drove off to Frogmore House for a celebration with friends and family hosted by Prince Charles.
With all these amazing outfit changes, Harry's bottom lip will surely be bleeding by the end of the night.