There is an unimaginable amount of weight on Meghan Markle's slender shoulders. She isn't just the bride of Prince Harry, Duke of Sussex and sixth in line to the British throne; she is the Los Angeles-born daughter of an African-American yoga instructor who carried us with her when she walked down the aisle on Saturday morning.
Markle appeared to bear this responsibility with ease when she arrived at St. George's Chapel wearing a boatneck haute couture wedding gown by Clare Waight Keller for Givenchy. The dress framed her shoulders and cinched ever so slightly at the waist, allowing her to breathe. With just six barely-visible seams, it seemed almost suspended in air, as if held up by angels or Markle's own magnetism. A silk tulle veil hovered over her outline. At five meters long (or a little over sixteen feet), it featured the flowers of all 53 Commonwealth nations. It was fastened to her head with a diamond tiara on loan from Queen Elizabeth.
"You look amazing," said the prince when they finally locked eyes, biting his lip. He was a nervous, red-in-the-face wreck, but standing next to him, Markle was a picture of refined elegance, or, in American terms, control. There was a lot riding on this dress — one that caused rumors to swirl up until the very moment it was revealed — but like Markle herself, it did not disappoint.
According to a statement from the palace, Markle first met Waight Keller in early 2018, and the two "worked closely together" on the dress's design. Somehow, Waight Keller's name never came up in a contest with other rumored designers, but in retrospect, the choice was fitting. Last year, Waight Keller became the first female artistic director at the historic French fashion house Givenchy, taking over for Riccardo Tisci, who moved to Burberry. (He was a speculated front-runner, but no dice.) Waight Keller is also British, and studied at London's Royal College of Art. She is the perfect through-line between Britain and French haute couture, as well as someone who can help Markle make both fashion and political statements.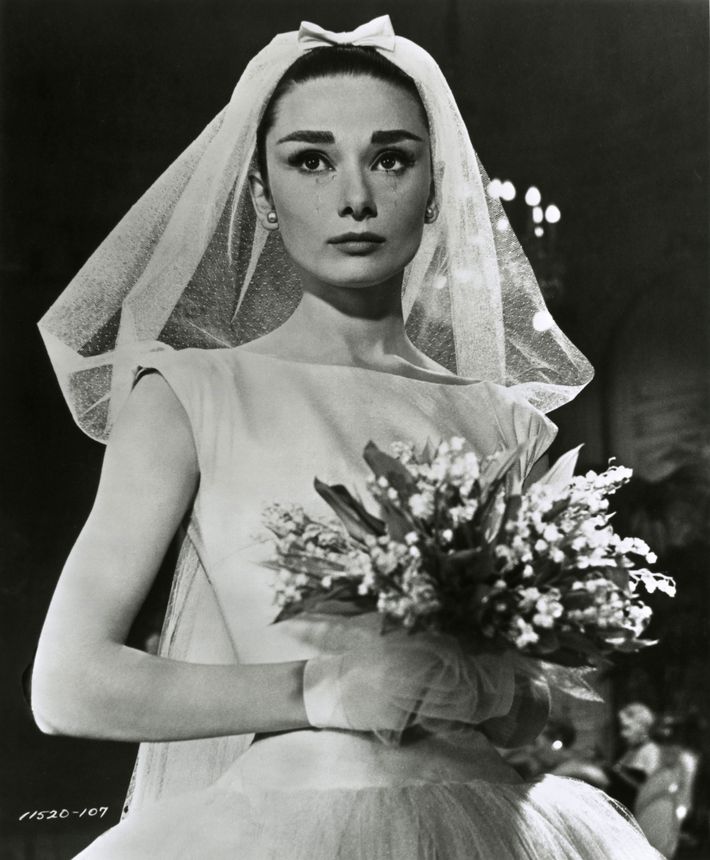 Unlike Tisci, who designed a very different-looking wedding dress for Kim Kardashian when he was at the house in 2011, Waight Keller isn't showy. She has spent the past year paying quiet, calculated homage to the brand's history of balancing minimalism and drama. Her stunning debut haute couture show in February "started with the shoulders," as Cathy Horyn wrote, taking cues from the late Hubert de Givenchy but reinterpreting the aesthetic for 2018. So far, the collection has become a red-carpet favorite among actresses like Cate Blanchett and Julianne Moore.
Mr. Givenchy was also a go-to for names like Jacqueline Kennedy Onassis, Grace Kelly, and Audrey Hepburn, whose wedding dress Givenchy designed — both in real life and for Funny Face. "Givenchy's creations always gave me a sense of security and confidence," Hepburn once said. "[They] gave me 'protection' against strange situations and people. I felt so good in them." An actress herself, perhaps Markle is less like Princess Diana and more like a modern Hepburn.
The deft ability to meld tradition with modern impulses; elegance with everyday ease; Hollywood with royalty — is ultimately what connects Mr. Givenchy, Waight Keller, and now Markle. Look no further than the dress's three-quarter sleeves, which allowed Markle to remain covered up in the eyes of the church, while not looking like a nun.
Markle and Waight Keller also have a great deal in common beyond fashion. Waight Keller is a Brit married to an American from Wisconsin. She has been described by her peers as just "so nice" as well as "good," "kind," and "no-nonsense." Together, these two unassuming women knocked everyone over.
With so much hype leading up to the royal wedding, some were disappointed by the simplicity of Markle's wedding dress. But this flipping of the script is what makes it such a powerful statement. She was clearly in control of the entire charade, from the inclusion of a liberal Chicago bishop to the gospel choir singing "Stand by Me," to the invisible seams on her dress. And yet, she proved that doing the right thing, right now, does not have to be hard. In the end, Meghan Markle gave us exactly what we wanted, with a grin and a shrug.