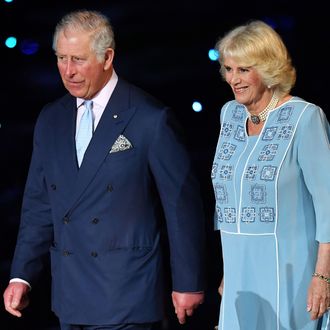 Prince Charles and Camilla.
Photo: Darren England - Pool/Getty Images
Meghan Markle's mom has officially touched down in the land of crumpets and tea, where she's busy being chauffeured around to "appointments" with various members of her future son-in-law's royal family before the big day. Earlier today, Doria Ragland checked off her first meeting with Prince Charles and Camilla, and according to Vanity Fair, the morning encounter went "swimmingly."
Ragland and the royals were joined by Markle and Prince Harry at Charles and Camilla's London residence, where the families sipped on tea and "all got on extremely well." How lovely! Though there are no reports about the specifics of their conversation, I'm guessing they talked about things like Markle's bridesmaids and Ragland's outfit for the ceremony, but not about Markle's father, who is definitely not attending the wedding on Saturday.
In the hours since Ragland met Charles and Camilla, she has hopped over to Windsor Castle to meet Kate Middleton and Prince William, and their two non-baby kids — baby Louis was not present. After exchanging their hellos (and maybe having more tea?), the family had a wedding rehearsal.
According to reports from across the pond, it appears that was Ragland's last meeting on Thursday — and tomorrow, she's heading back to Windsor Castle to meet the royal matriarch: Queen Elizabeth. And then, there's the actual wedding, and then the tiki-themed after-party, and then maybe a grandchild?? Life truly comes at you fast when your daughter marries a royal.