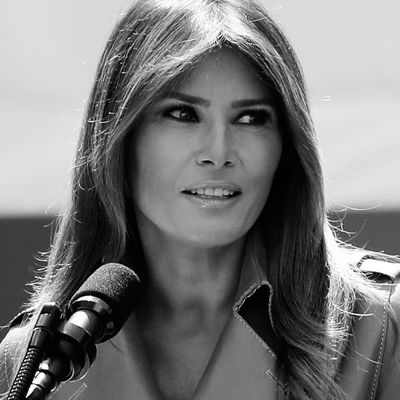 Melania Trump.
Photo: Yuri Gripas/Bloomberg via Getty Images
On Monday, Melania Trump revealed her official platform as First Lady — an initiative called "Be Best" (?) that focuses on the importance of "well-being" (okay), "social media use" (a little on the nose, but sure), and … the opioid crisis?
"As a mother and as first lady, it concerns me that in today's fast-paced and ever-connected world, children can be less prepared to express or manage their emotions and oftentimes turn to forms of destructive or addictive behavior such as bullying, drug addiction or even suicide," the First Lady said in a ceremony in the White House Rose Garden. "I feel strongly that as adults we can and should be best at educating our children about the importance of a healthy and balanced life."
With these three pillars, "Be Best" will address issues like healthy living, kindness, positive online behaviors, and neonatal abstinence syndrome.
"There are too many critical issues facing children today for her to choose just one," the First Lady's spokesperson, Stephanie Grisham, said in an email to the New York Times. "She wants to use her platform as first lady to help as many children as she can."
Does that mission sound broad? Confused? Like someone on the First Lady's staff said, "Let's just pull some policy phrases out of a hat, and whatever the first three are, we go with"? Maybe this hastily drawn logo will clear things up.
That still doesn't clear anything up? Hmm. Perhaps if Melania had pointed at things more it would have helped.