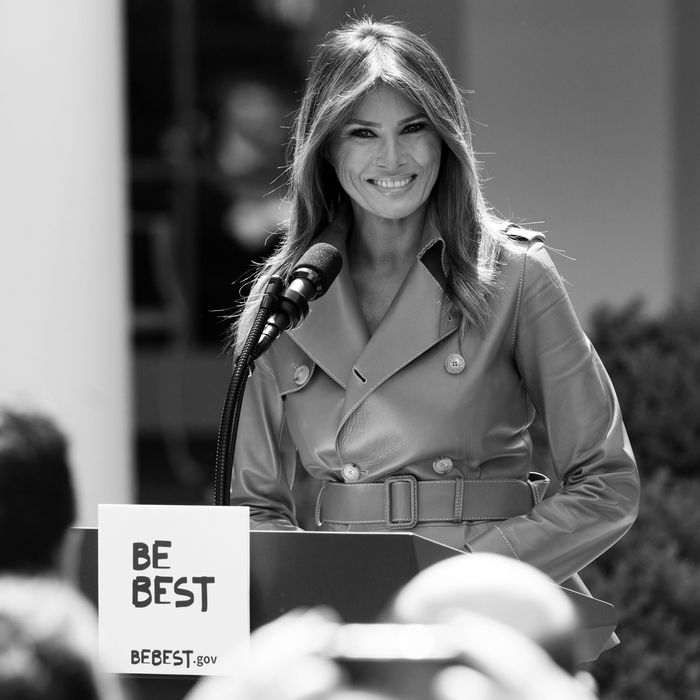 Melania Trump.
Photo: Saul Loeb/AFP/Getty Images
Back in 2016, during the Republican National Convention, now First Lady Melania Trump plagiarized an entire paragraph from a speech given by former First Lady Michelle Obama. And on Monday, after unveiling her confusing "Be Best" platform, Trump seemingly copied something from the Obama administration … again.
On Monday, Melania Trump announced her official platform as First Lady: "Be Best," a campaign focusing on "well-being," social media use, and, uh, opioid abuse. To provide us all with more information about the confusing campaign, Melania's team published a booklet about "Be Best," which copied a pamphlet published by the Federal Trade Commission during the Obama administration.
A PDF pamphlet was released on Monday to help parents address the online conduct of children, how to deal with inappropriate content, and how to curtail cyberbullying, according to the Hill. Almost immediately, people noticed that the booklet was nearly identical to one published by the FTC under Obama, entitled "Net Cetera — Chatting With Kids About Being Online."
The document was first shared on the "Be Best" website as having been written by Trump and the FTC, though it was later updated to say it was written by the FTC and "promoted" by Trump. Per the Hill:
The first version read: "Parents, click here to read Talking with Kids about Being Online, a booklet by First Lady Melania Trump and the Federal Trade Commission." The updated website reads: "Parents, click here to read "Talking with Kids about Being Online," a Federal Trade Commission booklet, promoted by First Lady Melania Trump."
We guess being "best" involves copying best.
Updated 05/08/2018, 11:53 a.m.:
On Tuesday morning, Melania Trump's director of communications, Stephanie Grisham, issued a statement claiming the First Lady had not copied the FTC's pamphlet, she was "helping" them distribute it.
"We were excited that Mrs. Trump distributed this important information about staying safe online," FTC Consumer and Business Education Division associate director Nathaniel Wood wrote in the statement.
Grisham concluded by urging members of the media to "Be Best in their own professions, and focus on some of the children and programs Mrs. Trump highlighted in her remarks yesterday."