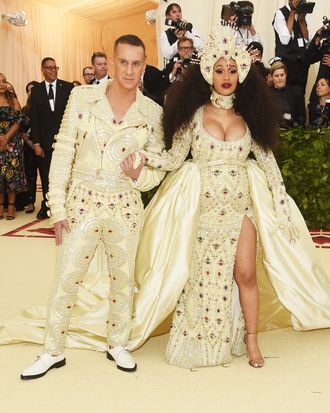 Jeremy Scott and Cardi B.
Photo: Jamie McCarthy/Getty Images
Cardi B looked like an actual religious icon at the 2018 Met Gala, where she walked the red carpet in a beaded Moschino gown with designer Jeremy Scott. Pope Rihanna, give Cardi your blessing.
The "Bodak Yellow" rapper was far from the only celebrity who had quite a bit of fun with this year's holy theme of Catholicism. Co-chair Anna Wintour — or should I say, "Cardinal Chanel" — was one of the first on the red carpet, which she graced while showing off a floor-length dress and a diamond rosary. Every other celeb was wearing some sort of elaborate hair accessory: there were crowns, halos, veils, and headpieces. One female celebrity even attempted to obscure her identity behind a beautiful blue-and-green solar-system–like hat. And did we already mention that Rihanna wore a freaking pearl- and crystal-embellished pope hat?
All in all, the majority of the celebrity looks tonight have been refreshingly creative, including Cardi B's, who proudly showed off her seven-month-pregnant belly after hiding her pregnancy for so long. Sure, she may be accused of copying Beyoncé's iconic 2017 Grammy's look, and she may be feuding with Nicki Minaj, but all of that's beside the point right now.
"They say by now that I'll be finished i can't tell, My little 15 minutes lasting long as hell huh !!!????," Cardi tweeted this morning. Clearly, she isn't finished.
Below, the best Twitter reactions to her stunning Met Gala look.
Thankfully (and unsurprisingly), Cardi didn't disappoint.