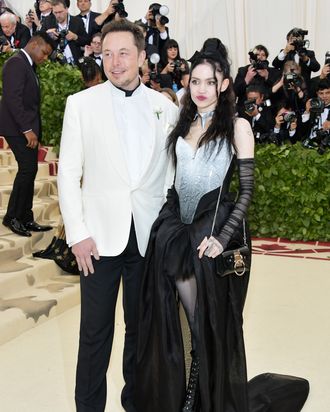 Elon Musk and Grimes.
Photo: Neilson Barnard/Getty Images
Just hours before the Catholicism-themed 2018 Met Gala, "Page Six" ran an upsetting report alleging that synth-pop queen Grimes and billionaire CEO Elon Musk were "quietly dating." As expected, the pair walked the red carpet together Monday night, with Grimes wearing a dress that — new details, incoming — Musk helped her design.
According to "Page Six," the new couple met approximately a month ago after bonding over an insufferable joke about artificial intelligence. Because I cannot describe the coincidence myself, per "Page Six":
Thought experiment Roko's Basilisk considers the hypothesis of a future where AI lords over the world and could punish those who did not help it into existence. His joke was to merge this thought experiment with a pun using "Rococo," referring to the ornate French 18th century baroque style, perhaps pointing out that both concepts are complex, too extreme and ridiculous.




And while this takes some explaining, arty performer Grimes was already in on the same joke — three years ahead of Musk.
Pressed about their budding relationship by reporters at the Met Gala, Musk referred to tonight's outing as a "date night." He also revealed that he helped "sketch" Grimes's dress, which, together with her hair and makeup, makes the pop singer look like — please excuse this Harry Potter reference — a young Bellatrix Lestrange.
As a couple, they're dressed like people who have plans to ditch the Gala early to stop by one of those Silicon Valley "sex parties" that Musk loves so much.