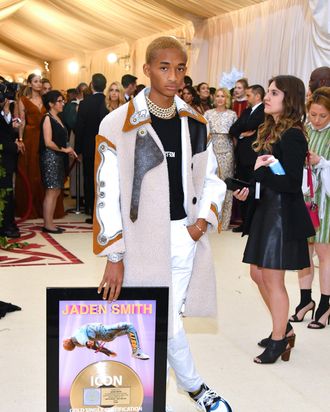 "Icon" and Jaden Smith.
Photo: Dia Dipasupil/WireImage
Last year, Jaden Smith shocked the fashion world when he brought his cut-off hair as a date/clutch to the Met Gala. It was very avant-garde, and therefore very on-theme. However, this trend of bringing inanimate objects as dates is becoming a motif for the young star. This year he and his date are pretty darn cute.
Yep, Smith brought his own golden single record, "Icon," to the Met Gala. There's nothing sexier than self-confidence. The pair matched by sharing both accents of gold and lilac, and Jaden Smith's face.
The record is not quite as on-theme as the hair was last year, unless Smith is trying to position himself as a "Heavenly Body" in which case, carry on.