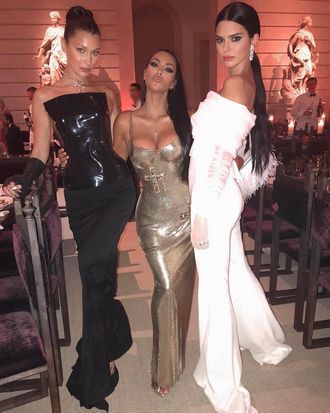 Bella Hadid, Kim Kardashian West, and Kendall Jenner.
Photo: kimkardashian/Instagram
For us mere mortals, plebes, and laypeople, the Met Gala all but ends when the red carpet is over. Once a star disappears into the Met's Great Hall, it feels like they're stepping into another dimension. Good-bye, Madonna! When will we hear from you next? What adventures will you have within the Met's hallowed halls? Turns out, Madonna had many adventures, including a surprise performance. And thankfully, there's Instagram and Twitter, where celebs can let us in to the actual party of the Met Gala several hours later.
Predictably, the Kardashian/Jenners took many many snaps of themselves and their theme-flaunting outfits. Rihanna posed with another Papal hat. Cynthia Ervio posted a #blackexcellence photo with Janelle Monáe and Chadwick Boseman. Tom Brady and Alex Rodriguez did their best to look like normal humans and not Ken dolls, while Cardinal Doldan did his best to look holy next to Donatella Versace in a group photo. See all these, and more, below.