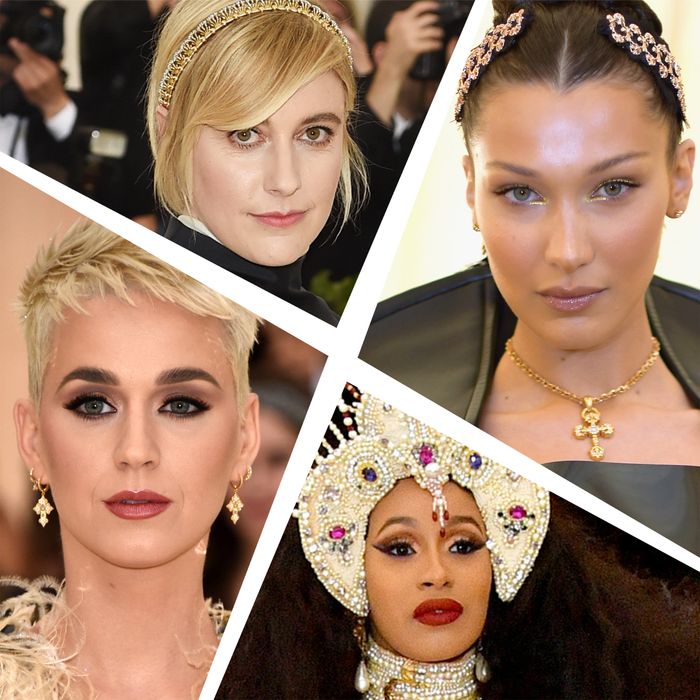 Allore! It's the 2018 Met Gala! Fashion's holiest high holiday; the most-over-the-top, celebrity-filled, drama-prone, yet deeply ambivalent night of the year. Join us as we break bread, drink wine, and conceive an immaculate red carpet liveblog.
This year's Costume Institute exhibit is "Heavenly Bodies: Fashion and the Catholic Imagination," with red carpet theme of "Sunday best." So, we're in for a religious fashion experience – from devilishly good looks to some truly ungodly outfits.
Follow along below for the best, worst, and most sacrilegious looks of the night.
Best (and Baddest) Anna Wintour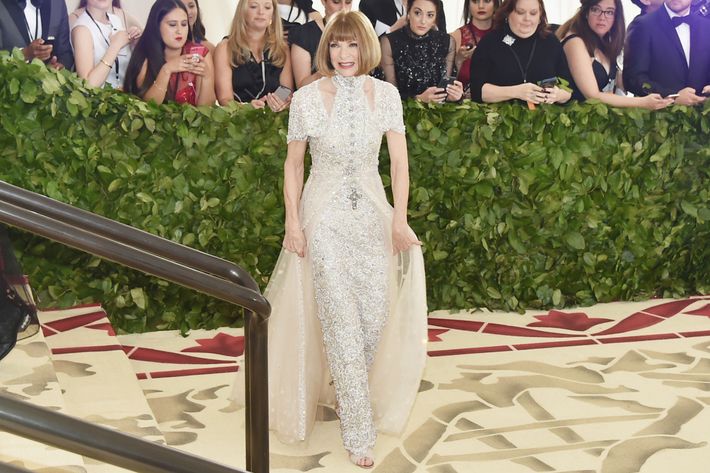 Met Gala Puppet Master Anna Wintour always shows up in custom Chanel, but this white lace number is one of her best yet. Why? Because it has personality. With collar-bone slits and and a long rosary, it's a bit good girl gone bad. So, hell yeah. Rumor has it that this might be Ms. Wintour's last Met Gala as Vogue editor-in-chief, but she's got her name on the wall, so it certainly isn't goodbye.
Most Polarizing Pants: Amal Clooney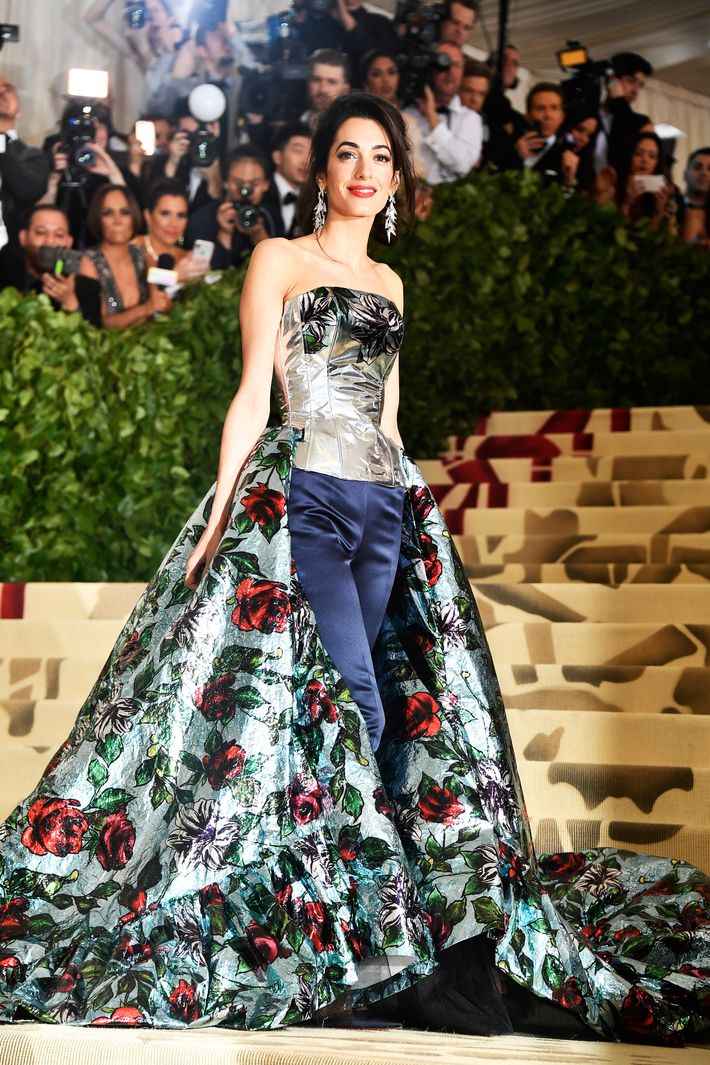 There's a lot going on with Amal Clooney's Richard Quinn look: blue satin pants, a billowing floral train, plus a metallic silver bustier top. But that's what Quinn – one of London's rising stars – has made his name for. And we dig it. If you're not doing something crazy on the Met Gala red carpet, why are you even there???
Biggest Disappointment: Donatella Versace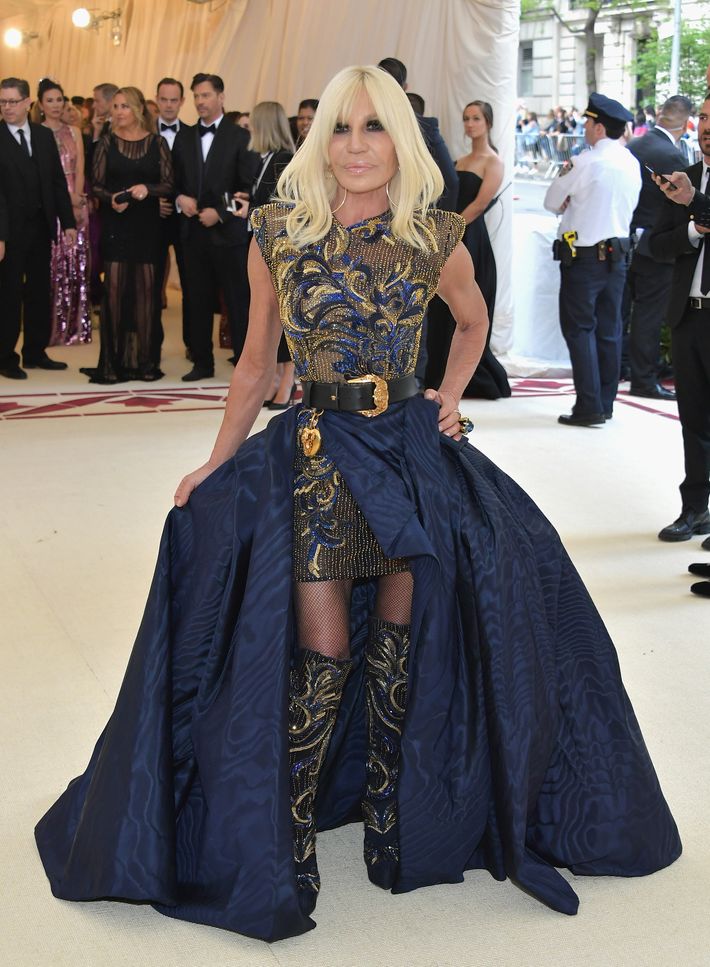 Sigh. This was supposed to be Mama's big night out! Ms. Versace's ensemble lacks the vivacity that Versace is known for, but we give her a pass because she's probably been busy making everyone else look good. Also, those boots are bene.
Most Holy Trinity: The Migos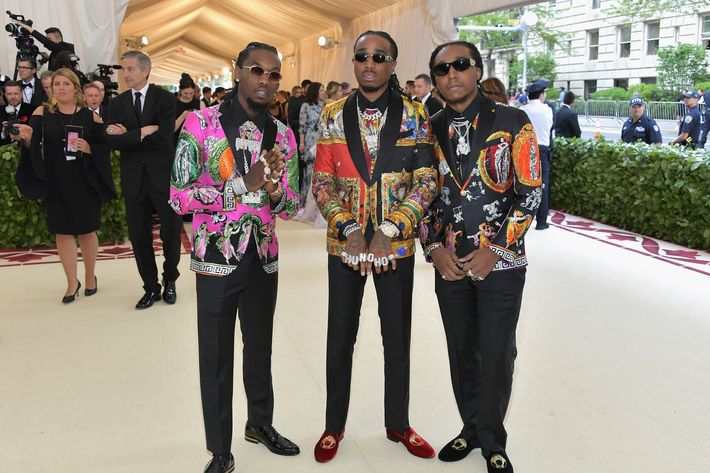 Donatella, you are redeemed.
Best Resurrection: Rita Ora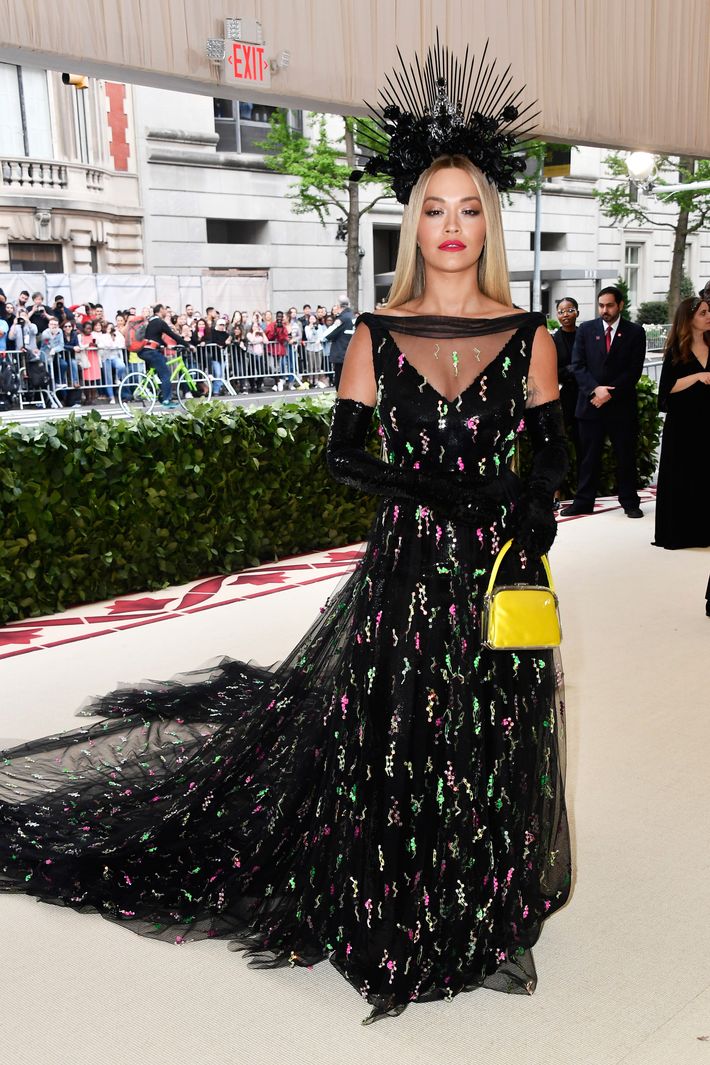 Rita Ora was on the receiving end of a shady New York Times tweet tonight, but we're happy to report that her Prada gown with hints of neon and a dramatic train was good enough to shut down the haters. For a brief moment.
The Only Pope We Recognize: Rihanna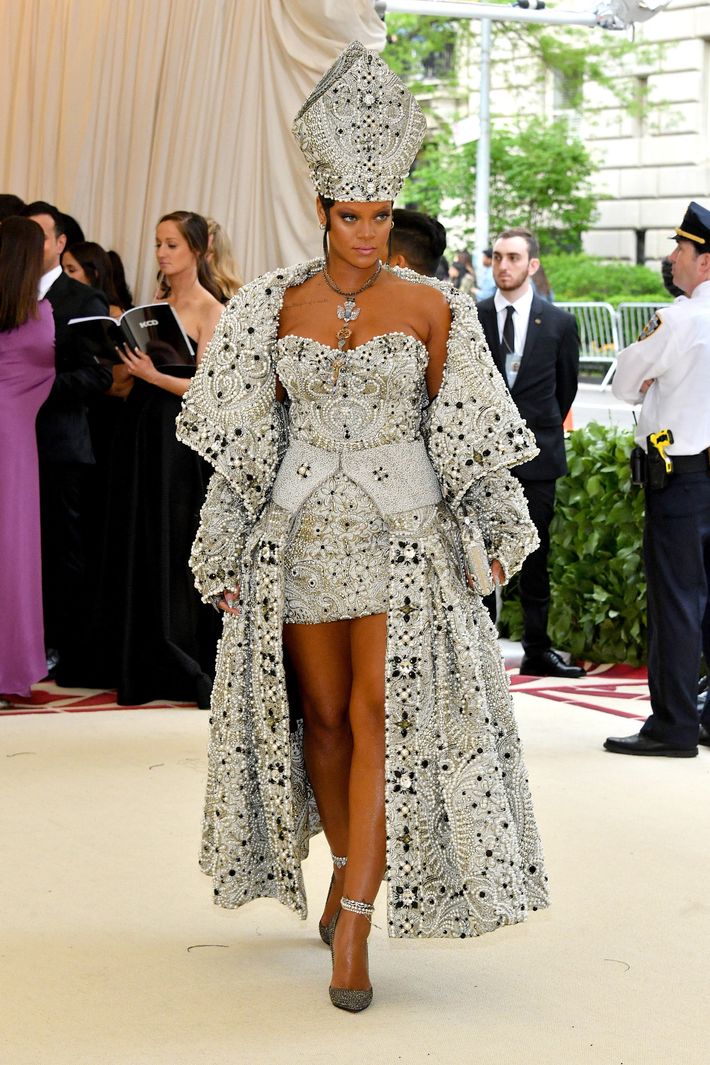 She is our high priestess, what else is new? Actually, we did learn that papal "mitres" are a great place to stash red carpet snacks.
Best Goth: Lily Collins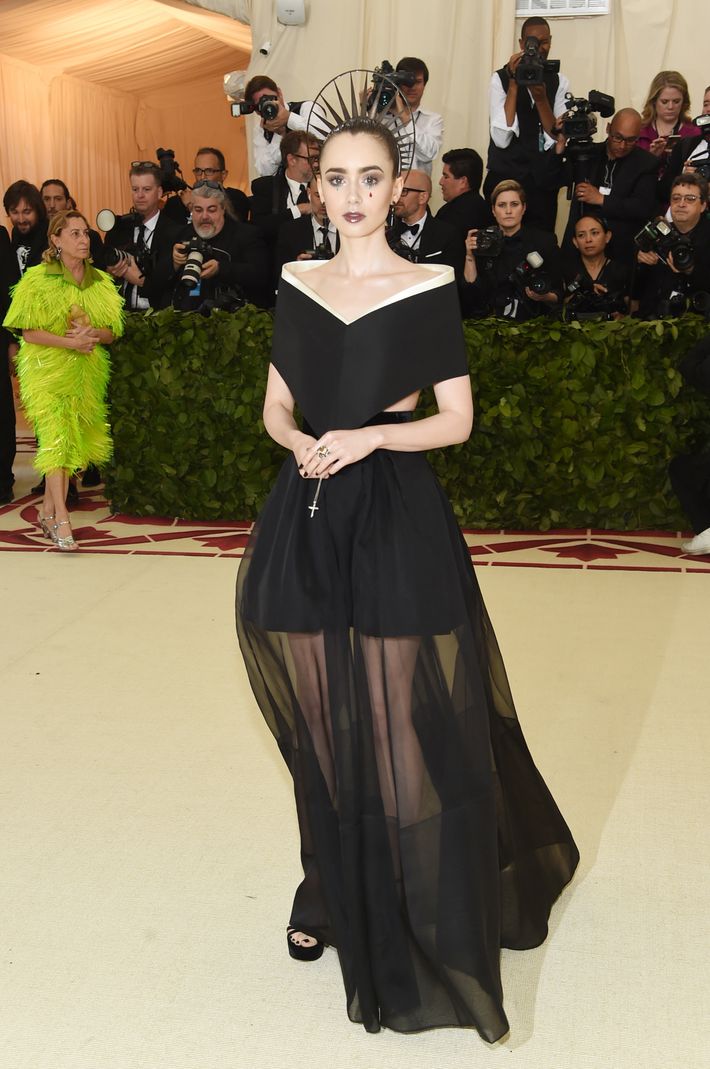 This all-black look from Clare Waight Keller's debut Givenchy Haute Couture collection is unbelievably elegant. But that blood drop beauty mark is h-a-r-d.
Worst Victoria's Secret Angel: Katy Perry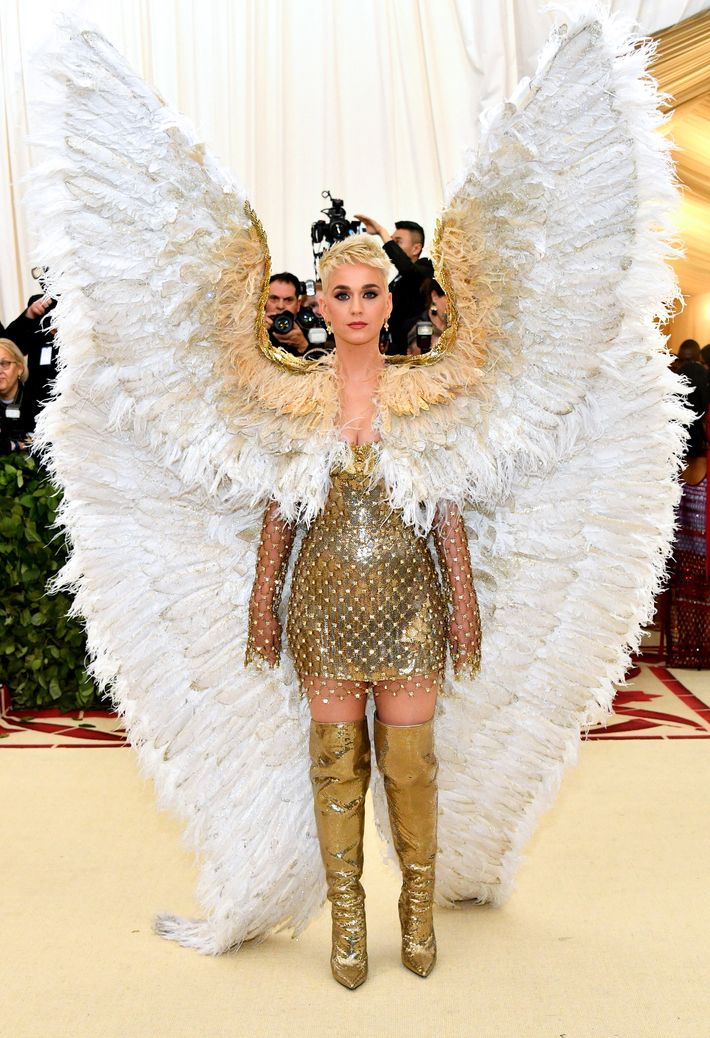 All we'll say is that we feel bad for the person sitting next to her at dinner tonight.
Most Mother Mary: Cardi B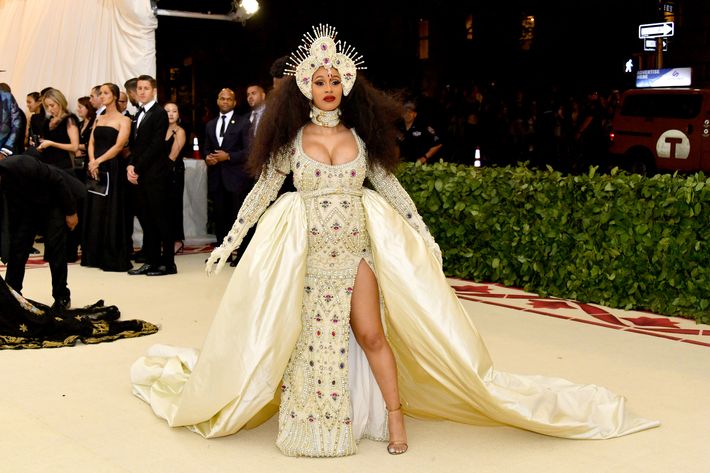 Gonna print this out and pray to it three times a day.
Best Hat: Frances McDormand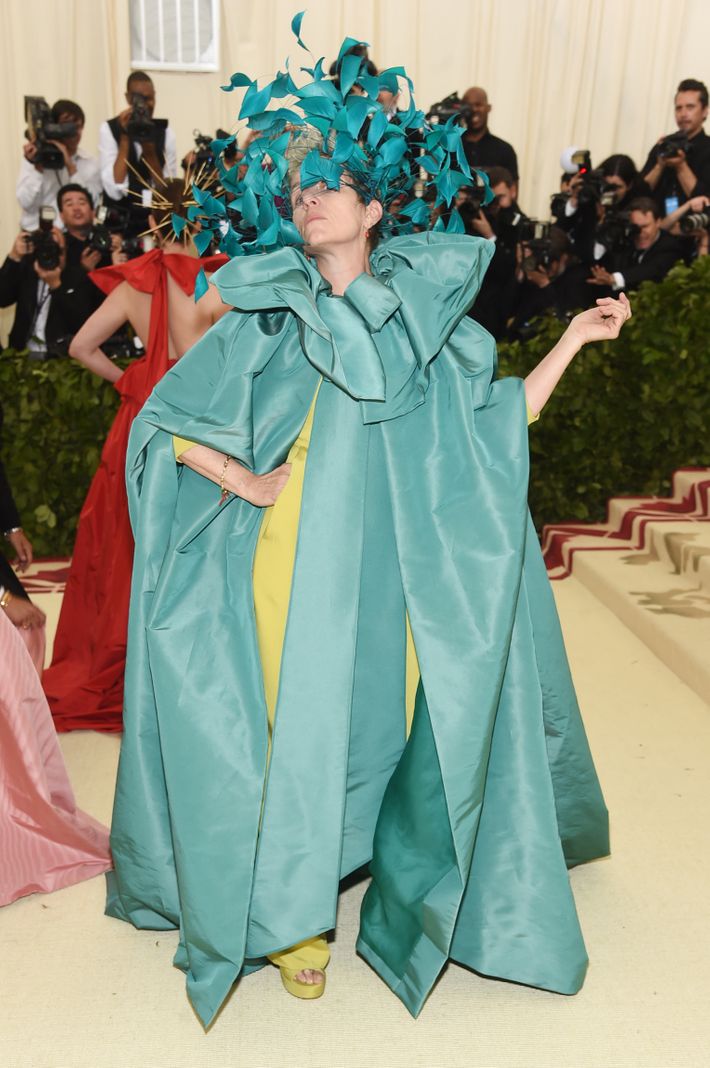 We've seen A LOT of headgear tonight, but Frances McDormand stole the show in this feathery Valentino Haute Couture gown and Phillip Treacy hat. It's easy to let a look like this wear you, but McDormand is dramatic enough herself that it was a match made in Heaven.
Best Statement Cape: Lena Waithe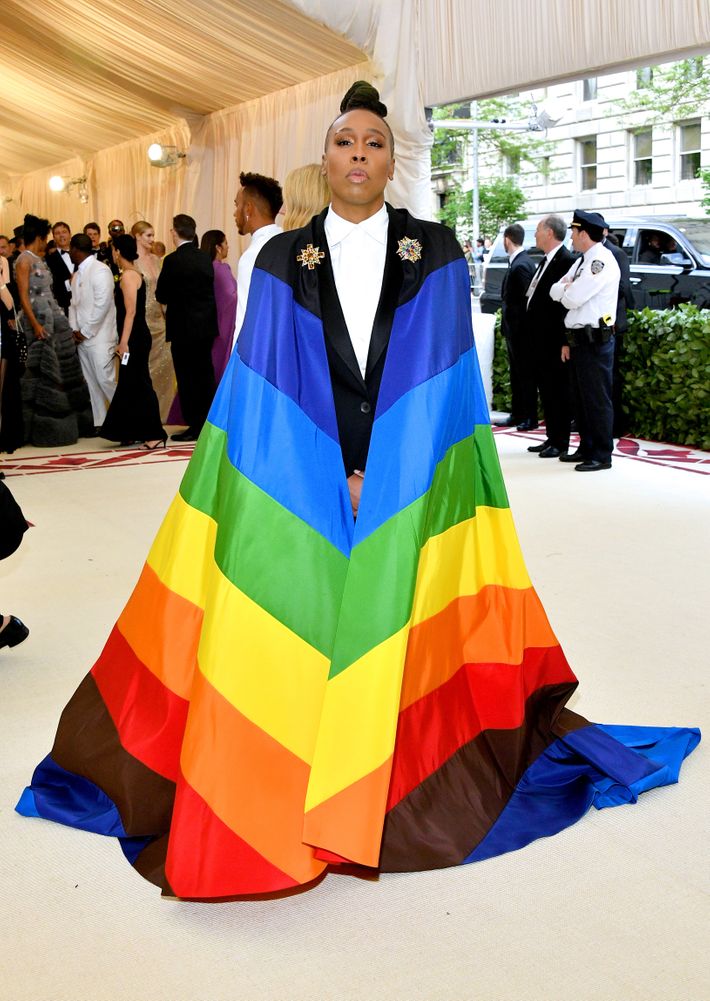 A dignified way of addressing the elephant in the room.
Most Awkward "Who Wore It Better": Bella Hadid and Solange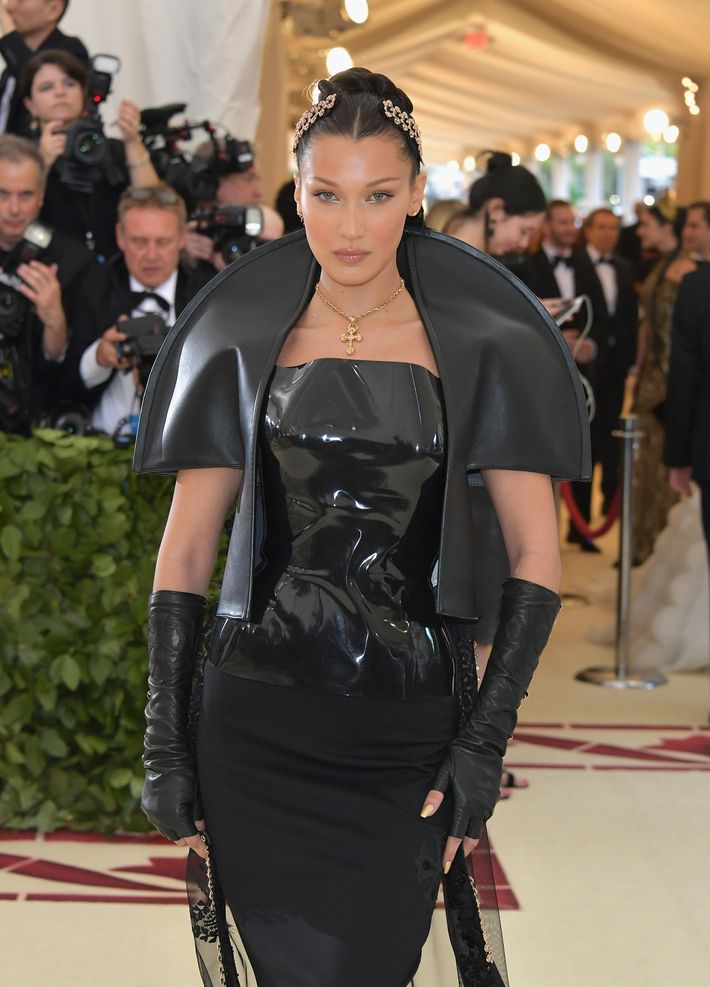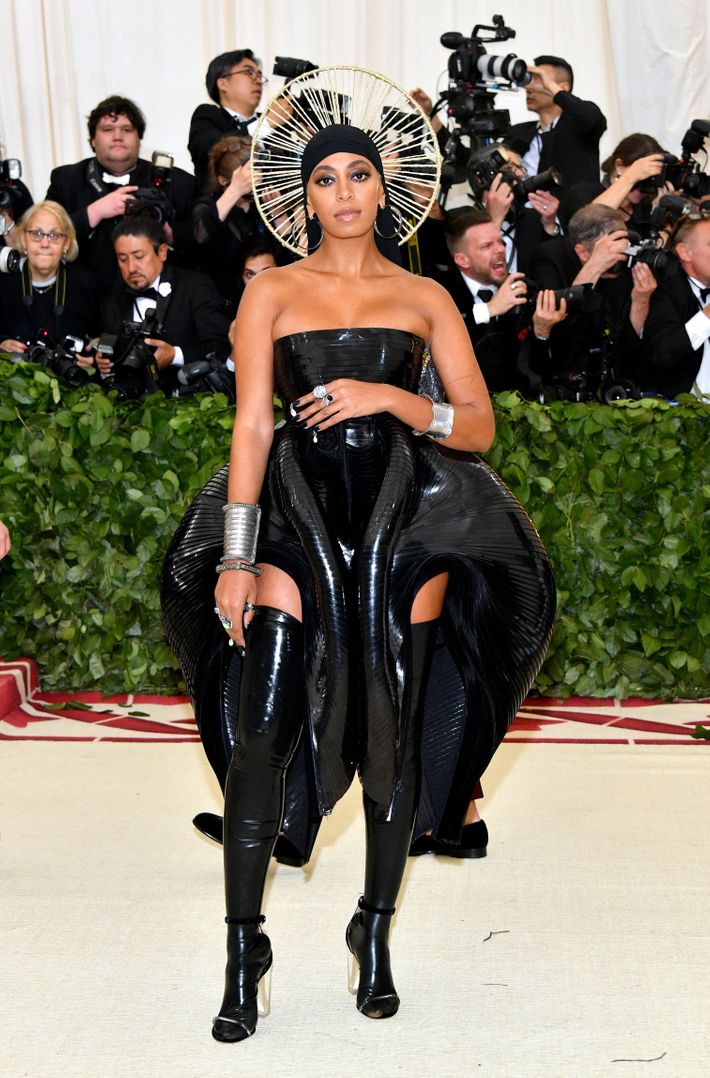 I think we all know who needs to "take a call" and then leave the premises permanently. Both of these looks call to mind Missy Elliot's "Supa Dupa Fly" music video, but while Bella looks uncomfortable in her leather armor, Solange makes latex gauchos look casual.
Best Nun: Greta Gerwig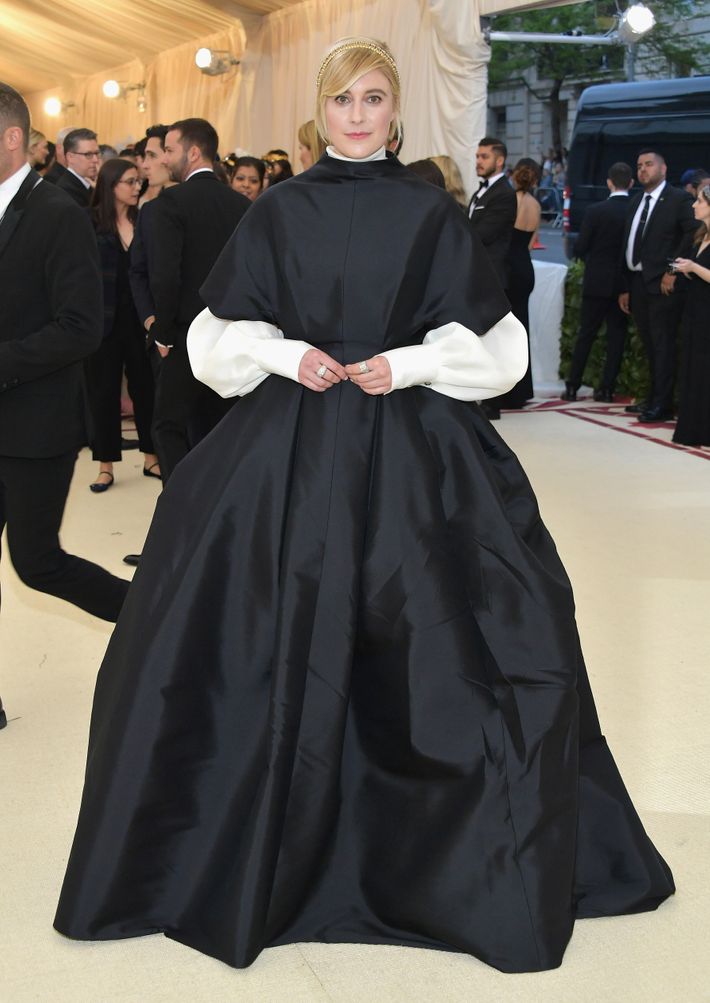 It does not get more modest than this look by the Row, but the gown's oversized proportions and big white sleeves give it more drama than even the most flashy of looks. We know nuns aren't supposed to attract attention, but we think Greta Gerwig is one of our red carpet favorites.
Best Man: Chadwick Boseman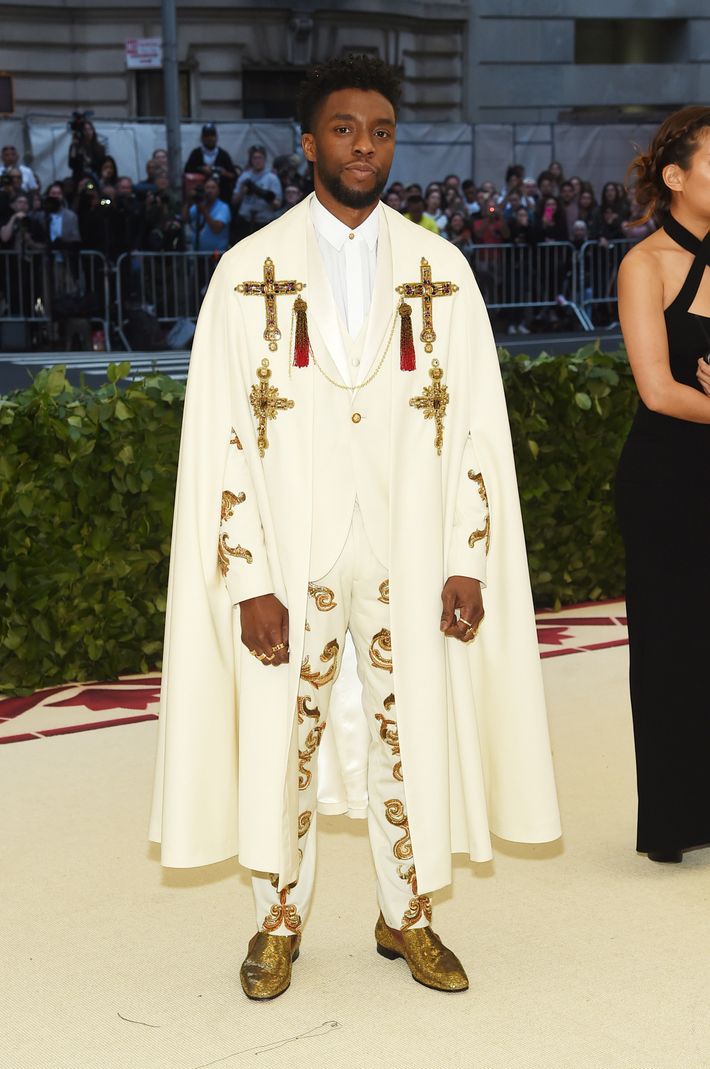 Boseman went one step further than Diddy in his all-white Pope ensemble. It's the details that really kill us. Those gold shoes! Those tassels! Amen.
Biggest Troll: Kendall Jenner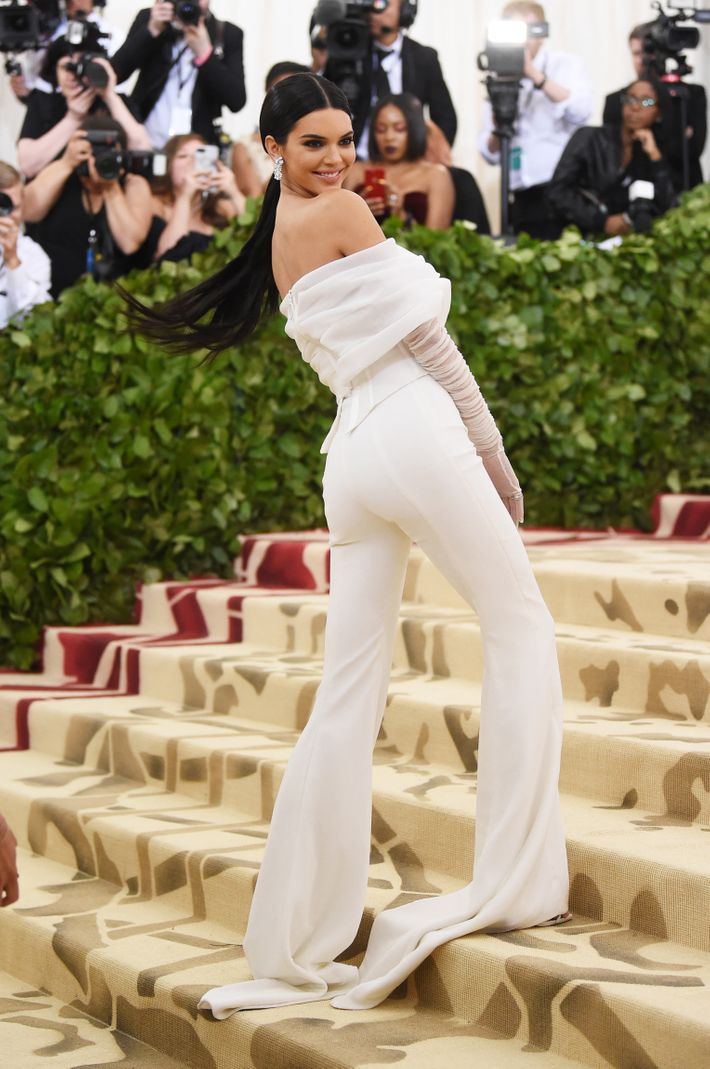 We're shaking our head at you and your blank slate of an outfit, Kendall. This girl knows that she's getting invited back next year. And the year after that. The SEO is too strong.
Most Underrated: Phoebe Waller-Bridge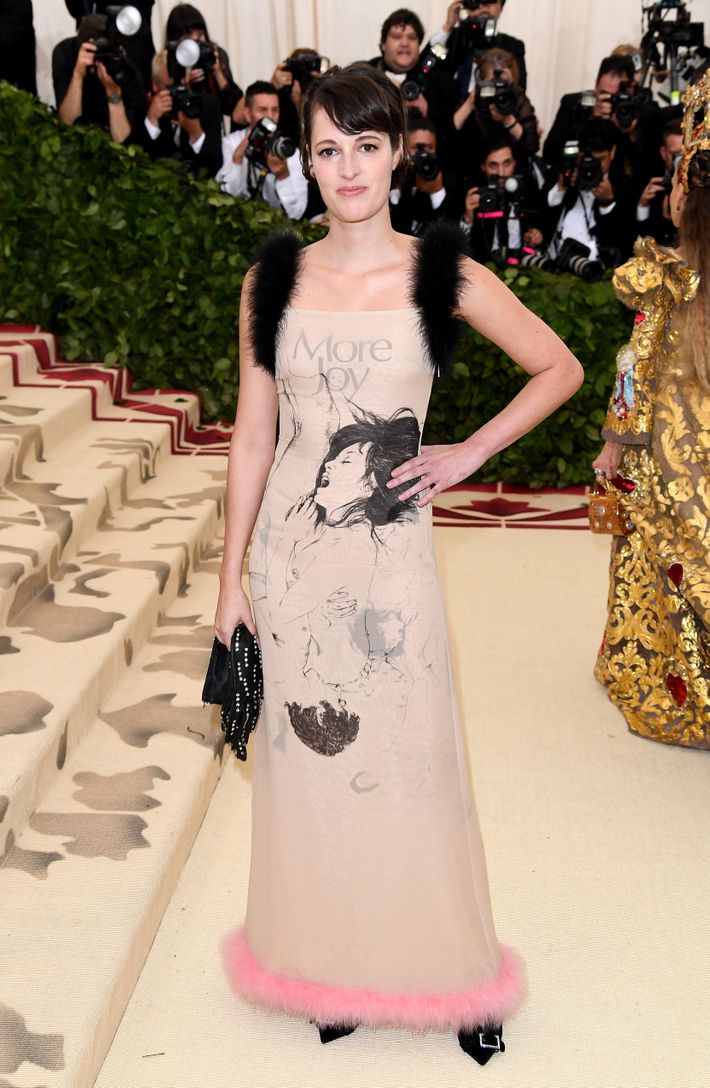 Leave it to one of our favorite comedians to wear the night's cheekiest dress. This Christopher Kane gown with feather trimmings also features illustrations from "The Joy of Sex." Nice.
Most Joan of Arc: Zendaya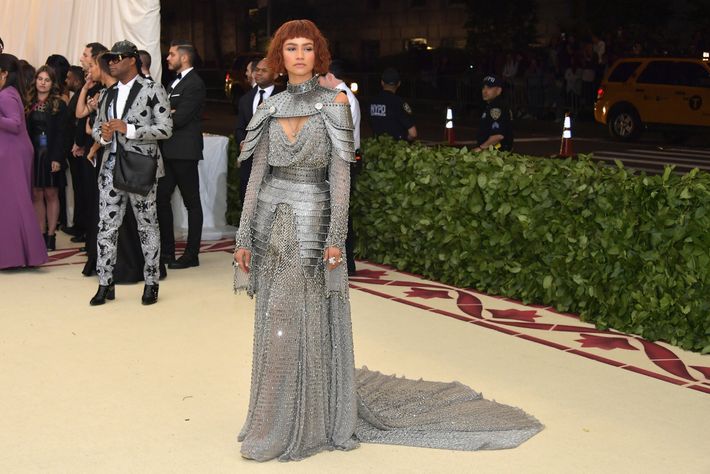 We think now is an appropriate time to use the word "slay."
Least Dramatic Drama: Kim Kardashian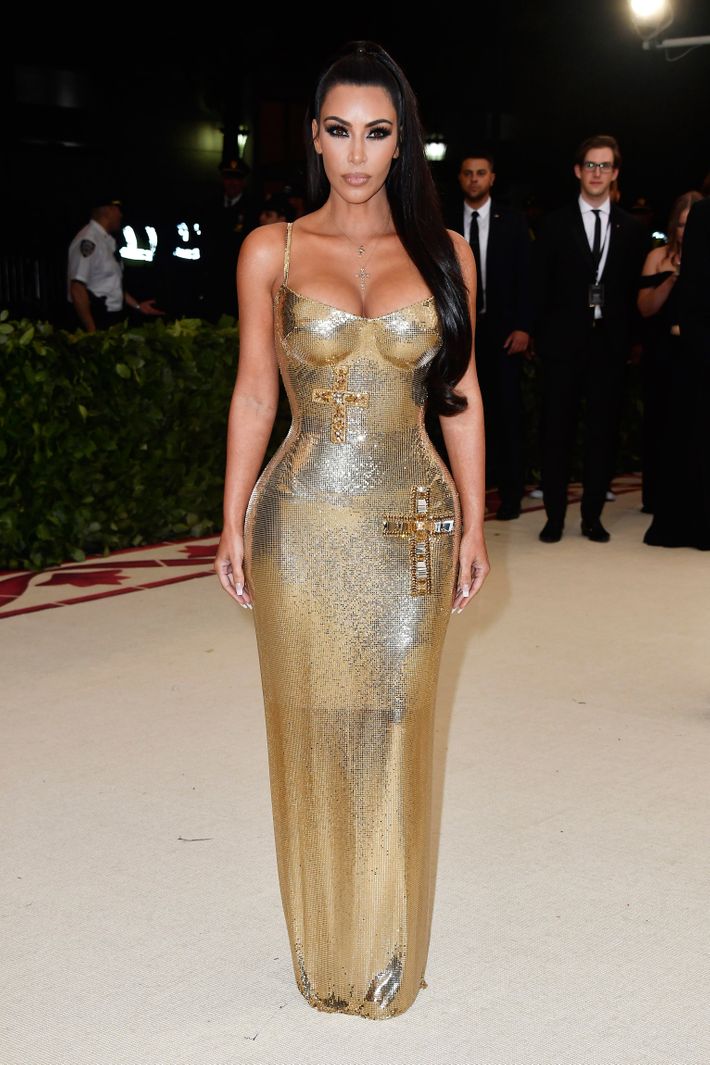 We appreciate the vintage Versace nod, but this gold gown fell flat as the last look of the night. We're not sure why we expected more, but in comparison to a lot of the other looks tonight, it somehow seemed safe.