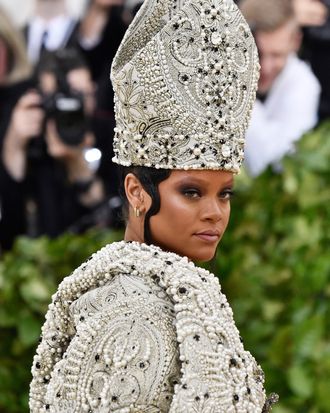 Rihanna.
Photo: Frazer Harrison/FilmMagic
The highlight of the 2018 Met Gala — or of all galas, ever? — came early in the night, when unofficial "Met Gala Queen" Rihanna stepped onto the red carpet wearing a pope hat! A freaking pearl- and crystal-embellished mitre! Bless us, Pope Rih.
This year's uber-exclusive event is titled "Heavenly Bodies: Fashion and the Catholic Imagination," and celebs seem to be loving the Catholic theme. Co-chair Anna Wintour showed up wearing custom Chanel, featuring a diamond rosary, and declared herself "Cardinal Chanel." Jared Leto went as himself, which is to say that he dressed like Jesus. And Lily Collins wore black Givenchy with a red tear drawn on her face and a silver halo propped atop her head.
But we're being disrespectful — back to our highest authority. Along with her Stephen Jones papal hat, Pope Rih wore a Maison Margiela by John Galliano gown, Christian Louboutin shoes, and Judith Leiber bag. While we previously believed it to be impossible, this holy aesthetic might beat out the avant-garde look she rocked at the 2017 Met Gala.
All we need now is for Pope Francis to roll up in the Popemobile and declare her the real Pope, which she is. Time to ascend to heaven.