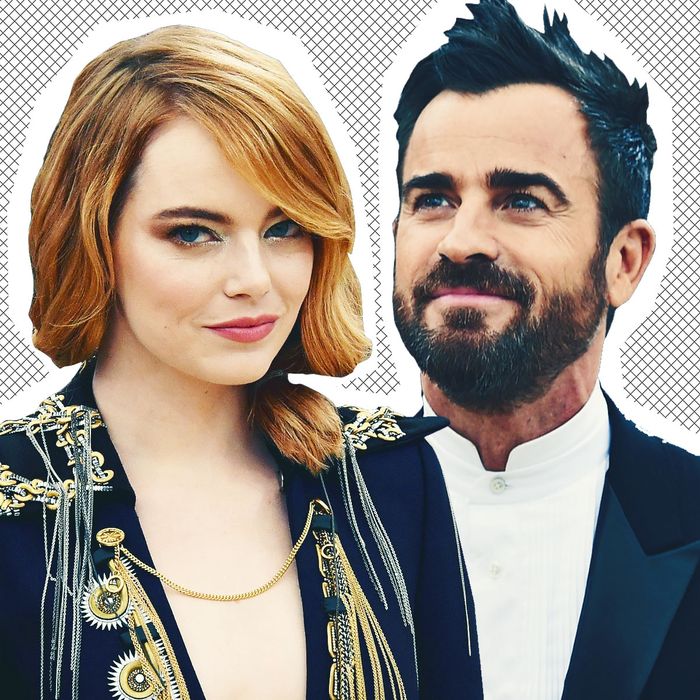 Emma Stone and Justin Theroux.
Photo: Getty Images
Welcome to You Know What I Heard, the Cut's weekly celebrity gossip column about the peregrinations of the rich and famous.
Since Jennifer Aniston and Justin Theroux announced their divorce in February, Theroux has been spending a lot of time with female "friends" in his preferred city of New York. He's been spotted with the 26-year-old photographer Petra Collins (a friend from fashion shows) and the 25-year-old model Erika Cardenas (a friend from the gym). He's also spent a significant amount of time with the 29-year-old movie star Emma Stone, after working with her on the forthcoming Netflix series Maniac. Theroux, who is 46, posted on Instagram in April that Stone is his "Bfffffff." This past weekend, they were photographed together at Blue Ribbon Sushi in Soho. And on Monday, they both attended the Met Gala as ambassadors for Louis Vuitton, and they left Rihanna's after-party at Up & Down together.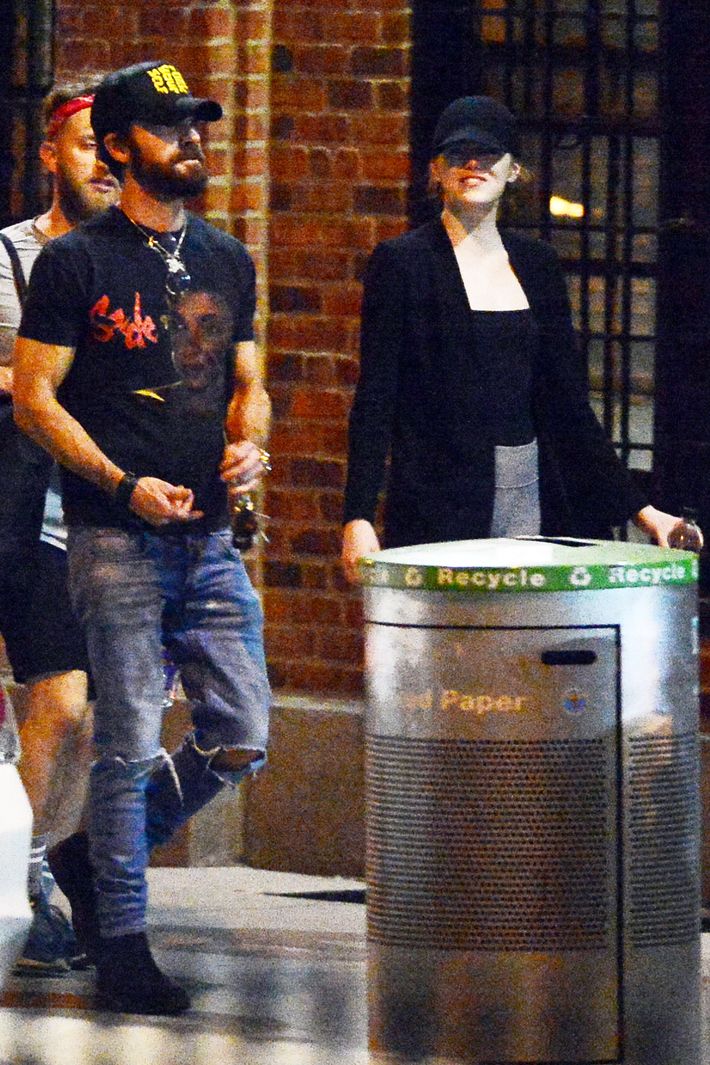 What does this all mean? So far, the tabloids are going with: best friends! E! News reported yesterday that Stone and Theroux "were together all night" at the Met. People referred to them as "BFFs" in a report about the gala. And Vanity Fair noted that Stone "stationed herself" next to Theroux at Rihanna's after-party. They could very well just be friends; Stone was last rumored to be dating SNL segment director Dave McCary. But I'm sensing that there's a bit more to the story.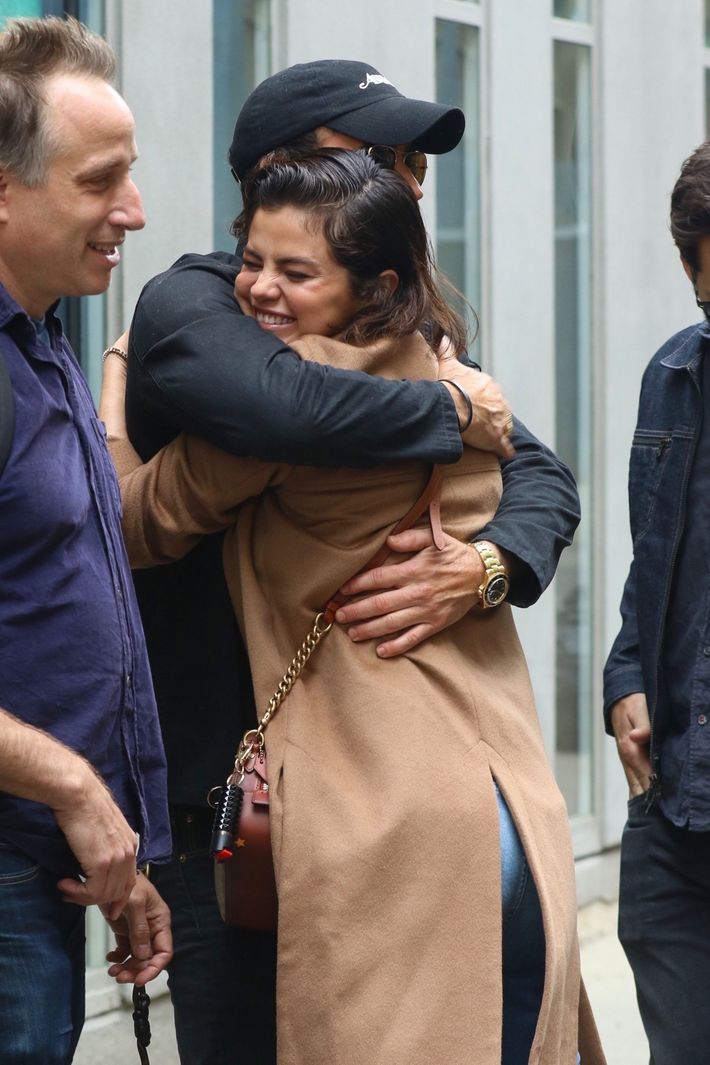 Another interesting thing to note: Apparently, Selena Gomez, who is good friends with Aniston, is now on good terms with Theroux. She was photographed greeting him outside Billy Crudup's new Off Broadway play on Sunday. Know who else was there? Petra Collins. Gomez unfollowed Collins on Instagram back in March, when Theroux was rumored to be spending a lot of time with her. But now, it seems, everything is fine. Because Theroux has moved on to someone else?
In more bizarre Met Gala gossip, Elon Musk is apparently dating the 30-year-old singer Grimes. "Page Six" reported Monday that the two bonded over some kind of meme about artificial intelligence (?), and then they showed up to the Met together. I was in the press pen on the red carpet when they arrived, and they seemed to uh, still be getting to know each other. Musk marched right up to reporters and announced that it was "date night," while Grimes hung back and shifted around, awkwardly. Musk then proudly told everyone that he helped sketch Grimes's dress. I give the relationship about three more weeks.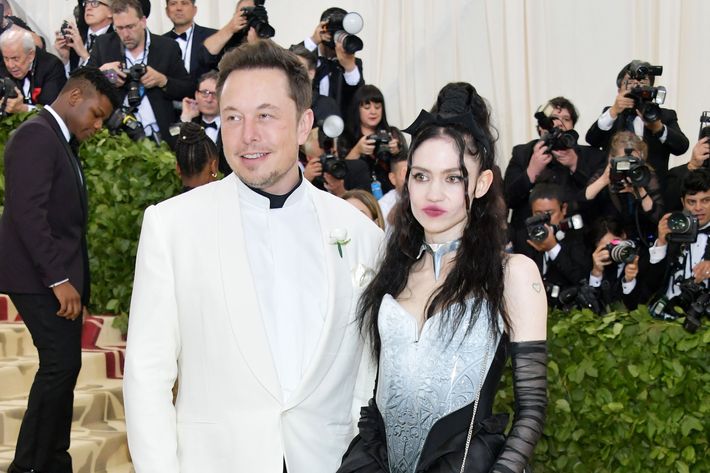 Katharine McPhee, 34, and David Foster, 68, also made their red-carpet debut as a couple at the Met. Unlike most other celebrity attendees, McPhee spent a lot of time talking to reporters, while Foster bounced around waving to people. Notably, he ran into Bella Hadid, his stepdaughter from his last marriage to Yolanda Hadid. They hugged!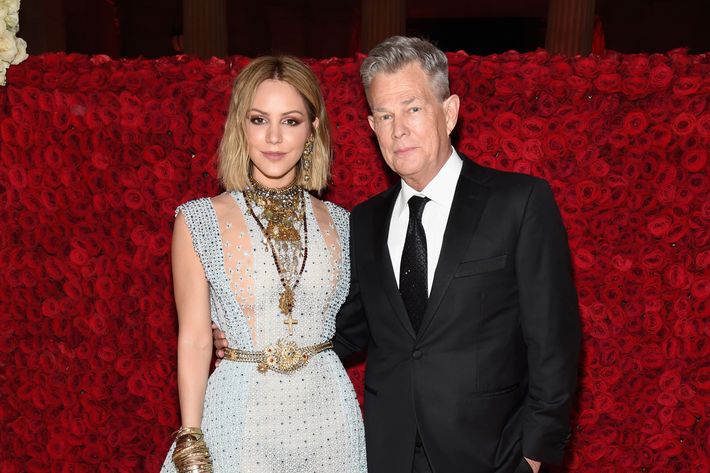 Bella's sister, Gigi Hadid, greeted Selena Gomez warmly, which is interesting, because Gomez dated the Weeknd after Bella did, and it seemed like Bella didn't like that. But now that's all fine, too? Gomez walked the red carpet alone, and she looked very bronzed and a bit, hm, dazed walking into the gala.
One of the most talkative celebrities on the red carpet was Jimmy Fallon, who showed up alone and posed with Stephen Colbert for a few photos. Then he bounded up the stairs and told reporters he was ready-to-dance-guys-why-aren't-we-dancing-yet! I hope he got to dance.
One beautiful, amazing blessing from God this week:
Kirsten Dunst had her baby.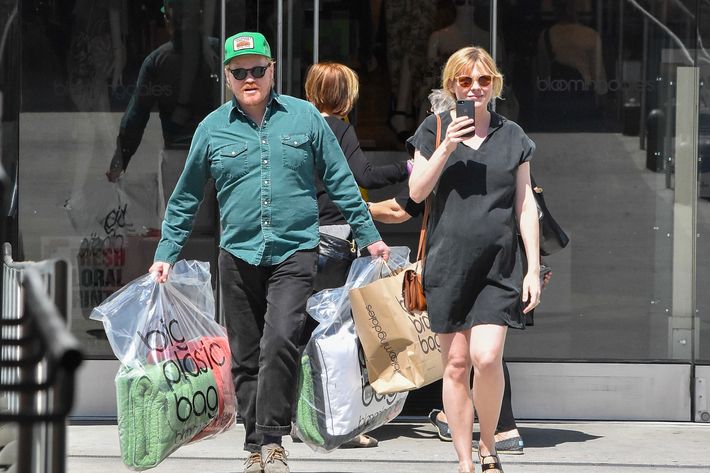 Finally, I'll leave you with a report from Rihanna's Met Gala after-party that I will never be able to forget as long as I live. Here it is: According to People, Blake Lively approached Donald Glover in the wee hours of the morning at the party and talked to him for 20 minutes. They were "deep in conversation," a source told the tabloid.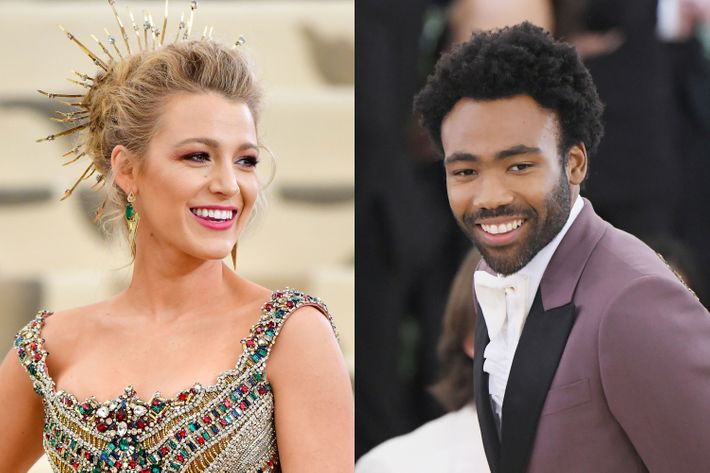 What do you think she said? What do you think he said? Feel free to contact me about this at any time.
And thanks so much for gossiping this week! If you'd like to get this column in your inbox every week, subscribe in the box up top, and don't forget to email me at allie.jones@nymag.com, send me a message on Twitter, or contact me on Signal, if you'd like to chat.