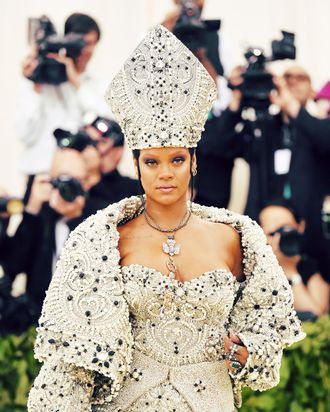 Rihanna.
Photo: Jamie McCarthy/2018 Getty Images
As soon as it was announced that this year's Met Gala theme was "Heavenly Bodies: Fashion and the Catholic Imagination," the angels at over the Cut called upon me to comment on it. "Maybe," they suggested, "your mother might have some thoughts as well, since she's married to a Catholic priest, gave birth to five Catholic children, and has crucifixes on every wall of her home." This seemed so appropriate that it felt like if I didn't agree, God might make me write this piece forever in hell. My mom's commentary will be mostly along the lines of her saying "Madonna" in a snake voice. My commentary will mostly be along the lines of me saying: "Women dressed as popes? Watch me ascend to a level of celestial gayness that even Michelangelo himself never achieved."
ME: All right, it's just getting started. I really want people to go hard tonight. Beautiful foreheads stabbed by real thorns, Anna Wintour has sculpted her hair into a bishop's hat with mousse, a cape made of Martin Luther's skin, Benedict is here in a modest swimsuit. I want Miley to stick out her tongue and there's a wafer on it. I want the Royal Baby to roll down the red carpet completely soaked with holy water. But so far it's just like a rose, some lace, I'm carrying a book!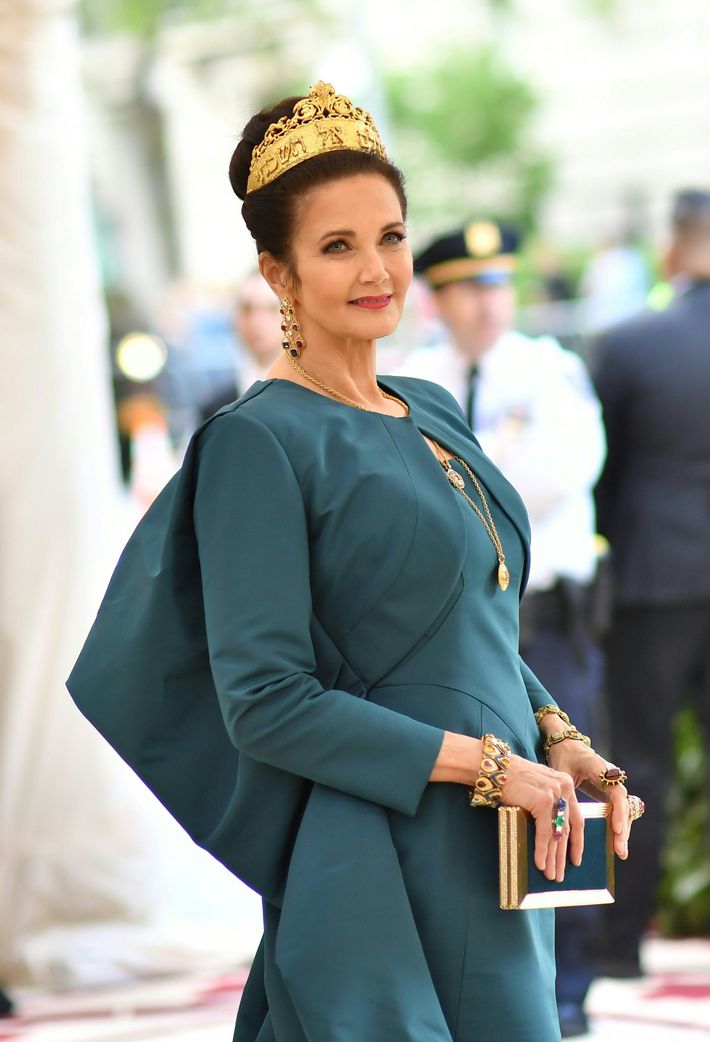 MOM (in an ominous tone): They've appropriated every single thing, starting with Lynda Carter.
ME: Ahhhhh, truly you have taken the temperature of the modern discourse. They've appropriated every single thing, starting with Lynda Carter.
MOM: She's dressed as Mary!
ME: But isn't Mary kind of a Wonder Woman? And didn't her Golden Lasso give us the only man that ever mattered?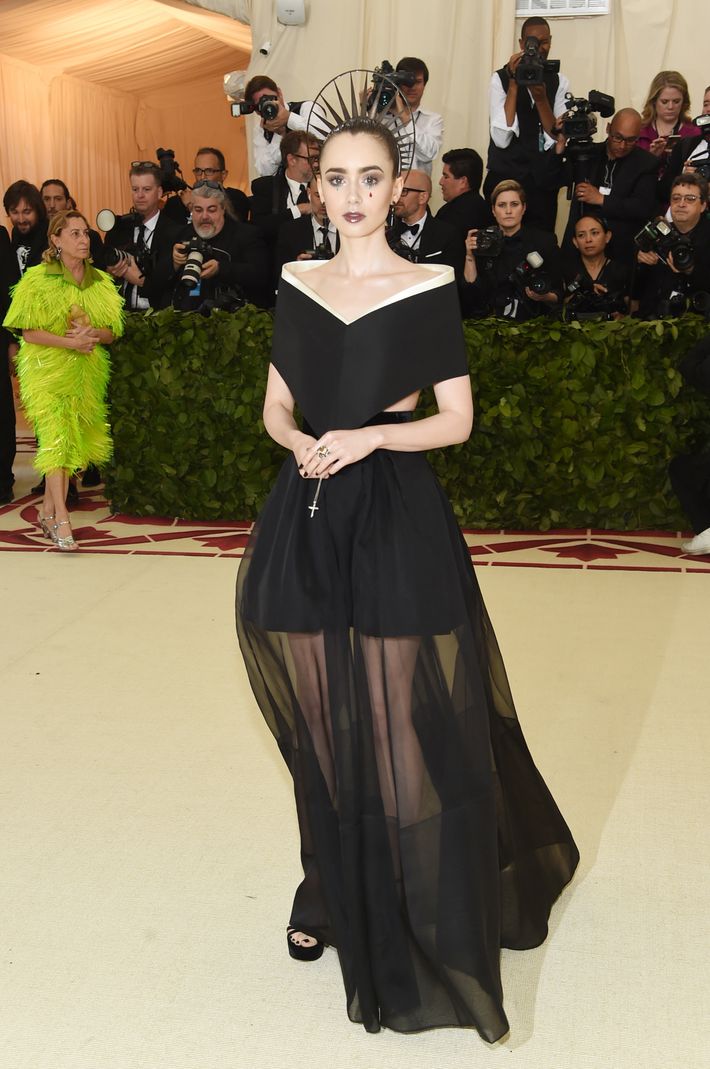 ME: *Does the In the Air Tonight drum break just like I do whenever I see Lily Collins, which isn't mature but I don't know how to stop it*
MOM: She's adorable — love the shape of the headdress she's wearing. She has a teardrop of blood. Marian statues that cried … real … tears … of … blood. (Googles "Mary crying blood.") Marian and accurate. A lovely widow's peak.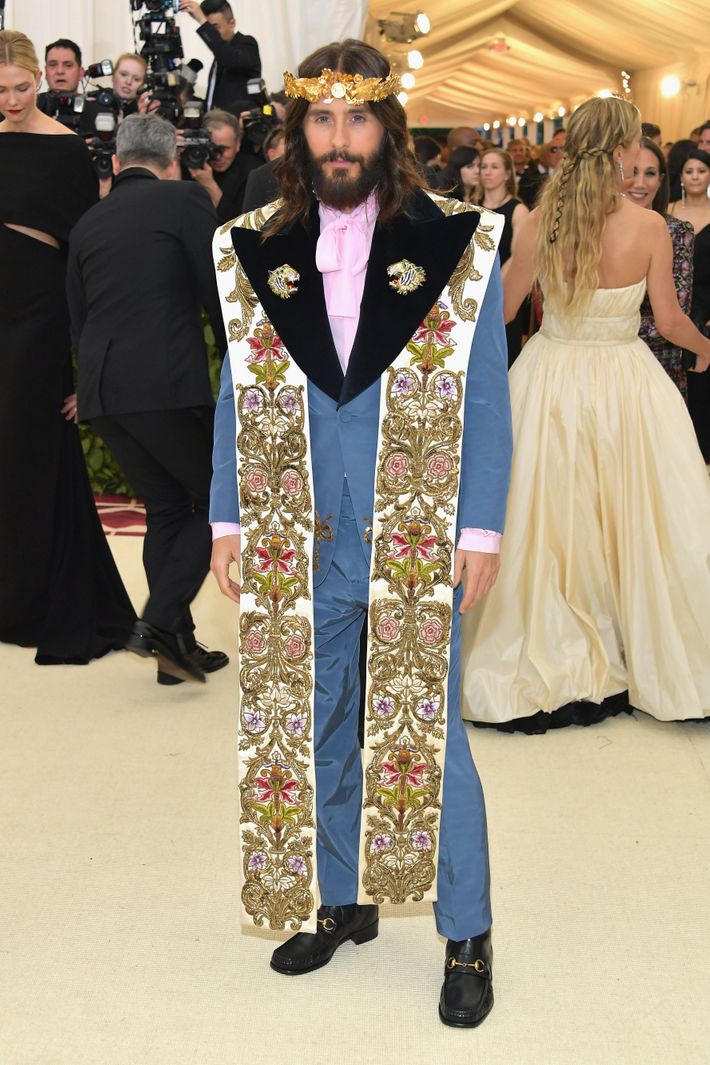 ME: Jared Leto has dressed as Jesus. We hate him for doing it, but we would also hate him if he hadn't!
Imagine how gross it would feel to be healed by Jared Leto
Walk on the water and let it bathe you Jared Leto
Ya got holes in your feet because you were walking around barefoot in a parking lot Jared Leto
But now that I'm looking at it more closely let me amend. He actually looks like a cross between Jesus and Jason Schwartzman dressed up in Kirsten Dunst's wardrobe for Marie Antoinette. Which sort of rules.
MOM (apparently looking at a totally different picture than I am): Quite the package going on, in his blue pants.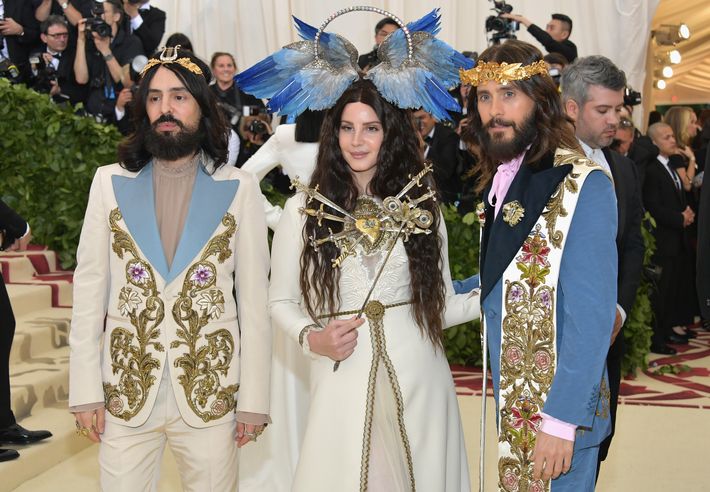 ME: Mom gets the packages in our household. Okay, now Lana Del Rey and another rando have shown up. Lana's so Marian anyway, she barely even needs seven daggers in her heart.
MOM: I'm sorry but Jared Leto looks like (BURSTS into laughter) the guy who just died in jail! Don't put that down!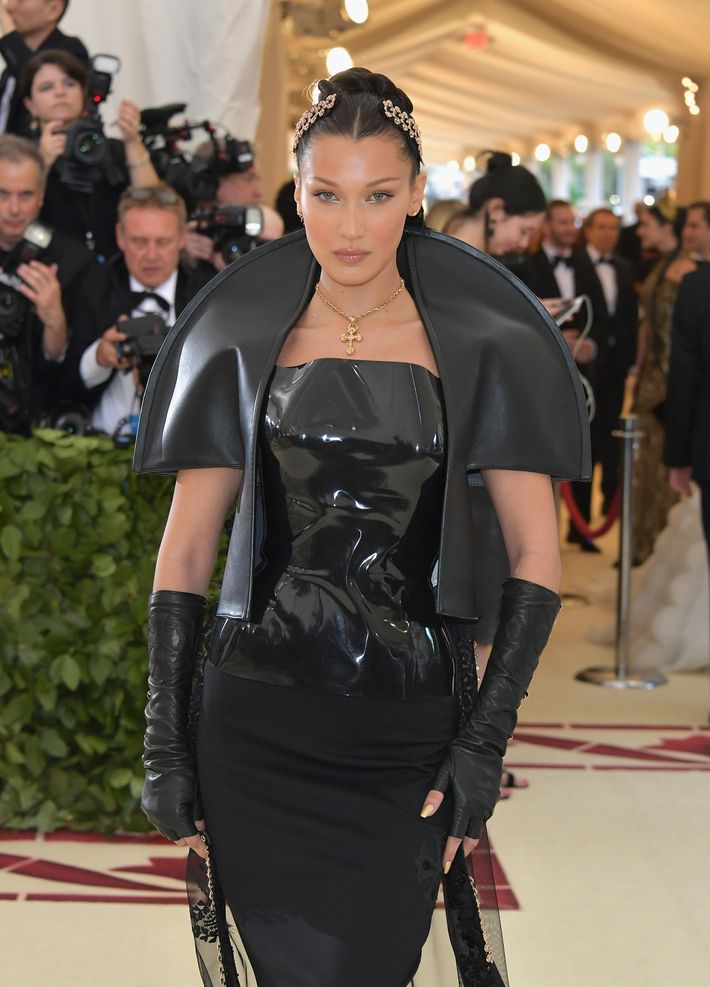 ME: Bella Hadid looks like she's going up to heaven to whip God's horse.
MOM: The first thing that comes to mind is Grace Slick. Grace is obvs a religious thing. Sort of goth. What a priest wears … a triangle mantilla. I like it though. (?!?!!) I love it!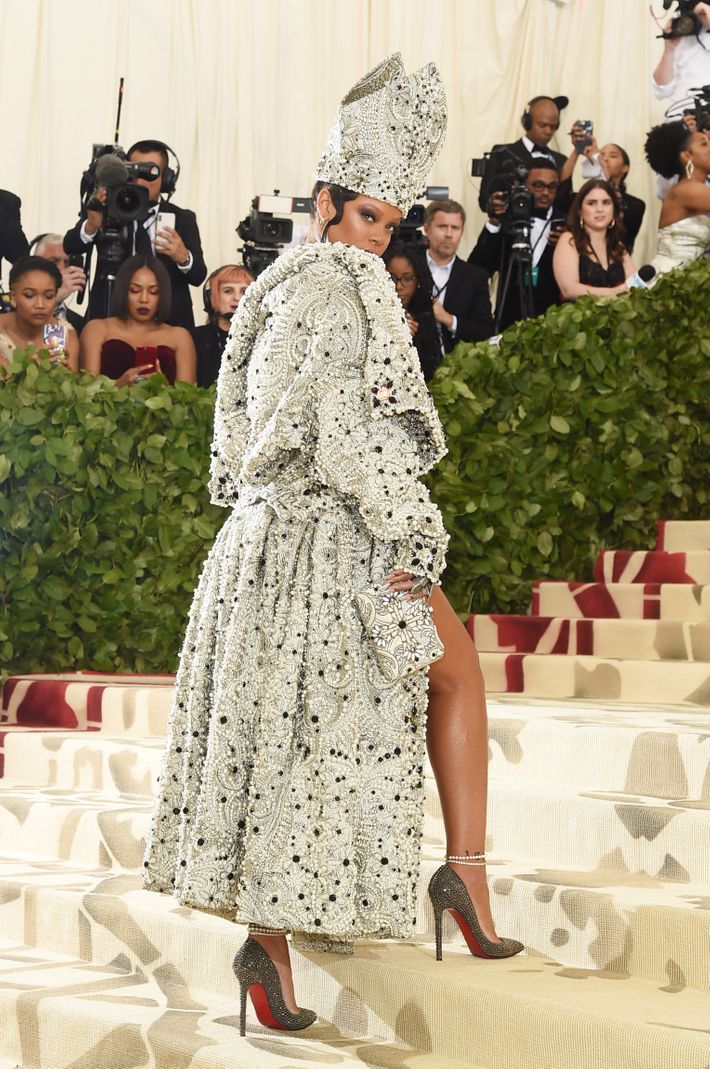 ME: Do you think Rihanna had it in writing that she was gonna be the only female pope? I think you get that in writing.
OK, in my notes I have written a joke in advance of a woman arriving dressed as the pope: Pope Joan?!? More like Pope Moan!!!
MOM (shouting her joke that was also written in advance): CLERICS WITH CLEAVAGE!
ME: Also, let's be real about this. Benedict would have been so jealous of her shoes.
MOM: Lil' Miss Pope. Mitre be the next pope? Reminiscent of the reward in heaven. And she's got the dove on her necklace. It's the Holy Spirit … coming down … to give his gift to her. Don't put that in!!!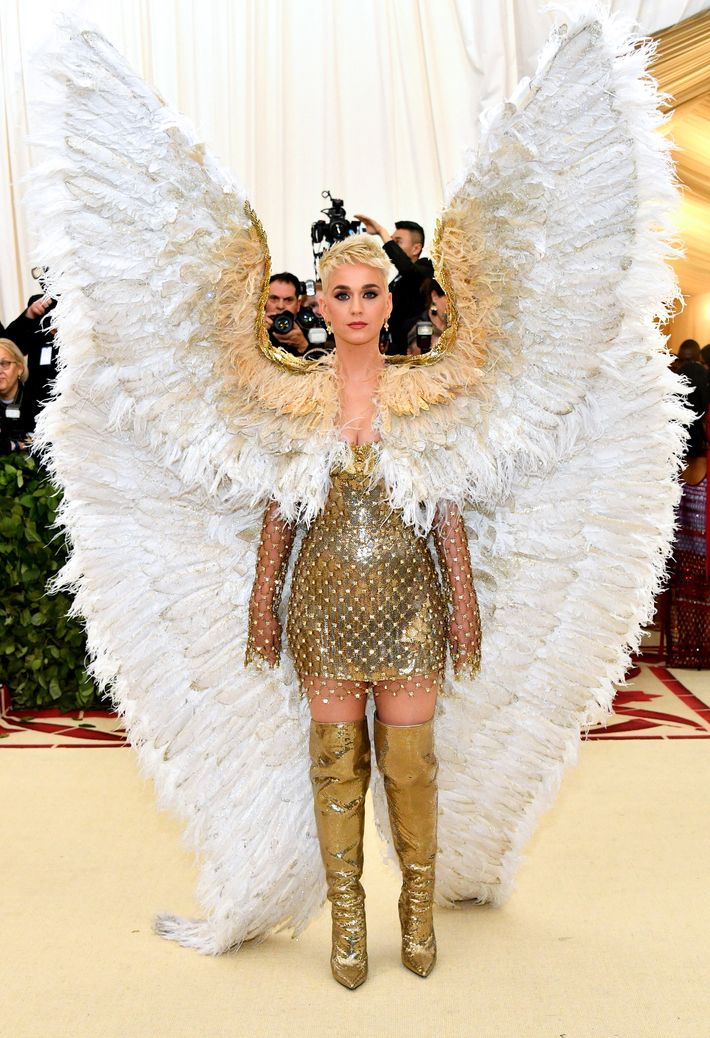 ME: Katy Perry is the most beautiful chicken I've ever seen … except Lady Kluck from Robin Hood.
MOM: She looks diaphanous. I do, I do like it. But she's not going airborne anytime soon.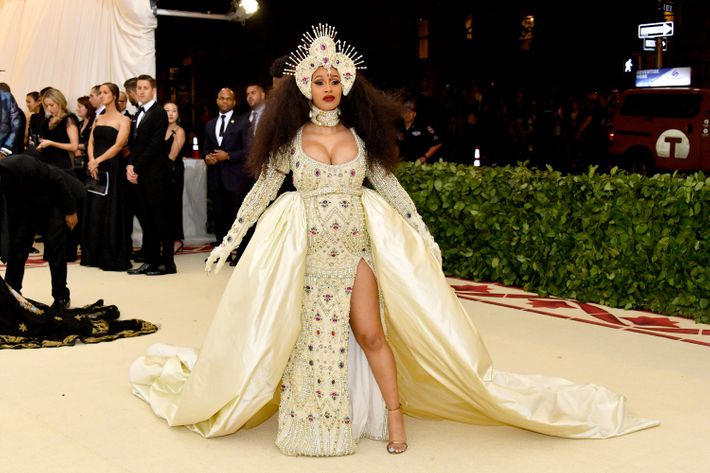 ME: Cardi B is pregnant, which is the most Catholic thing to happen so far. Also, let's respect how heavy her outfit is, which is also insanely Catholic.
MOM: WHO IS THAT MAN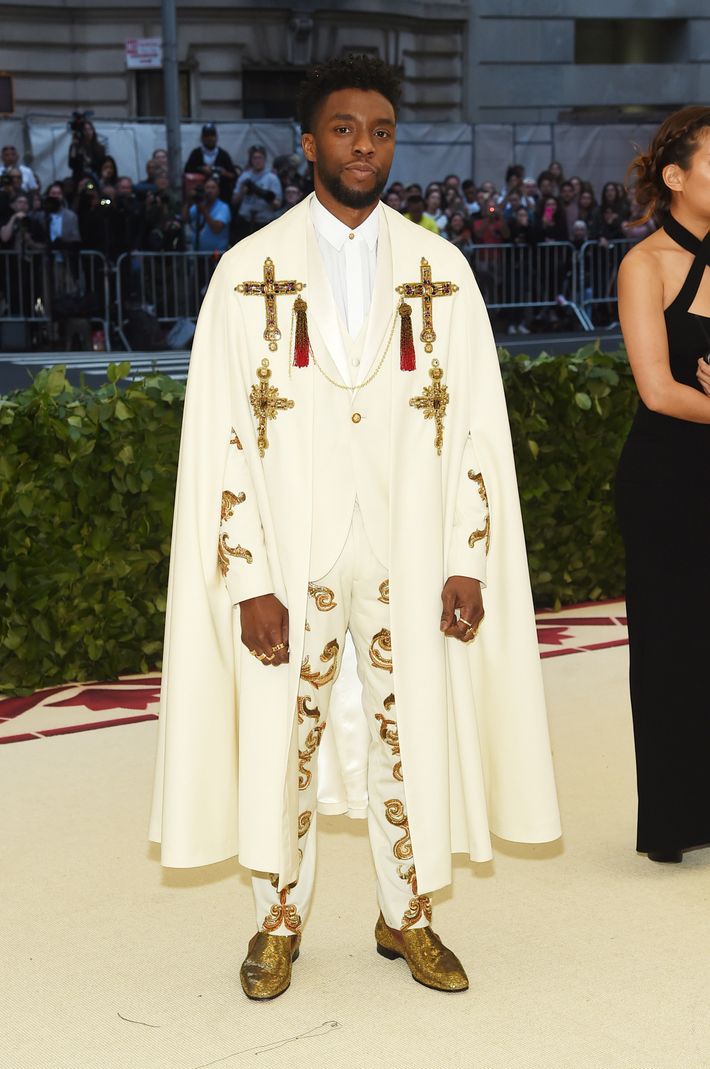 *14-minute intermission where I discuss Chadwick Boseman while my mother yells, "Is he wearing a COPE? Or a HUMERAL VEIL?"*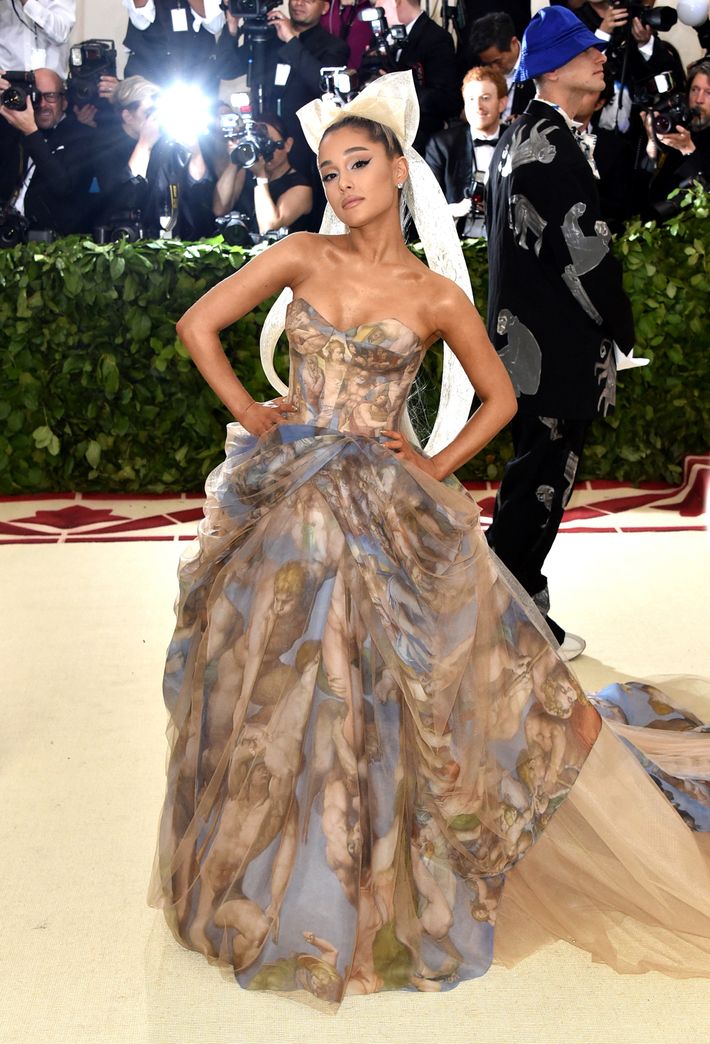 MOM: What goes around comes around. I don't like this one. I DON'T LIKE THIS ONE! I particularly don't like the crucified Jesus … between her chests!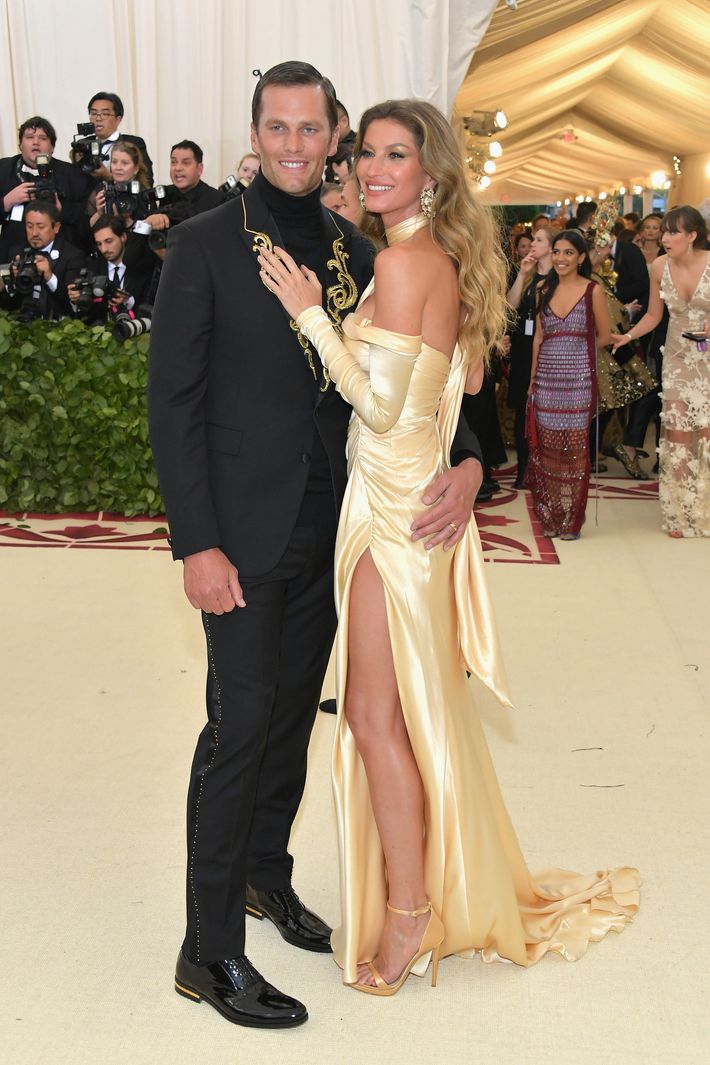 ME: Oh nice, Tom Brady and Gisele have come dressed as two of the damned.
MOM: I didn't recognize him. He looks … (long horrendous pause) … Dorky.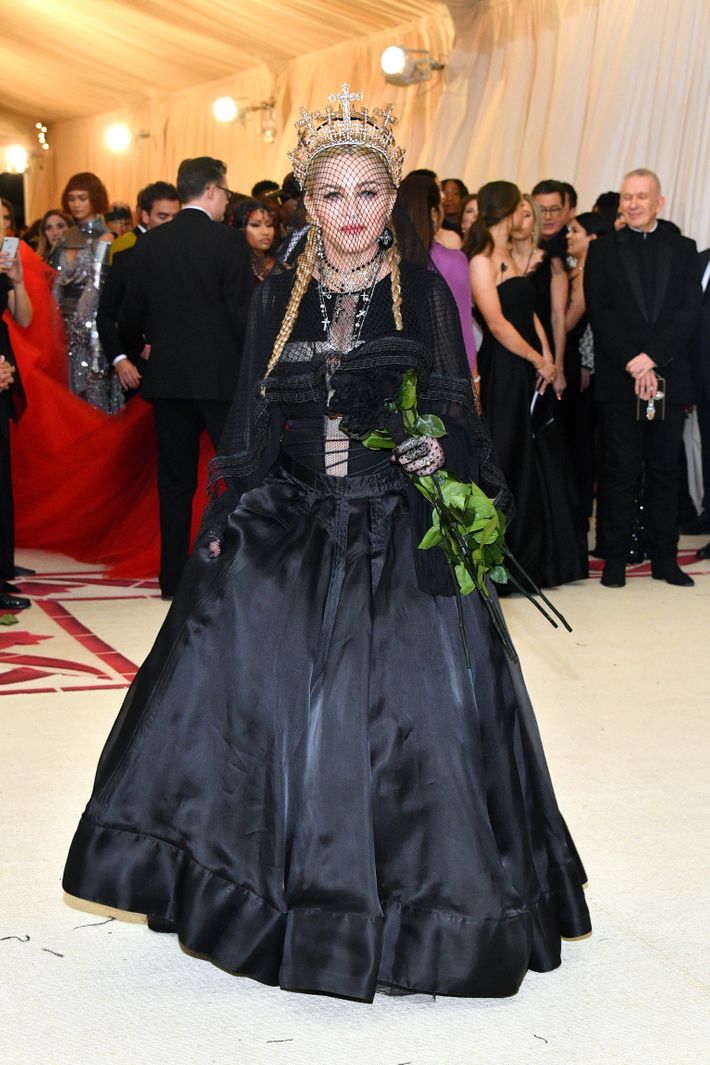 ME: Madonna?
MOM (in a snake voice): Madonna.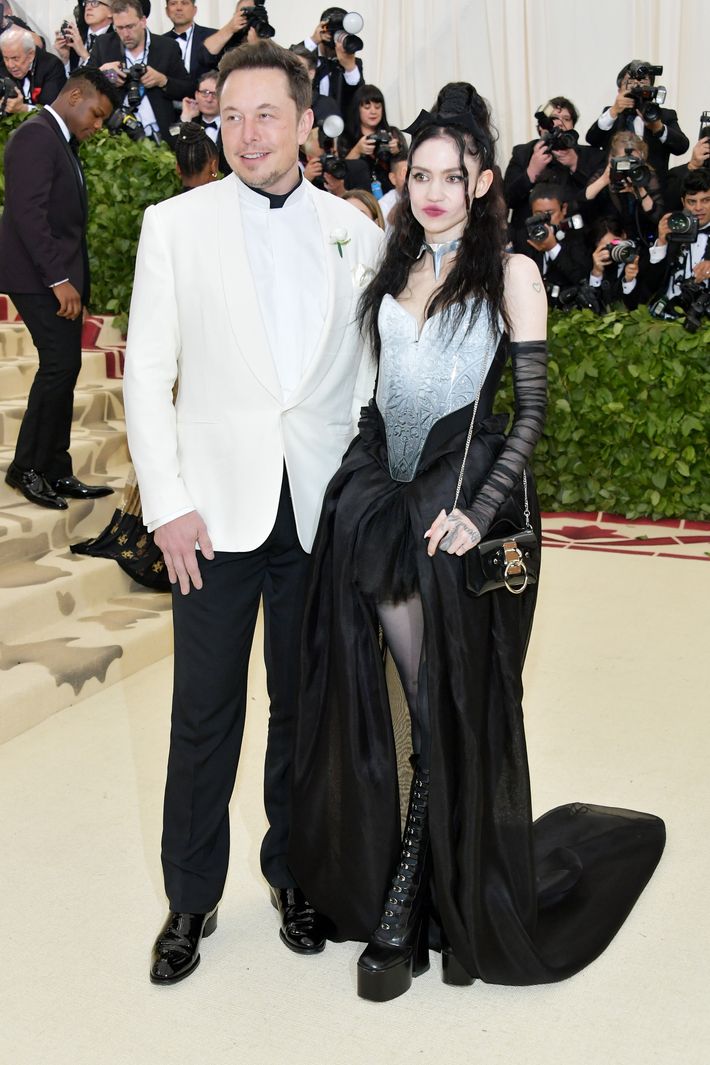 MOM: Elán Musk …
ME: Sic.
MOM: And Grimes …
ME: *remembers the "Page Six" story that they're dating and makes the noise ET makes when he is frightened, the sound of a tootsie-roll dolphin forcibly sending its brain upward through its blowhole and into the sky, as the sun bleeds gold in the background.*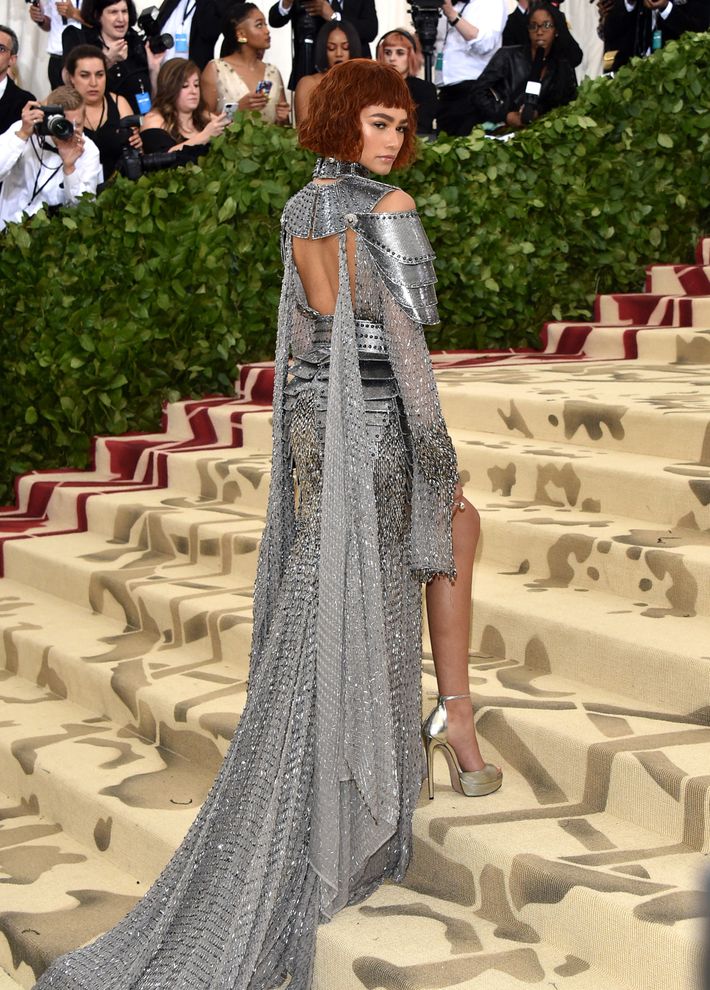 ME: Zendaya!!!
MOM: She needs a sword. She needs something to stab with. Oooh, she's cute! This is a nice incorporation of fabric and history without getting too creepy.
ME: All right, final thoughts. Chadwick Boseman was far and away the best dude of the night. He absolutely nailed the lines and accents and the whole thing was the color of a host. Even his shoulders looked pastoral. My favorite female look — that's harder to say. Rihanna, Greta Gerwig, and Zendaya were all standouts for me as far as the theme went. Ariana went big. Shouts to Lena Waithe, as well. But my favorite might have been Solange, actually? She dressed how Catholicism feels.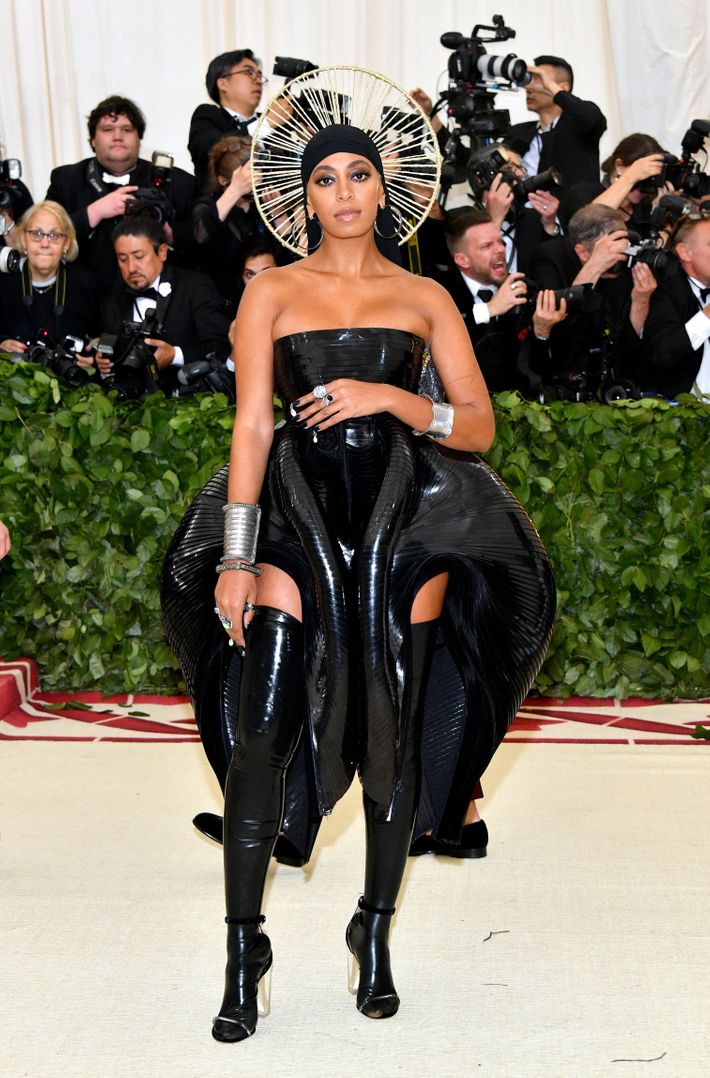 MOM: I hate what Solange is wearing because I don't know how she goes to the bathroom!
ME: We don't know how angels go to the bathroom either, and yet we trust them with our lives. Okay, my least favorite was Doutzen Kroes. Doutzen, I'm sorry, but I am going to eat that dress.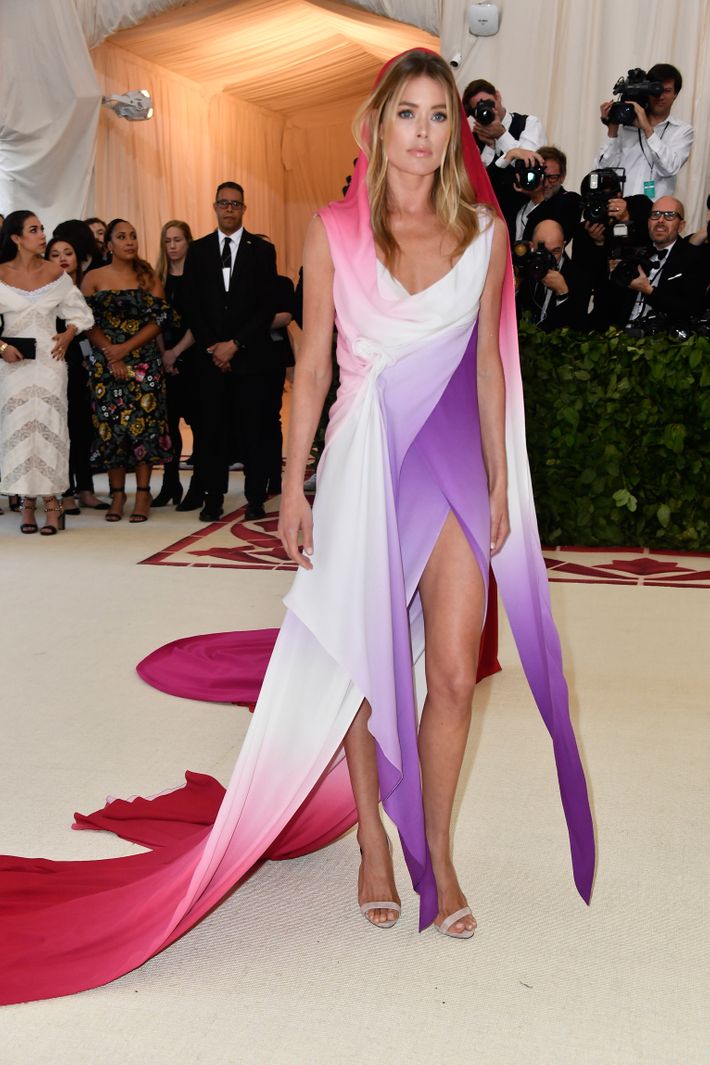 ME: What were your favorites?
MOM: Well I don't know her name, but she's wearing a white dress, and he's down on her knees and he's proposing to her!
ME: 2 Chainz and Kesha Ward! What could be holier than a proposal?
MOM: Priyanka Chopra is perfect. And I have no idea who she is, but Anna Wintour looks great.
ME: Least favorite?
MOM (in a snake voice): Madonna.
ME: And finally, did Dad have any comments?
MOM: He decided not to look at any of them. Lol!