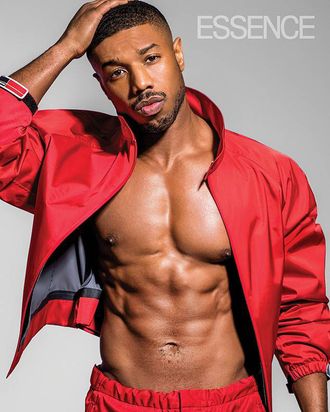 Michael B. Jordan on the cover of
Essence
.
Photo: Michael Rowe for Essence
If you have a pulse and eyes, then by now you know that Michael B. Jordan is Essence's June cover star. In the corresponding interview, Jordan discussed his new production company (!), his commitment to inclusion riders (!!), and supporting women (!!!), but here, we're going to discuss those abs (!!!!!!!!!!!!!!!!!!!).
On Instagram, Jordan thanked "the baby-oil lady" for helping him with his bare-chested look. The baby-oil lady in question is, in fact, celebrity makeup artist and groomer Jessica Ortiz. The Cut talked to Ortiz about what it took to make Jordan look so good.
Can you walk me through Michael's look?
Since we were in-studio and the lighting was so bright, to create that effect, I had to check Michael's skin so that it wouldn't bounce too much. He has perfect skin; it's radiant, so I just wanted to prevent his skin from getting shiny. I prepped him with some of my favorite clean, bio-active brands. I used REN's Perfect Canvas serum. It's a really nice primer-slash–skin care product. Then I kept the Tatcha rice papers on set, so anytime he got a little shiny, I was able to use that. I used Jack Black's Intense Lip Therapy for his lip balm; it's the best for guys because it's really hydrating, but it doesn't look shiny. It's like a matte lip balm.
How did you groom his eyebrows?
I used M.A.C's clear brow gel.
What did you use on his chest?
On his body I used Aesop Resurrection Hand Balm. I got a shoutout as being the "baby-oil lady," but I technically didn't use baby oil on him.
Interesting! Why did you use a hand cream instead of an oil?Baby oil would have come off as too shiny, or sweaty-looking, on camera. I wanted to keep it very sophisticated.
In the interest of, um, science — did you use your hands or a brush?
I used my hands. If it was a situation where I was using a body glow or a tinted lotion, I might have used a brush, but I typically use my hands.
What does the balm smell like? And how about the texture?
It has notes of mandarin rind, rosemary leaf, and cedar atlas. The scent was very herbal and a little woodsy, which has a nice, soothing quality. I'm into aromatherapy and aromatics, so I like things that have a really nice scent. I liked the consistency of this hand cream because it absorbs quickly, while leaving your skin feeling hydrated. It plumps the skin and feels fresh, but it doesn't leave much of a residue or feel heavy.
His abs look great. Did you contour them … even a little?
No, that's all him!
This interview has been edited and condensed.