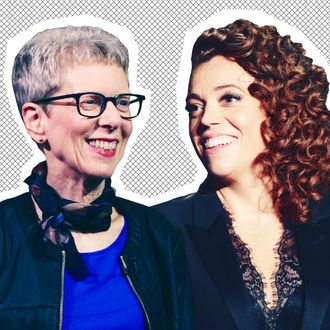 Terry Gross, Michelle Wolf.
After a cycle of outrage, defense, and think pieces about Michelle Wolf's White House Correspondents' Dinner monologue, we've finally arrived at her interview with the woman, the myth, the legend herself … Terry Freakin' Gross.
Wolf, whose new Netflix series conveniently airs at the end of the month, appeared on Fresh Air to discuss the controversy surrounding her routine — of which she says she "wouldn't change a single word."
"I'm very happy with what I said," Wolf told Gross when asked if she had any regrets. "And I'm glad I stuck to my guns."
Wolf also addressed the gendered aspect of the criticism, saying that perhaps the organizers didn't know what they were getting into and underestimated what her material would contain. "I think sometimes they look at a woman and they think, Oh, she'll be nice," Wolf said. "If you've seen any of my comedy, you know that I'm not."
There's also been an extended debate over whether Wolf took a shot at Sarah Huckabee Sanders's looks because of a smoky-eye joke. [Editor's note: AhhhHHH.] Wolf denies this, saying, "I made a conscious effort not to write any jokes about any woman's looks into this speech." Similarly, she said that her joke comparing Sanders to Aunt Lydia on The Handmaid's Tale, was also not about physical appearance. "To look at that and think I was insulting Sarah's looks, you had to want me to be insulting Sarah's looks," Wolf said. "I was talking about her personality and I think it says a lot about our society that you would immediately think I was talking about her looks rather than her personality." She also pointed out that she openly insulted both Mitch McConnell and Chris Christie's looks, but that didn't seem to drum up any opposition.
Listen to the full interview here, so you can periodically nod and say "excellent question, Terry" to yourself.