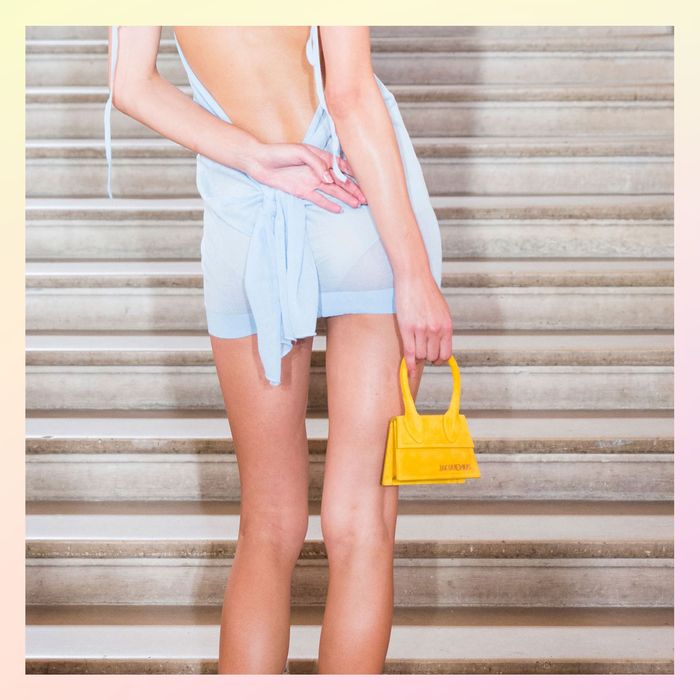 Jacquemus spring 2018.
Photo: Richard Bord/Getty Images
Pretty Things: A week dedicated to beautiful objects.
This is going to sound weird, but I used to have this recurring dream when I was a kid that involved an elephant and a Q-tip. There wasn't any action — the elephant didn't wax its ears, or clutch the Q-tip in its snout — they were both just there, floating next to each other in space. The contrasting image evoked a visceral reaction throughout my body every time, jolting me out of my slumber.
I was reminded of the elephant and the Q-tip recently when I held a teeny-tiny spring 2018 Jacquemus "Chiquito" bag in my hands. It gave me a similar feeling — one I can only describe as "oddly satisfying," like the genre of viral Instagram video where someone dips their fingers into a colorful vat of slime. In a feature for New York on miniature objects, Katy Schneider describes sensation of holding teeny-tiny things with an exclamation: "Eep!"
The Jacquemus bag is six centimeters tall and ten wide — just big enough to hold some credit cards, folded dollar bills, and maybe a few sticks of gum (or a handful of Q-tips). It is absurdly small. Comical, even, in its price-to-practicality ratio. But the size of this bag is what makes it pretty, like a seashell or a clementine in the palm of your hand.
In 2018, fashion is using size to question what "pretty" even means. Why are some body types deemed "prettier" than others? Why can't an "absolute unit" of a sneaker be an interesting piece of design? Why do women need to carry so much around with them?
Alas, I have not (yet) been able to justify the purchase of $500-plus object the size of a box of frozen peas. (Although its high price does add to its allure.) But I have brought other pretty mini bags into my life. In response to Paris Hilton's comeback, and the resurgence of early-2000s style in general, I purchased a baby pink vintage Dior saddle bag — a style that the brand brought back into rotation for fall 2018. I'm also on the hunt for a Fendi baguette, another miniature bag making its return this fall, and a Carrie Bradshaw favorite.
Our collective nostalgia for mini bags has inspired young brands like Jacquemus, Mansur Gavriel, and Simon Miller to reinterpret them in modern (even smaller) ways. Because of their size, every single detail feels precious and perfect, but not in a "cute" way. They look more like art objects than handbags — like something you'd want to display on your mantle. I hardly know what to do with them, besides behold their prettiness.
There's something about the way we are forced to hold these mini bags that makes them not only pretty to look at, but also pretty to hold. They change the way we carry ourselves. Simon Miller bags, for example, require the use of maybe two or three fingers, looped through a silver ring.
Some might argue that tiny bags are limiting — they prevent a woman from carrying what she needs. But I've always thought they were liberating, because they force you to examine why you're lugging around all of your stuff. When I hold my mini Dior bag or my Catzorange bag in the crevice of my elbow, my wrist drooping down, I feel like a dainty little lady without a care in the world. I don't even need my hands; they exist only in the service of beauty.
Photo: 18-05-07 Accessories PM1 B2 raypfeiffer W
If you buy something through our links, New York may earn an affiliate commission.