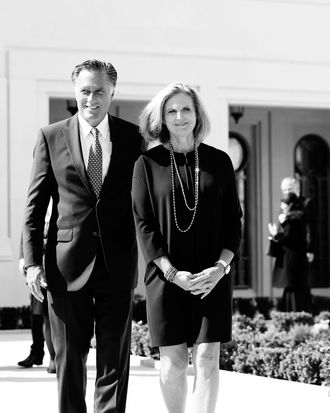 Mitt and Ann Romney.
Photo: Chesnot/Getty Images
Mitt Romney, it seems, has been treating his U.S. Senate run as a confessional of sorts. Earlier this month, he bravely shared "my favorite meat is hot dog," quickly followed by the stunning revelation of "I like hamburger next best." Now, he's openly admitting what his love language is: voting for his wife for president.
"I wrote in the name of a person who I admire deeply, who I think would be an excellent president," he told the Deseret News about his choice to write in Ann Romney during the especially divisive 2016 presidential election. "I realized it wasn't going to go anywhere, but nonetheless felt that I was putting in a very solid name."
Uh, okay, guy. Now just tell us what your third favorite meat is.