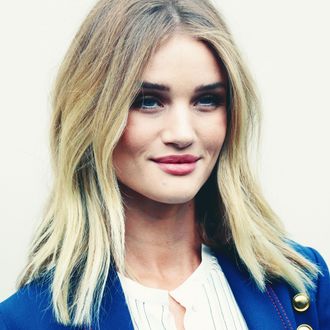 Photo: Anthony Harvey/Getty Images
Model, Mad Max: Fury Road actress, and style icon Rosie Huntington-Whiteley can now call herself an editor-in-chief. After years of spending time in hair and makeup chairs, she has decided to launch her own beauty website, Rose Inc.
Huntington-Whiteley told Vogue the idea first came during the end of her pregnancy, when she had a jolt of creative energy. She had been making mood boards, and wanting to create a site with a "girlfriend's notebook" feel, offering helpful tips and advice.
It goes without saying that the site is named after Huntington-Whiteley, but much of the content will focus not on her, but on fashion and beauty insiders, as well as on her friends. "The makeup artists, the designers, the skin experts, and the hairstylists — they've all been my teachers, and I've been taking notes," she wrote in her welcome message on the site. "I've racked up quite the degree for a girl who grew up on a farm in England."
Right now, the site is host to model Poppy Delevingne's laid-back morning routine, and Kate Bosworth's will follow soon. Experts and insiders like model Jessica Gomes and Grasie Mercedes will be the focus of future Q&As. It wouldn't be a beauty blog if there weren't some sort of what's-in-your-bag-style feature, which Huntington-Whiteley has cleverly dubbed The Spill. Beyoncé's makeup artist Sir John's interview is already live with links to his must-have products.