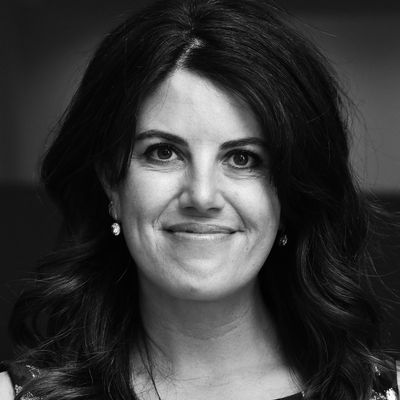 Monica Lewinsky.
Photo: Jared Siskin/Patrick McMullan via Getty Images
On Wednesday, Monica Lewinsky tweeted about a magazine that invited her to at an event — only to revoke her invitation after learning that former president Bill Clinton would be present. It was eventually revealed that the magazine in question was Town & Country, and the publication apologized for the "way the situation was handled." Now, in a Friday essay for Vanity Fair, Lewinsky has opened up about the ordeal, writing that the disinvitation said a lot about power.
First, Lewinsky explained how she even got involved with the fifth annual Town & Country Philanthropy Summit, which took place in New York City this week. She wrote that she received an electronic invite last month and RSVP'd that she'd be attending, only to receive a call last Friday informing her that Bill Clinton would be giving the opening remarks. She wrote:
"Let me guess — have I been uninvited?" I asked the woman who works with me on press communication, feeling that old, familiar pang in my gut. (I had been to this rodeo many times before — disinvited to professional and social events "to avoid any awkwardness" or "to not anger certain people," after an organizer or a host had looked over the guest list and reconsidered my potential presence.) "No, no," she had been reassured.
Lewinsky stressed that she had no interest in hearing Clinton speak, and that she offered to show up a half hour after his remarks. She was later told that her presence "would deflect the message of the summit" and was offered a "consolation prize" of writing an article for the magazine. She continued:
O.K., so it was a minor social dis. But underneath it all, there were some interesting lessons in outmoded power structures, in outdated ways of thinking and modeling behavior, in the evolving definitions of inclusion — and in the ramifications that come when you deliberately choose to exclude. What happened to me happens daily to millions of people in myriad ways — especially women. And, especially women who have been marginalized in society. 
That it should be acceptable to disregard Lewinsky in favor of Clinton, a man who was in a position of power when she had an affair with him as an intern, seems "backwards and patently absurd" in the #MeToo era, Lewinsky remarked. She also wrote that she felt that having her at the event was a missed opportunity to push the conversation about power dynamics forward. Read her full essay here.