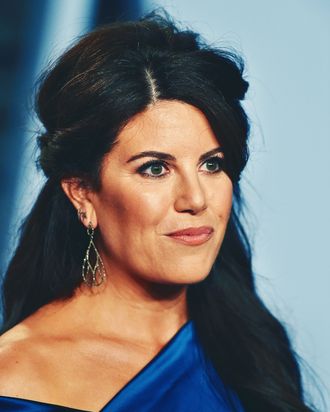 Monica Lewinsky.
Photo: Axelle/Bauer-Griffin/FilmMagic
On Wednesday afternoon, in a tweet addressed to the "world," Monica Lewinsky vented her frustrations with a magazine that allegedly invited her to an event, and then later revoked her invitation upon learning that Bill Clinton would be in attendance.
"Please don't invite me to an event (esp one about social change) and — then after I've accepted — uninvite me because Bill Clinton then decided to attend/was invited," she tweeted. "It's 2018. Emily Post would def not approve."
She then claimed that the offender, an unnamed magazine, attempted to assuage any hard feelings by offering her an article in the publication, which she found to be insulting.
Following Lewinsky's tweets, some people began to speculate the magazine to which she was referring. One guess was Town & Country, which is hosting its 2018 Philanthropic Summit at the Hearst Tower in New York City today. Kicking off the event this morning was none other than Clinton, who introduced Stoneman shooting survivor and gun-control advocate Emma González.
While much has changed in the 20 years since Lewinsky was thrust into the public eye because of her affair with Clinton, this incident — in which Clinton's presence was deemed more significant than Lewinsky's — is further proof that powerful men can find themselves embroiled in serious scandals where they abused their status, and still come out on top.
T&C did not respond to the Cut's request for comment to confirm or deny rumors, but attendees at the event told HuffPost that Lewinsky was uninvited from the annual summit.
Lewinsky declined to comment.
Update: At 5 p.m. on Wednesday, Clinton's press secretary Angel Unreña tweeted that the former president was unaware of Lewinsky's invitation and its revocation.
Update: On Friday morning, Town & Country tweeted an apology to Lewinsky, saying "We apologize to Ms. Lewinsky and regret the way the situation was handled."