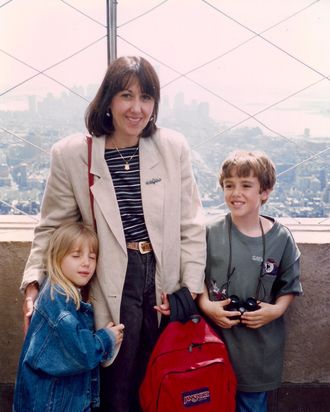 Photo: Courtesy of Kristen Martin
In 2002, canvas Coach bags emblazoned with the signature C pattern and offset with buttery leather flooded the hallways of my solidly middle-class-but-striving Long Island school. Girls who wore Coach were keyed into the new symbols of social cachet: wearing brand names emblazoned across your butt and monograms on your teeny tiny purse.
At 13, I had no interest in Juicy Couture tracksuits — I signaled my identity as an emo kid by sporting skater T-shirts from PacSun and tattooing my Chuck Taylors with Brand New lyrics. But while Coach signified the kind of mainstream conformity I purported to be so over, I desperately wanted a C-printed bag.
My mom had carried Coach for as long as I could remember. She would complete an outfit of an oversize Liz Claiborne button-down tucked into high-waisted jeans with the soft leather of a Coach bag slung over her shoulder. Growing up in the 1990s — before the brand shifted away from making solid-colored, glove-tanned leather purses — I would rifle through the sueded interior of Mom's Coach bags for gum, or play with the magnetized buttons on their clasp closures while riding shotgun in our Ford Taurus station wagon. Mom liked Coach because their purses were well-made but not too flashy; she always removed the ball-chain tag that yelled out the brand name.
Mom didn't live to see Coach's evolution into monogrammed excess. In 2001, the year Coach launched its mixed-materials Signature line, she was diagnosed with late-stage lung cancer. She was private about her cancer, keeping it from most of her close friends. At first, she only told her hairdresser Joanne, who accompanied her to buy a wig that would match her shoulder-length dark brown hair. When Mom died in January 2002, one of her friends said she had thought the wig was Mom's real hair. I think Mom would have been pleased that she was able to keep up the illusion of looking like her put-together self, even as chemotherapy left her nauseated and sallow and stole her thick head of hair.
Mom left behind a closet full of impeccably cared-for, understated designer items that she had purchased with deliberation from Lord & Taylor, Bloomingdale's, and Macy's, including her Coach bags: the chocolate-brown leather bucket bag she used until she died, the red cross-body with the buckle closure. I could hardly bear to look at her clothing and accessories, let alone wear them. Over time, the Coach purses took on an especially heavy emotional weight for me: they were objects of mundane utility that had allowed her to lug around her wallet and keys, her hairbrush and compact, her Marlboro Reds — accoutrements she needed for living, but useless in her death.
Even if I hadn't felt overcome by the sight of them, I wouldn't have worn Mom's Coach bags back in 2002. The bags were too mature for me; I would have looked like a little girl playing dress-up in her dead mother's closet. I needed a purse that would show that even though I didn't have a mother anymore, I was still normal.
Everyone at school knew that my mom had died, but I never really talked about it, not even with my closest friends. I was terrified of being seen a walking memento mori: the girl whose mother had died. I was terrified of being pitied, because pity would mark me as outside the norm, inferior to my peers. But mostly, I was terrified of publicly slipping into the abyss of my loss. In order to keep living, I needed to tamp down my grief, to keep acting like I was the same girl I had been before I had seen my mom in her coffin, done up by the mortician with too much blush, wearing a blue silk dress.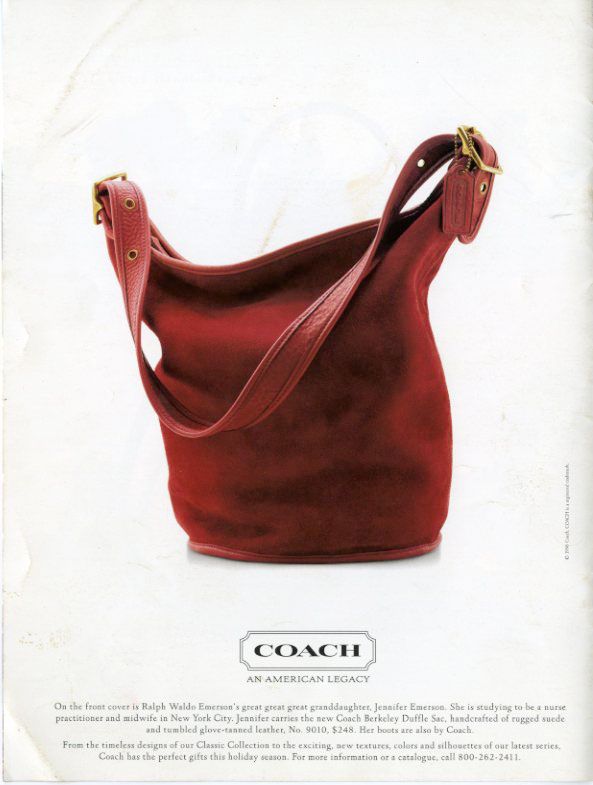 The C-print Coach bag I so coveted, then, was a sign to my classmates that even without a mother, I knew how to shop, how to dress, how to live. About a year following Mom's death, after spending hours on the brand's website deliberating between color schemes, I went to the Coach store in the Roosevelt Field Mall with the hundred or so bucks I had saved up from the weekly allowance and Christmas gifts that my family could afford. Taking the small, tan-and-brown purse off the shelf, I felt sophisticated, not like the gangly girl with braces and half-grown-out bangs I was. And with the bag cradled under my armpit at school, I felt comfortable about being noticed for once, happy to show off the ball-chain tag.
After that first Coach bag, I acquired more throughout high school, signaling my competence in keeping up with a trend: a teeny white nylon makeup bag with teal and lavender C's that barely fit over my shoulder, a solid black leather slouchy hobo bag that I adorned with a baby blue Coach butterfly keychain, a patchwork wristlet. In college, I moved on to the staple bag on campus: the Longchamp Le Pliage. I would overload my Longchamp tote with books until the leather straps separated from the nylon, and then buy a new one in a different color.
A few years ago, after getting fed up with torn Longchamp straps and feeling like I had grown out of needing to show off labels on the outside of my accessories, I bought an all-leather, saddle-colored cross-body bag from Madewell. This was, of course, its own bid at fitting in; I had eyed friends and colleagues' leather cross-body purses the same way I had studied those C-print Coach bags in junior high. I felt more confident in my own taste, though, then I had right after Mom died, when I missed her dressing room advice. Over the years, I had honed my own personal style, which turned out to be not much different than Mom's: I gravitated toward preppy basics and classic silhouettes, pieces that were made to last. That sturdy cross-body fit the bill.
My Madewell purse served me well until I woke up one morning this February to find 10 inches of the strap gone, chewed up by my puppy, Penny Loafer. Needing a purse to carry and not wanting to drop a chunk of change on a new one, I thought of my mom's Coach bags, which I had unearthed from a storage unit a few years earlier.
As I pulled the bags down from my closet shelf more than 16 years after my mom had last used them, I felt a sense of sorrow over how long I had let them languish. With my grief no longer fresh, the purses felt less like charged objects of loss and more like ways to access the past. I conditioned the leather, which was still supple, and removed Mom's wallet and hairbrush from the chocolate brown bag, placing them on my dresser, and replacing them with my own.
When I'm wearing Mom's Coach bags now, I'm sometimes unsettled with how easy it has been to make them feel mine, to overwrite my memories of her using them. But as I latch and unlatch the magnetic clap on the red purse, I remember sitting in the car next to her as she drove, her eyes shielded with oversize sunglasses, her long fingers curled around the wheel, and I know I carry her with me still.