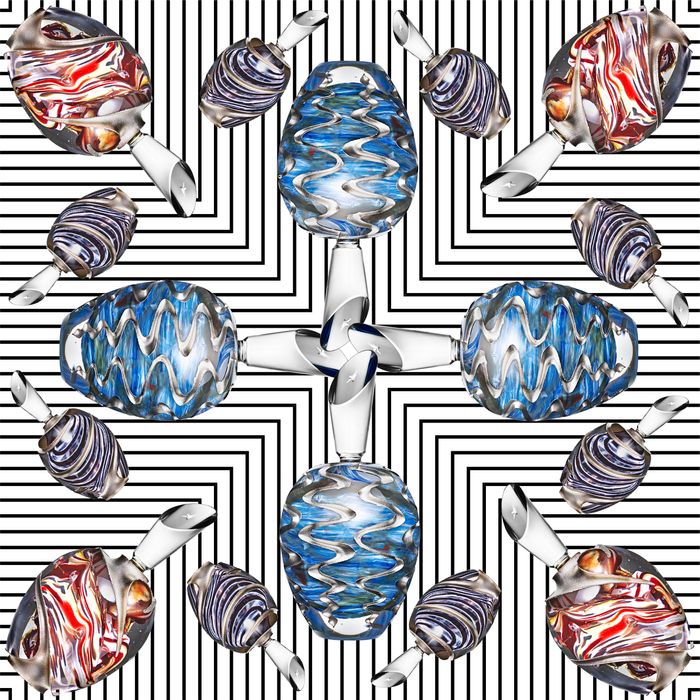 Photo: Courtesy of Mugler
Where many designers choose fragrance bottles that stick to the standard rectangular or square shapes, Mugler sees an opportunity to create more than just a house for your favorite perfume. The jewel-like purple Alien bottle, the celestial-inspired Angel Etoile bottle, and emerald heart of Aura bottle all elevate the fragrances to pieces of décor that deserve a spot on your shelf even after the perfume is gone. Inspired by creator Thierry Mugler's vision, Mugler and Mugler Studio created a range of experimental fragrance bottles that look like glass-blown sculptures.
Mugler recruited glass worker Frederic Alary to craft the hand-blown "eggs," which are then infused with pigments, sculpted, and finished with a layer of gold, rhodium, or stainless steel. Some of the bottles take on a marbled effect while the others look like a precious jewel cradled in metallic claws. The bottle is topped with an asymmetrical conical stopper that's stamped with the signature Mugler star.
Twenty-five designs make up the Nuages (Clouds) collection and customers can choose which Mugler fragrance they'd like poured into the bottle of their choice. Like many of Mugler's fragrances, these bottles can be refilled and preserved for life. Each collector's piece comes with a white circular travel case, three ounces of the selected fragrance, a metal funnel, and a booklet printed on vellum parchment.
The bottles will retail for $3,500 and are only available from May 20 at Saks Fifth Avenue in New York City, chosen for its dedication to luxury.