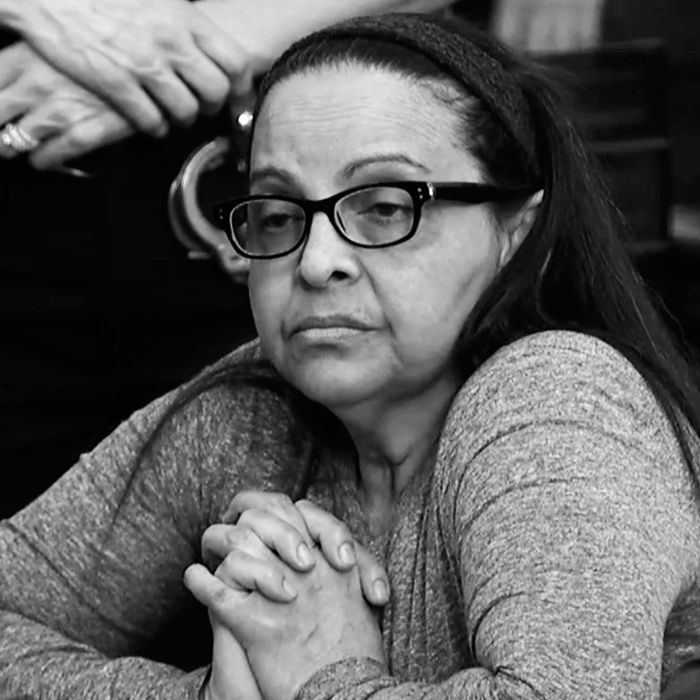 Yoselyn Ortega.
Photo: AP Photo
Before Judge Gregory Carro sentenced her to life in prison without the possibility of parole, Yoselyn Ortega wept. Her hands were cuffed and chained to her waist, so she couldn't wipe away the tears rolling down her cheeks. "I'm sorry for everything that happened," said the woman who, in 2012, murdered two children she cared for as a nanny. "But I hope that no one goes through what I have gone through. And though many people wish me all the worst,* my life is in the hands of god. I am in jail."
Ortega spoke in Spanish, with a court interpreter echoing her words in English. When the interpreter translated Ortega's tearful description of her imprisonment, Assistant District Attorney Stuart Silberg threw up his hands. Moments earlier, he'd cited Ortega's self-pitying behavior as evidence of remorselessness. "She has never shed a tear for those children," Silberg said. During her two-month trial, Ortega wept repeatedly — but only during testimony about her own suffering.
Last month, a Manhattan jury rejected Ortega's plea of not guilty by reason of mental disease or defect. Officially a murderer, Ortega returned to Rikers Island to await her sentence for killing Lucia and Leo Krim, ages 6 and 2, in 2012. That sentence arrived on Monday, after victim-impact statements from parents Marina and Kevin Krim. (The Krims left the room before Ortega spoke.)
On Monday, standing at a podium perhaps ten yards away from Ortega, Marina Krim spoke slowly. "The last time I was here, I spent over six hours answering questions about what led to, and the day of, and the days after my daughter Lulu and son Leo were murdered by the evil defendant," she said. "I wasn't planning on coming back into this courtroom after that." During her grueling two-day testimony, Marina Krim screamed "You're evil! You're evil!" at Ortega.
But at the sentencing, Marina's voice was even. "I'm here once again to finish this horrible chapter of my and my family's life," she said. "I wrote this statement knowing that in the future, Nessie will read this." Nessie was with her mother on the day of the murderers, and saw her siblings' bodies. Marina continued: "Ines Olivia Krim, the girl who lived. We call her Nessie. She's 9 now." She is "happy, funny, [and] confident." She loves school and sports. But "each time she makes a wish, it's always for Lulu and Leo to come back to be with us. Nessie knows that wish will never come true." A figure skater, Nessie regularly performs to her late sister's favorite song, "Sir Duke" by Stevie Wonder, Marina said.
At the sentencing, Marina and Kevin Krim both cast blame on Ortega's extended family, whom Marina described as a "conspiracy" of "bad, unethical people." Said Kevin Krim: "What this court didn't hear enough of was how the family lied about the defendant's background to us — they faked her history and references to make her seem qualified when she certainly was not. Their lies led directly and deliberately to our decision to hire the defendant." Kevin is now working with a bipartisan set of state legislators on Lulu and Leo's Law, which would criminalize lying in the pursuit of a job in child care. (Lulu was Lucia's nickname.)
"The defendant is an evil and utterly dangerous narcissist," Kevin continued. "It is right that she will go from being hated by the world to being forgotten by the world, before she's even dead, while Lulu and Leo's siblings and legions of family and friends — even friends who never knew them — will never forget their inspiring legacies."
No members of Ortega's family were present at her sentencing.
When defense attorney Valerie Van Leer-Greenberg asked Judge Carro for mercy on behalf of her client, she characterized the jury's guilty verdict as unduly prejudiced by emotion. She quoted juror David Curtis, a father of two, who spoke on the jury's behalf at District Attorney Cy Vance's post-trial press conference. "Every one of us" in the jury "could feel the heartbreak and the agony" when Kevin and Marina testified, Curtis had said; "the jury deceived themselves," Van Leer-Greenberg argued. Seated in the second row of the court's gallery, Curtis held hands with two fellow jurors. They were not required to be there, but enough came willingly that they required more seats than the court had initially reserved for them.
Judge Carro went out of his way to refute the accusation of jury bias. He addressed Ortega directly: "Your planning and forethought regarding your suicide plan on that day was unmistakable," he said. Before going to work on the day of the crime, Ortega had arranged her insurance cards, credit cards, bank statements, government IDs, and family keepsakes for her family to find.
"You clearly were going to end your life that day," the judge continued. "What's unclear, mainly because you claim to have a lack of memory, is why you decided to take the lives of the children as well as your own. That's always going to be a mystery to us, because you refuse to tell anyone." Acknowledging that Ortega seems to have some sort of mental illness (although not one severe enough to absolve criminal responsibility) Carro continued: "You went untreated not because New York state doesn't have facilities and services" for the mentally ill. "You failed in your responsibility — and your family failed in their responsibility — to seek treatment for your mental illness." During her argument, Valerie Van Leer-Greenberg confirmed that Ortega is still resisting treatment — she has, for years, refused to take the antipsychotic medication her doctors prescribe. And whereas mental illness may sometimes be a mitigating factor in sentencing, even when a person is responsible for a crime, Carro decided Ortega's resistance to treatment and unwillingness to admit culpability render her undeserving of lenience.
In the years since the crime, Marina and Kevin Krim have had two more children. They started a charitable foundation in the name of the children they lost. "The defendant may think she destroyed Lulu and Leo," Marina concluded. "But she is a failure in this too. Lulu and Leo are powerful forces. They are two stars now, that will always lead us forward."
*This post has been updated to reflect the accurate transcript of Yoselyn Ortega.