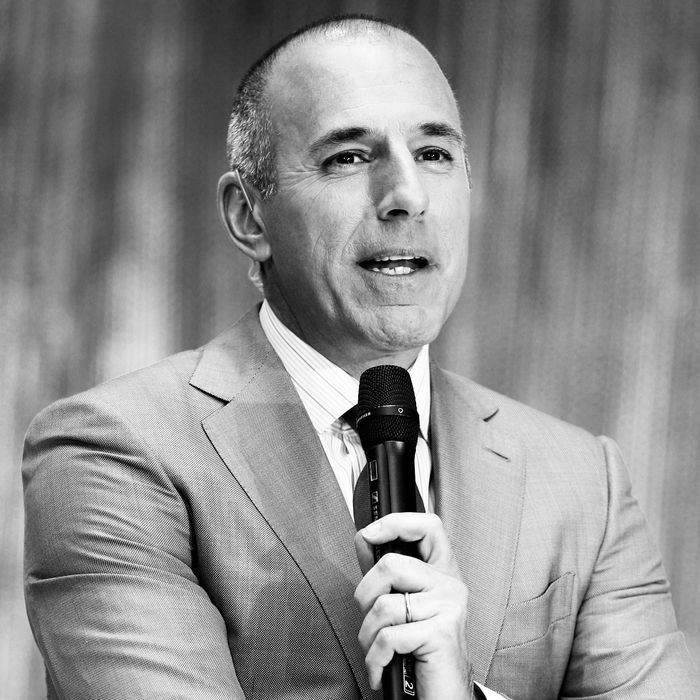 Matt Lauer.
Photo: NBC NewsWire/NBCU Photo Bank via Getty Images
In a report sent to staff on Wednesday, NBC officially cleared its executives of any misconduct relating to the allegations of sexual harassment and assault against disgraced Today show host Matt Lauer, who was fired in November.
According to The Hollywood Reporter, which obtained a copy of the memo, the report said investigators found no evidence that anyone in a leadership position at NBC News, the Today Show, News HR, or the News Division knew about any complaints about Lauer until November 2017.
NBC also sought to clear up rumors about the button Lauer had under his desk that allowed him to lock his door without getting up. Back in November, Variety reported that the button facilitated Lauer's alleged misconduct, allowing him to initiate inappropriate contact with female employees while ensuring that no one would walk in on them unexpectedly. But NBC says the button is not nearly so nefarious. Per THR, the report says:
According to the NBCUniversal facilities team, the button is a commonly available feature in executive offices in multiple NBCUniversal facilities to provide an efficient way to close the door without getting up from the desk. The button releases a magnet that holds the door open. It does not lock the door from the inside.
Last week, the Washington Post published a report on new allegations against the former TV host, including one woman who said Lauer exposed himself to her in his office and asked her to touch him, and another who said she and Lauer had sex in his office in the middle of the day. Lauer's office has since been demolished.