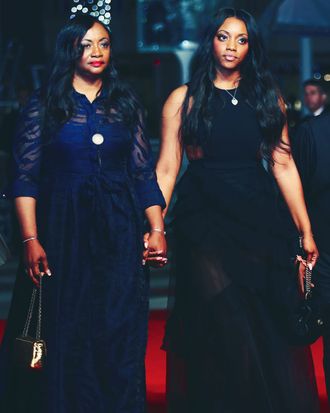 Executive producer Pat Houston and Rayah Houston attend the premiere of
Whitney
at Cannes.
Photo: Andreas Rentz/Getty Images
At the Cannes Film Festival Wednesday, a documentary about Whitney Houston's life, simply titled Whitney, made its premiere. Though Vanity Fair writes that it was not Oscar-winning filmmaker Kevin Macdonald's intention to "break news" with Whitney, there's one particular revelation that has been at the center of the media coverage coming out of Cannes: that Houston was allegedly sexually abused by her cousin.
For the documentary, which has been described as the "definitive story of the global superstar," Macdonald set up interviews with Houston's relatives and close friends. Of the interviewees, two accused the pop icon's cousin, Dee Dee Warwick, of molesting Houston when she was a child. One of the accusers is Houston's half-brother, Gary Garland-Houston, who claims he too was sexually abused by Warwick.
Warwick, the niece of Houston's mother, was a respected gospel singer in the 1960s and 1970s, though she was overshadowed by her sister, Dionne Warwick. Ten years ago, in 2008, she died — just four years before Houston.
Speaking to the Guardian in April 2016, Macdonald vocalized how excited and grateful he was to direct Houston's official documentary, which has been backed by her family. (It will premiere in the U.S. on July 6.)
"We have access to never-before-seen footage of Whitney that charts her whole life from her beginnings singing in her church's gospel choir, to the day of her tragic death and three decades of her music including demo recordings, rare performances, and audio archive," he said. "Although we won't shy away from the darker parts of Whitney's life — her descent into addiction — I want audiences to walk out of the cinema and feel positive about Whitney and her music. I want to reveal a woman that even her most die-hard fans never knew and a woman those new to her life and music will never forget."