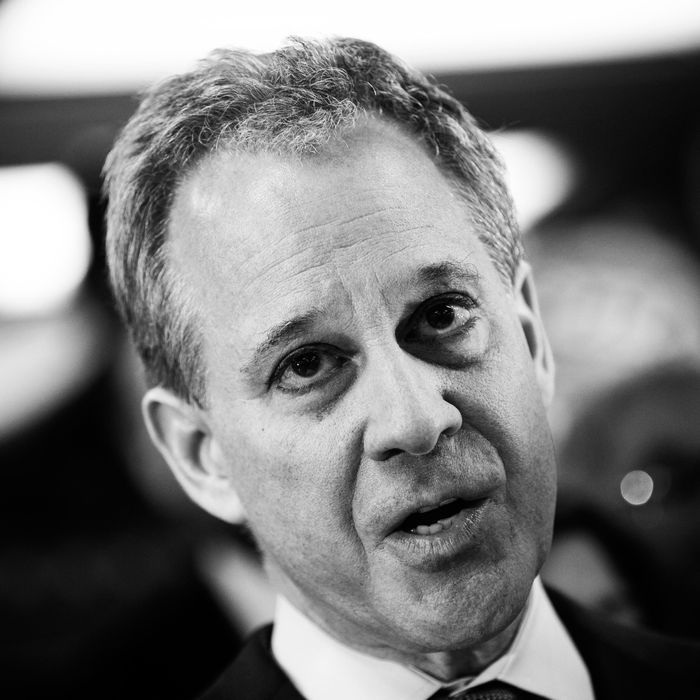 Eric Schneiderman.
Photo: Drew Angerer/Getty Images
On Monday evening, The New Yorker published a report in which four women gave shocking, horrific accounts of the physical abuse and intimidation they allegedly endured at the hands of New York attorney general Eric Schneiderman. The women — three who had romantic relationships with him, and one who rejected his advances — accused Schneiderman of choking and slapping them, and also of engaging in threatening, controlling, and demeaning behavior. Hours after the report was published, New York governor Andrew Cuomo called on Schneiderman to step down — and soon after, Schneiderman abruptly announced his resignation.
Per the New York Times, Schneiderman said in a statement late Monday night:
It's been my great honor and privilege to serve as attorney general for the people of the State of New York. In the last several hours, serious allegations, which I strongly contest, have been made against me. While these allegations are unrelated to my professional conduct or the operations of the office, they will effectively prevent me from leading the office's work at this critical time. I therefore resign my office, effective at the close of business on May 8, 2018.
Schneiderman is a longtime antagonist of the Trump administration, pushing back on the proposed travel ban and even reaching a $25 million settlement with President Donald Trump over his allegedly fraudulent Trump University. Recently, Schneiderman seemingly embraced the #MeToo movement by filing a civil-rights lawsuit against Harvey Weinstein's company to get greater compensations for the former producer's sexual harassment and assault allegations.
However, the report from The New Yorker's Ronan Farrow and Jane Mayer states that Schneiderman is now "facing a reckoning of his own." Two of the four women went on record — Michelle Manning Barish and Tanya Selvaratnam — to accuse Schneiderman of physical violence (that required medical attention) and lewd language.
They allege that he repeatedly hit them, often after drinking, frequently in bed and never with their consent. Manning Barish and Selvaratnam categorize the abuse he inflicted on them as "assault." They did not report their allegations to the police at the time, but both say that they eventually sought medical attention after having been slapped hard across the ear and face, and also choked.
Two of the women said Schneiderman threatened to kill them if they ever broke up with him, and one claims Schneiderman warned her that he could have her phones tapped or have her followed.
Schneiderman told The New Yorker in a statement, "In the privacy of intimate relationships, I have engaged in role-playing and other consensual sexual activity. I have not assaulted anyone. I have never engaged in nonconsensual sex, which is a line I would not cross." However, New York governor Andrew Cuomo called upon the attorney general to resign. "My personal opinion is that, given the damning pattern of facts and corroboration laid out in the article, I do not believe it is possible for Eric Schneiderman to continue to serve as attorney general," Cuomo said.