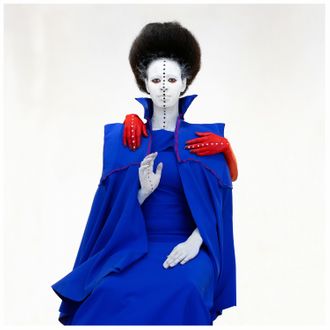 All in One,
by Aïda Muluneh.
Photo: Courtesy the artist and David Krut Projects. © 2018 Aïda Muluneh
What does it mean to be human? New York's MoMA has amassed the world's leading contemporary photographers to capture the concept of existing amidst a shift in human perception with its exhibit "Being: New Photography 2018."
The museum's "New Photography" series takes place every two years, spotlighting a prevalent societal theme through a creative lens. The notion of "being" has taken on a breadth of complexities throughout the past year alone: racial tensions, gender discrimination, and the polemic on immigrant rights have been thrust into the limelight of American culture, echoing global struggles. These have both enlightened and distorted the way in which individuals' perceptions of each other evolve.
The 17 artists on display boldly challenge the traditions of photographic portraiture. Their techniques include masking, cropping, fragmenting, and overlaying — portraying clear depictions of human beings to the absence of them altogether.
On view from March through August, the exhibit features over 80 new or recent photographs by artists from ten countries, all showcasing their work at the museum for the first time. The exhibit ranges in abstract, literal, and figurative representations of "being," including Palestinian Yazan Khalili's defiance of facial stereotypes, Italian Adelita Husni-Bey's imagining of a future dystopia, and Indian Shilpa Gupta's split depictions of individuals who have changed their surnames.
"Being: 2018 New Photography" will be on view from March 18 through August 19, 2018, at New York's Museum of Modern Art. Tickets to the museum are available here. Scroll below for a selection of images from the exhibit.