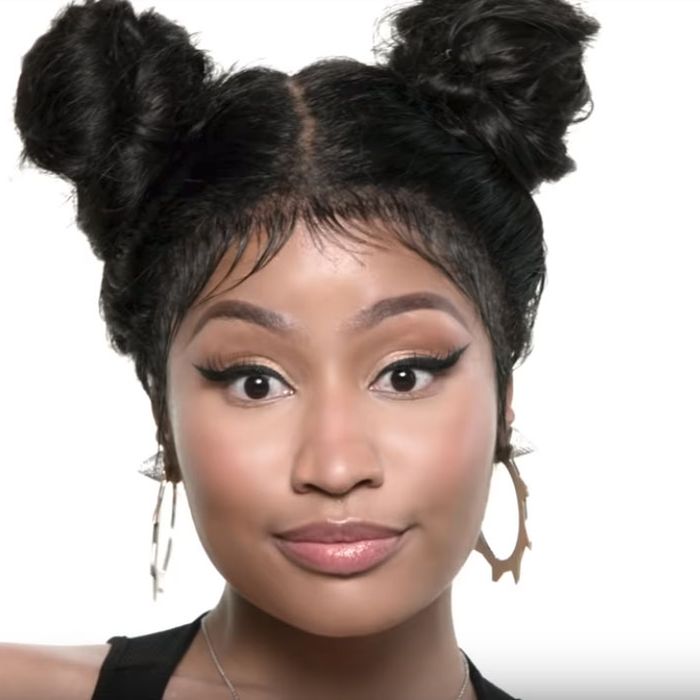 After dropping an underwhelming "Chun-Li" selfie music video two weeks ago, Nicki Minaj is back and doing what she does best: rapping, squatting, and making her neck do that twitchy thing. She came out with not one, but two videos that are filled with lewks, some of which look like they were festival inspired.
In "Barbie Tingz," Minaj goes off on copycat "dummies" with no hit songs, while spinning in a millennial-pink tulle dress and bejeweled headband, and acting like a marionette puppet in an electric-yellow wig and bold eye makeup that looks like 2010 Minaj. With one hair, makeup, and outfit change, she crosses generations and turns into the fourth Schuyler sister. But the best hairstyle she wears are her space buns, which are quickly becoming her new signature.
For the second, full-size video for "Chun-Li," Minaj said she stepped up her game and wore her space buns and chopsticks "just to pop sh*t." Her buns just happen to match her Pat McGrath–esque lipstick. Is that a Lust 004 glitter lip kit?
Basically, Minaj's new videos left the internet without its edges, but full of life.
Minaj is about to drop her first album in four years and is expected to announce the release date, and hopefully more videos, next week.