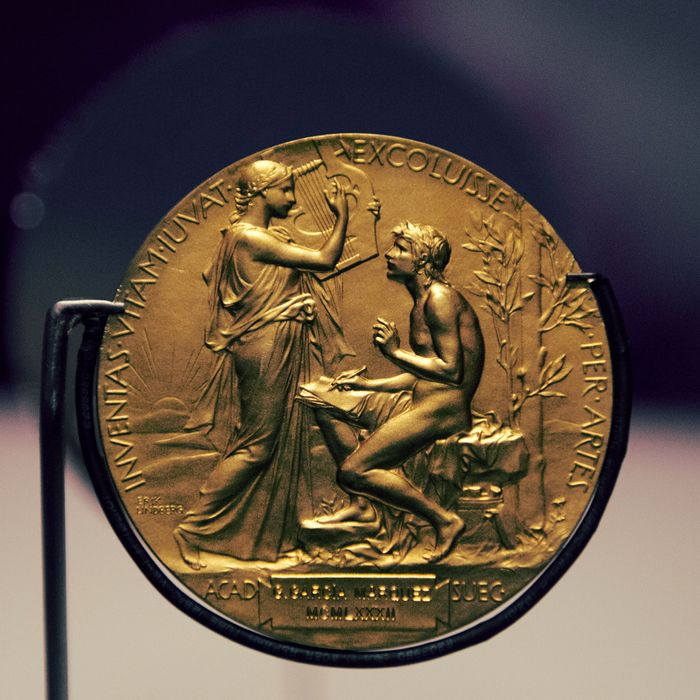 Nobel Prize medal.
Photo: EITAN ABRAMOVICH/AFP/Getty Images/This content is subject to copyright.
The Swedish Academy that awards the Nobel Prize for literature has announced that they will not give out an award this year due to a sex-abuse scandal. They will postpone it until next year, when they will announce two winners. According to the New York Times, it is the first time since World War II that they have delayed giving an award.
The chairman of the Nobel Foundation said in a statement released Friday morning, "The crisis in the Swedish Academy has adversely affected the Nobel Prize. Their decision underscores the seriousness of the situation and will help safeguard the long-term reputation of the Nobel Prize."
The Academy is reportedly in turmoil over a series of allegations against photographer Jean-Claude Arnault, who is married to a member of the Academy and has close ties to other cultural institutions in Sweden. He was accused by 18 women of sexual assault and harassment in November. He denied all the allegations through a lawyer.
Tension within the panel escalated when they demoted the group's chief official, Sara Danius. Danius had previously severed the panel's ties with Arnault and commissioned an investigation of the Academy as a result. Her demotion led to protests, with people saying she was suffering for Arnault's actions. Many members are also angry that Arnault's wife, Katarina Frostenson, has remained on the board.
As a result, they have decided to postpone giving an award in literature until these issues have been resolved. Acting permanent secretary Anders Olsson told Swedish Radio, "Confidence in the Academy from the world around us has sunk drastically in the past half-year. And that is the decisive reason that we are postponing the prize."