It's the day before the Tony nominations, but if Noma Dumezweni is feeling the pressure, you wouldn't know it. "I want a glass of white wine please. That would be gorgeous," she tells the waiter, in a velvety English rasp. Sitting across from me at a high-top table at Maman Bakery, in her newly adopted neighborhood of Tribeca, the actress looks regal in a maroon head-wrap and an array of silver rings. "Do you know why?" she says, smiling impishly. "Because it's a day off! That's why."
If anybody deserves a large glass, or perhaps a bucket, of wine today, it's Dumezweni. She's currently logging eight shows a week — the play is performed in two parts, each three hours — as the grown-up Hermione Granger in Harry Potter and the Cursed Child, which recently moved from its original home on London's West End to Broadway's Lyric Theatre. With its epic run time and unprecedented $68 million budget, Harry Potter and the Cursed Child often feels less like a stage play than a Cirque du Soleil meets the Wizarding World of Harry Potter™ theme-park spectacle, full of pyrotechnics, levitation, shape-shifting, Imogen Heap, and countless visual illusions I won't attempt to describe. (Nor am I allowed to; audience members are repeatedly warned to "keep the secrets" about the play's tightly guarded plot.) Add to that the legion of screaming fans, young and old, who greet Dumezweni at the stage door every night, and a phrase like Broadway debut doesn't quite begin to encompass the phenomenon she finds herself at the center of. "I've joined the most benign cult," she explains with delight. "It's the most beautiful thing."
The 40-something veteran stage actress, who recently moved from London to New York along with the rest of the play's principal cast, takes a second to ponder the very nouveau Manhattan menu items, trying to imagine what a "deconstructed avocado toast" might look like. "Deconstructed," she muses, with a puzzled expression. "Just use the word deconstruct, and everybody goes, What the fuck?" She decides to take the plunge. "Oh, fuck it. Avocado toast, yes!" she proclaims when our server returns, and I feel an urge to celebrate her order with a fist pump. To spend time with Noma Dumezweni is to be energized by her presence; in a recent interview, her co-star Jamie Parker compared Dumezweni to the production's very own Patronus — a magical, animal-shaped projection of happiness and light that wards off dark forces, for those not familiar with Harry Potter lore.
Although, let's face it: Unless you are a time traveler from some distance past, you are almost certainly familiar with Harry Potter lore. In the past decade, J.K. Rowling's series about a boy wizard has transcended its original seven books (and eight accompanying movies) to become a mutable, collaborative, living phenomenon. Harry Potter and the Cursed Child, written by playwright Jack Thorne and directed by John Tiffany, who developed the story in collaboration with Rowling, is just one of many official addenda to the Harry Potter universe to arrive in recent years, from Rowling's frequent Twitter bulletins to the Fantastic Beasts film franchise. Meanwhile, the Harry Potter fan community has long engaged in a progressive reimagining of the novels, from reams of gay or "slash" fanfiction to stories "race-bending" popular characters.
A particularly prominent subject of race-bending is the bookish, muggle-born Hermione Granger, who's often depicted in fanfiction and fan art as a black or brown woman. As critic Alanna Bennett wrote about the significance of these images: "Hermione's story was always one involving a young girl living in a world aggressive towards her for her very existence"; thus, "painting Hermione as a woman of color [is] an act of reclaiming her allegory at its roots."
In Harry Potter and the Cursed Child, fanfiction and canon finally intersect: Hermione Granger is played, for the first time, by a woman of color. When the news of Dumezweni's casting was announced back in 2015, she instantly became a symbol and a flash point. While she was already a well-regarded Shakespearean actress in the U.K. and had won an Olivier award for Raisin in the Sun back in 2006, she had never experienced anything close to publicity of this kind. "When the casting happened, we knew it was gonna be an interesting reaction. We didn't realize how interesting a reaction it was gonna be," she tells me, sipping her Chardonnay with a wry smile.
The news of her casting met with a frenzy from all quarters, with some fans celebrating the reinvention while others demanded a white Hermione along the lines of Emma Watson. J.K. Rowling, who has long used Twitter and other public statements to tinker with her novels' social-justice implications (Dumbledore was actually gay, etc.), tweeted her endorsement. "Canon: brown eyes, frizzy hair and very clever," she wrote. "White skin was never specified. Rowling loves black Hermione."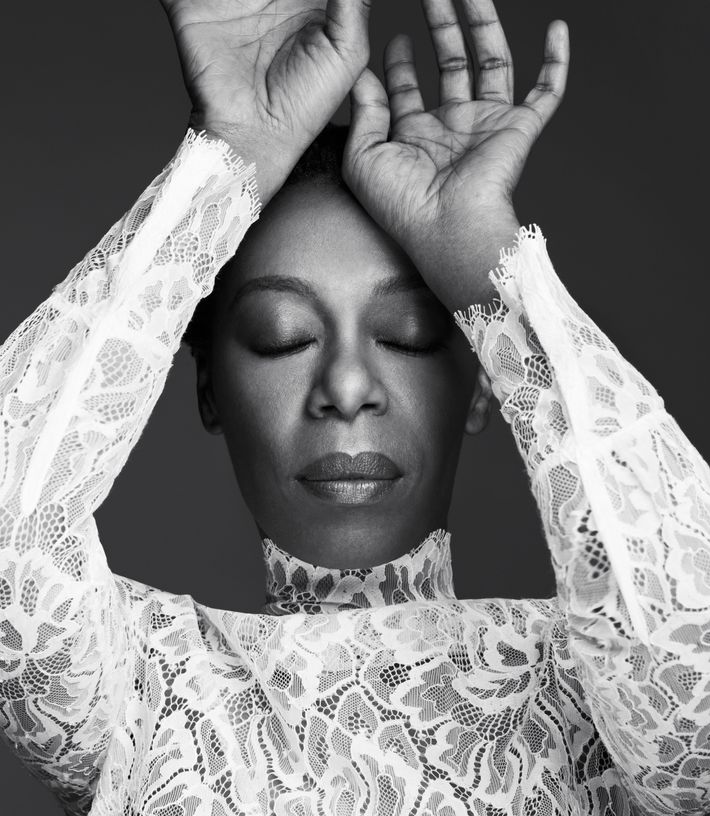 Mostly, Dumezweni told me, she tried to ignore all the noise and concentrate on what she could bring to the role. "[People] go, What? What do you mean Hermione is black? No — it's me, Noma, who happens to be black and the directors have chosen me," she says. "That weight of expectation, I've never felt it as a burden. The only burden that I put on myself is: Am I good enough in each day? What can I find? What can I do? If I don't believe I'm doing the work well enough, that's what hurts me more than anything, and that's what keeps you reaching, reaching and reaching."
Still, she feels the significance of what her role means to the audience. "It's not just for the black and brown girls. All the other girls who are not white, who are not the default, they go, Oh, I can see myself now." She says one of her favorite things is getting to meet fans after the show, predominantly women of color and young kids. "I just love kids, full stop. Because there's just that potential of the world. I'm going My god, you guys have seen this and your world is going to be shifted by this."
Dumezweni was born in Swaziland, to South African parents who had fled the apartheid regime. She spent the first 7 years of her life on the run from the South African police, living in Botswana, Kenya and Uganda. When she was seven years old, her mother took Noma and her sister in the middle of the night and fled to England, where the family gained political asylum. She wouldn't see her father again for thirty years. In a short 2015 documentary made about her life, called Noma: Forgiving Apartheid, she reflects on her own "profound sense of dislocation" upon moving to England. "[There was] a huge sense of being other," she narrates. "And the feeling that I didn't belong anywhere. I just didn't have a sense of self." The world of theater became Dumezweni's home and safe space, somewhere she could belong.
Which all goes to say: While Dumezweni never sought to be a role model, she understands full well the importance of her visibility. "This is how we have to think nowadays, about how people are interested in your story," she says. She pauses. "Or my story." At last year's Olivier awards (where she won), Dumezweni surprised herself delivering a tearful, impromptu speech — which swiftly went viral — in which she spoke of her family's struggles emigrating to the U.K., professed her profound gratitude for everything she has been able to achieve, and declared, proudly, "I am a refugee child."
One of Cursed Child's major themes is how parental trauma passes through generations, and this is something that resonates deeply with Dumezweni, who continues to grapple with what it means to be a child of apartheid. "I look at what my parents had gone through, and I didn't understand it because my mum didn't talk about it for a long time. And then you go: Fuck me, you went through that, well then that explains what the fuck I've been going through," she says. "If we acknowledge what has been, we can understand ourselves a little bit more."
Hermione Granger is a role that comes with a particular set of challenges. In just a few brief establishing scenes, Dumezweni has a monumental amount of work to do— reintroducing audiences to the familiar Hermione they know and love, retaining the character's familiar essence while also establishing who she has become as an adult, decades after book seven's close. And, most importantly, satisfying the fans to whom this character means so much. Dumezweni acknowledged that she struggled initially with the thinness of the role. After all, the play focuses mainly on Harry's young son, Albus, and his relationships with his dad and his best friend Scorpius Malfoy (who, yep, also has a dad). "The emotional arcs are the men's," explains Dumezweni. "As a play, it's about fathers and sons connecting, and the women are there to go, We're here for you. And I think as an actor I go, Was there enough emotionally for me to do compared to the other work I've done? And I felt not, initially. But: let's do this."
Dumezweni says a key for her was tapping into the play's sense of exuberance and play, of giving herself over to the spectacle and seeing herself as just one piece of Rowling's larger magical world. "This job, it's not like playing Cleopatra or Lady Macbeth. It's a different kind of acting," she says. "It's about being joyous with it." She found her way into the role by homing in on the universal truths of the character. "What's beautiful about Hermione is that she's an archetype. And you go: I like her. She gets shit done. She's got passion, she's got heart. And she has her friends who she calls up and questions, and she has a vulnerability, and the idea is that now they've grown up and have kids — I'm going, I can do that! I can do that part of it!" Dumezweni is a mother herself; her 11-year-old daughter, who she amicably co-parents with her ex, will be moving to join her in New York at the beginning of the next school year.
While Dumezweni is clearly a true believer in Harry Potter's empowering message, she's also not afraid to speak honestly about the limitations of Rowling's universe. In addition to wishing that the roles for women in Cursed Child were a little meatier, she alludes to some disappointment with the overwhelming whiteness of the first Fantastic Beasts movie. ("You watch that and you kind of go, 'Okay, the world still needs shifting here.'") Still, she says she's excited to see the next film, to see how the creative team adapts and respond to criticisms. On a lighter note, she's also not above commenting on the Cursed Child's gay subtext (spoiler: there's a lot of it). "I'm like, C'mon, can they just kiss and get it over and done with?" she says when I bring it up, with a big laugh.
When the Tony nominations get announced the next day, Dumezweni will find out the good news — a ten-nomination sweep for Cursed Child, plus an individual nod for her as best featured actress. (The awards will be given out June 10.) But today, over wine and toast and amiable chatter, she is happy to just be enjoying this day off from her impossible dream of a job, waxing poetic about the magical world she gets to inhabit. Are you always in such a good mood, I ask? "Oh, bless you," she says. "Look, I'm eating, so I'm very happy. It's a simple thing," she laughs. "And also I've got the day off. It's a simple thing. But, yeah, I'm in clover right now. I'm working with people I really adore, and I'm working with new people I'm loving. I get worried when people don't enjoy the good stuff that's in front of them. Life sometimes doesn't let you see the good stuff in front of you because your head gets in the way."