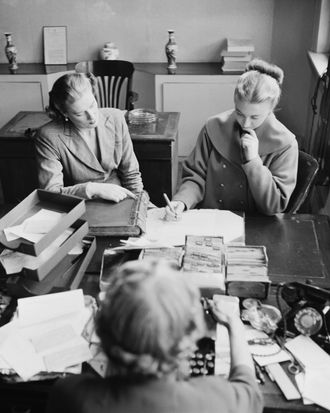 Photo: Matt Green/Getty Images
New York City launched a new initiative on Wednesday to help women succeed professionally: women.nyc, an online portal with useful resources (like tax prep) and information about all protections offered to them by the city (including the law prohibiting employers from asking about salary histories). The website is designed not only to be a tool to keep women up-to-date on important information; its aim is also to encourage the sort of innovation that only occurs when women take the sort of risks that can change their entire career trajectories.
The Cut chatted with three New York City women to find out about the power moves that helped launch their careers.
Jordan Salcito: Founder of RAMONA and Bellus Wines and director of wine special projects, Momofuku
"There was a restaurant group that was going to make me a partner and we were going to open a restaurant together. But then I did some digging in the fine print of the contract, and there was some language that was very unfriendly — actually, it was discriminatory against women, particularly any woman who might at some point potentially start a family. So I backed out of that. I decided I would leave the restaurant industry entirely. A couple of weeks later, I reconnected with David Chang at a wine event at California and was offered the beverage director position at Momofuku. Having the courage to walk away from the other restaurant group — which was something that seemed like the best option at the time — paved the way for better opportunities. I later built Ramona on my maternity leave, and that's when it became a company."
Alicia Glen: New York City deputy mayor for housing and economic development
"Years ago, I left my job as a lawyer to work for city government. I gave up a lot of money to do it and I took a real risk – because I went to work for Rudy Giuliani. People like me, who come from lefty, Democratic, Upper West Side politics, don't do that. I saw it as a chance to try to do the right thing, even in an administration where I didn't necessarily share their values. In some ways, that has been the theme of all my power moves. When I later left city government to go to Goldman Sachs, that was an incredibly gutsy thing to do, because when you really care about making cities better, how could you go work for this "evil empire"? It was the same theory: I used resources and the influences of that platform to make New York City better. Then the third power move was the same thing. Who in their right mind gives up a multimillion-dollar job to work for a mayor — Bill de Blasio — that I had only met twice? I had a great, great platform at Goldman Sachs. When I had the chance to make my power move and come to City Hall and do this work at scale, that, to me, was the ultimate power move."
Celeste Beatty: Founder and corporate brewing officer of Harlem Brewing Company
"I always loved to cook, and I like flavoring stuff a lot, so I'm pretty good at making soups and sauces. I also love infusing it with wine and beer and spirits. After cooking with beer for several years, a friend of mine suggested I start brewing my own beer, and I fell in love with it. For many years I was working on a very small scale in terms of where we could sell our beer. The big power move was moving to a larger distributor. At first when we spoke to Manhattan Beer Distributing, we were a very small brand that only people in Harlem knew. But I decided that I felt we were established enough to sign a contract with Manhattan Beer, which really put us on the map. It took a lot of guts to do that because I didn't have everything that all the other brewers have — we didn't have the fancy glassware or even a beer coaster. We went in there with all of our passion and all of our commitment, and we signed a contract."