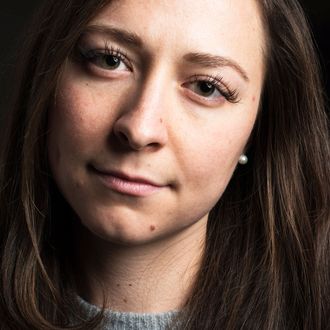 Ariana Kukors.
Photo: Karsten Moran/The Washington Post/Getty Images
Though it was just this February that Olympic swimmer Ariana Kukors Smith publicly accused former USA Swimming coach Sean Hutchison of sexually abusing her for a decade, she alleges that USA Swimming knew about Hutchison's behavior as early as 2005.
On Monday, the Seattle Times reports that Kukors Smith filed a civil lawsuit against USA Swimming, claiming that top officials knew Hutchison abused her and collaborated to cover it up. The lawsuit's claims include sexual abuse of a minor, intentional infliction of emotional distress, and negligence.
"We are here today to force USA Swimming, the national governing body of the sport of swimming in America, to accept responsibility for allowing, and in fact, enabling a known predator coach to sexually molest for almost a decade, my client Ariana Smith beginning when she was just a young child," Kukors Smith's attorney Robert Allard said at a news conference.
Kukors, who's now 28, started training with Hutchison when she was just 13 years old, at which time she says he started "grooming" her for a relationship. From the age of 16 to 24, she and Kukors were sexually involved, which she described as years of "pain, trauma, horror, and abuse" in an emotional essay earlier this year. It was around this time that investigators with a Department of Homeland Security task force searched Hutchison's Seattle apartment and uncovered "hundreds or thousands of sexually explicit photographs of her."
According to the complaint, USA Swimming head coach Mark Schubert reported Hutchison's inappropriate relationship with Kukors Smith in 2010, but it was never reported to the authorities. Instead, Kukors Smith says USA Swimming launched an internal investigation conducted by an unqualified employee.
"Organizations like USA Swimming have long been in a position to deter, detect, and discipline sexual abuse and have done little or nothing in an effort to protect their public image," Kukors Smith said. "By doing nothing, it enabled Sean to abuse me for a decade."
In a statement released Monday, USA Swimming expressed their intention to comply with the legal process. The response reads:
"As expressed earlier this year, we respect Ariana Kukors Smith's bravery in stepping forward and sharing her story. We have been in regular contact with her legal team over the last several months and will continue to work with them and Ariana through this process. No further information will be provided at this time, given the pending litigation."