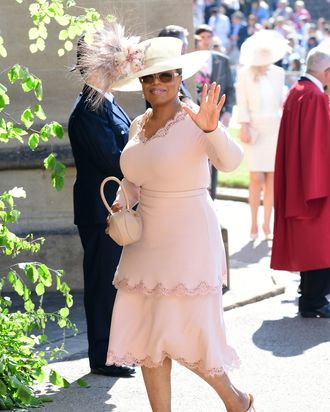 Oprah Winfrey.
Photo: WPA Pool/Getty Images
Earlier today, royals and celebrities alike headed to Windsor Castle, where Prince Harry and Meghan Markle tied the knot in royal wedding 2.0. Among the select guests was Oprah Winfrey, who showed up in an elegant light-pink dress by Stella McCartney … that she received the morning of the ceremony.
According to an Instagram she posted after the wedding, Oprah originally planned to wear a beige dress, but changed her mind at the last minute when she thought it would look white in photographs — a classic wedding faux pas. So, McCartney made her a dress overnight that perfectly matched her Gabriela Hearst bag.
"Realized Friday morning the beige dress I was planning to wear to Royal ceremony would photograph too "white" for a wedding," she wrote in the caption. "Her team did this overnite. Hat is vintage Philip Treacy been in my closet since 2005 with new feathers. OMG was this an extraordinary day! #Harry&Meghan #RoyalWedding #Lovedeveryminute."
Glad at least one notable person wore Stella to the wedding.