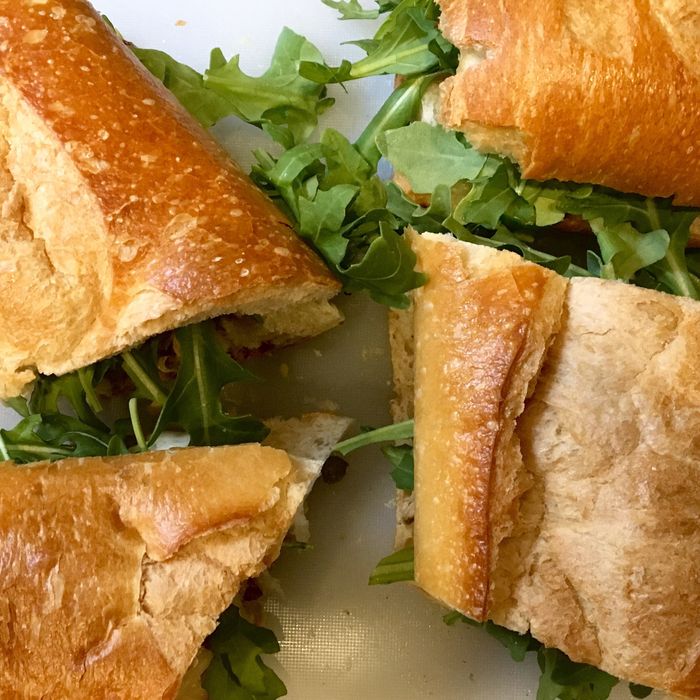 My beauties.
Photo: Madeleine Aggeler
Over Easy is a weekly food column by a 20-something woman who can barely cook an egg and just wants to learn how to throw together an elegant three-course meal for her friends.
Ever since the weather has warmed up, I've found myself consumed by lust. Not for my fellow New Yorkers, who have finally begun to emerge from the quilted cocoons of their winter jackets (though it is, in fact, the Horny Time), but for high-end picnic baskets.
For weeks, I've been scrolling through pages and pages of them — wicker baskets lined with lush fabrics and filled with delicate serveware strapped down by butter-soft leather straps — heart rate elevating and cheeks becoming flushed as I picture long, languorous afternoons spent in the park, reclining in my sundress on a plaid blanket, stationed next to my unnecessarily expensive, kind of cumbersome, and utterly beloved picnic basket. I imagine myself sipping on frosty gin and tonics, serving my guests a selection of light snacks on porcelain plates. My hair is never frizzy, my arms never sunburned. My Instagram pics all get one million likes.
As this fantasy became all-consuming, I decided I had to do something about it. A fancy picnic basket was out of my budget at this point, and also I would have nowhere to store it, so instead, I invited my friends on a regular old picnic basket–less picnic.
The two times I hosted picnics before, the menu consisted of cheese, salami, and beer I bought at the cramped grocery store by my house. That was fine, but to better emulate my luxurious picnic fantasy, I needed to up my game. For ease of transport and consumption, I decided some sort of fancy sandwich would be my best option, and as I researched the "best picnic sandwiches," one name kept coming up: Pan Bagnat.
Bon Appétit, Woman's Day, Epicurious, and Food & Wine all praised this traditional Provençal sandwich — which is like the sophisticated child of a salade nicoise and a tuna salad sandwich — as a great picnic sandwich, because the longer all of the juices and ingredients soak together, the better it tastes. A French sandwich with capers and a hard-to-pronounce name? This seemed perfect for my chic picnic.
There are a lot of riffs on the recipe, but I chose this Bon Appétit one for Pan Bagnat with fennel, mostly because I only recently discovered what fennel is and how much I like it, and am trying to make up for all the wasted years I spent not eating it.
Another great thing about this recipe is that you can prepare most of it beforehand. The night before my picnic, I chopped up the capers and olives, sliced the fennel, and mixed it all in a bowl with olive oil, white vinegar, salt, pepper, and lots of red pepper flakes (maybe too many, but I like to live life on the edge). It was easy and only took about 15 minutes; plus, having some components done beforehand made me feel like I was making something slightly more sophisticated than a ham and cheese sandwich slapped together at the last minute.
The next morning, I tossed my fennel-olive mixture with thinly sliced cucumber (the recipe calls for Persian cucumbers, which are shorter and denser than other varieties, but I couldn't find any at the stores by my apartment, so I settled for English cucumbers, which are also short, but slightly less flavorful) and canned tuna. I can't open a can of tuna without thinking about the time on Newlyweds: Nick and Jessica when Jessica Simpson asked her new husband Nick Lachey if Chicken of the Sea tuna was chicken or fish, so I meditated on that while hard-boiling some eggs, and cutting my bread.
The night I went shopping for ingredients, most of the bread I found was way too stale to eat, but definitely hard enough to break someone's ribs if you decided to use it as a weapon. I couldn't find ciabatta, like the recipe calls for, but at the fourth store I checked, I found a large baguette that seemed like it had been baked within the last decade. Luckily, older bread won't ruin the recipe. In fact, Pan Bagnat — which translates to "bathed bread" — was historically made with day-old bread, because the juices of the ingredients soak into it, softening it, and giving it flavor.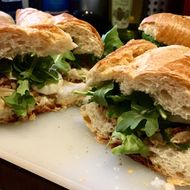 By the time the eggs were done, I was running late. I hurriedly scooped out the top halves of my bread, filled it with the fennel-olive-tuna mixture, followed by messily sliced hard-boiled eggs, and then topped it all off with as much arugula as I could fit on each sandwich. Though the recipe calls for pressing your sandwiches under a heavy skillet or a pot, I figured wrapping them in plastic wrap and packing them tightly in my bag would have to do for now. Since I don't own a high-end picnic basket (yet), I threw my sandwiches, some blankets, and a bottle of Vinho Verde into an IKEA bag, and rushed out the door.
Unfortunately, that afternoon proved that, no matter how much I may yearn for it, I am not yet ready for the world of chic, luxurious picnics. Come to find out, a bottle of wine per person, plus many cans of cider, consumed under the hot sun and without water, lends your picnic more of the "basement of a frat house at 2 a.m." vibe than Room with a View. But before the day took us each our separate ways (one of us ended up with a dog that didn't belong to them, another found herself in a basement in Bed-Stuy listening to the Carpenters on vinyl, and someone else ended up hunched over the toilet), we thoroughly enjoyed our sandwiches. They were salty, juicy without being messy, and the acid of the vinegar and capers brightened up the fishiness of the tuna. Plus our picnic pics did well on Instagram.
The next time I make Pan Bagnat, I would manage my time better so I could press them and let them sit, and the flavors would have time to mingle a little a more. Who knows, maybe by then I'll be able to have a sophisticated, sensual picnic where everyone discusses philosophy and art, and no one gets lost on the way to the bathroom. Maybe I'll finally have earned my high-end picnic basket.
My report card
Preparation: B
Taste: A
Picnicking like an Edwardian lady of leisure: D
My Overall Performance: B