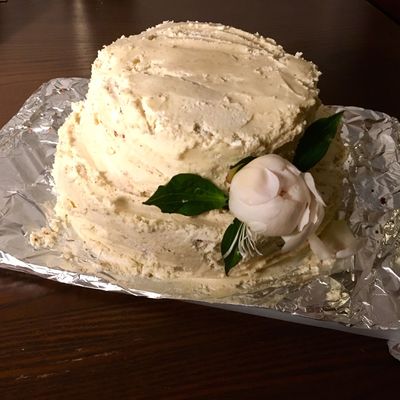 For better, for worse.
Photo: Madeleine Aggeler
Over Easy is a weekly food column by a 20-something woman who can barely cook an egg and just wants to learn how to throw together an elegant three-course meal for her friends.
Finally, after approximately 86 years of hype and speculation, the Royal Wedding 2.0 is upon us. Across the globe, millions of people are celebrating in their own, special way — some by hosting viewing parties, others by Doing It with royal wedding souvenir condoms, and my dad, by complaining about how we shouldn't care about any of this because we won the Revolutionary War back in 1783.
I decided to mark this blessed occasion by baking my own version of Meghan Markle and Prince Harry's barrier-breaking wedding cake. And much like a young, wide-eyed Diana Spencer marrying that dingus Prince Charles in 1981, I had no idea what I was getting into.
Back in March, the citizens of Earth learned that Meghan and Harry were going to completely revolutionize the monarchy by departing from the traditional royal wedding fruitcake (Gasp! Also, yuck) and serving a lemon elderflower cake instead. The cake is being created by California-raised baker Claire Ptak, who owns London's hip Violet Bakery. Although the official recipe was kept largely under wraps when I undertook this project, since Kensington Palace's announcement, recipes for lemon elderflower cake have been popping up everywhere. I chose this one from CountryCleaver.com for a lemon cake with elderflower buttercream frosting because 1) it looked delicious and 2) it was one of the first links I clicked.
First, I had to Google elderflower, because I had no idea what it was or what it tasted like. As Delish explains, it's an edible flower with a "slightly herby flavor you'd get from edible flowers, but elderflower's sweeter than you'd expect," and tastes kind of like lychee. I was slightly concerned it would make the icing too sweet, but I trusted Ptak's judgment, as well as Meghan and Harry's.
My frequent cooking collaborator Amanda generously allowed me to bake the regal cake at her apartment because she has good cake pans, and also probably because she knew that I was in over my head, even if I hadn't realize that yet. It turns out baking a cake from scratch is a lot more involved than making one of the Betty Crocker birthday cakes my mom made me when I was growing up (with yellow icing and a smiley face).
At several points during the preparation, as I bowled blindly through the recipe like a bull in a china shop that sells those expensive royal wedding commemorative plates, Amanda had to step in and prevent me from committing various baking faux pas. When I plunged a measuring cup into the bag of flour, Amanda gently suggested I spoon the flour into the cup instead. If you scoop the flour, she explained, you run the risk of packing it too tightly, and putting in more flour than the recipe calls for.
"Baking is a finicky science," she said. I thought baking seemed like a finicky bitch.
As I measured out the dry ingredients (flour, cake flour, baking powder, salt) Amanda poured together the wet ingredients (milk, half and half, sour cream, lemon juice, lemon zest, vanilla bean paste.) Next, we mixed together one cup of butter, and two cups of sugar. The recipe calls for a stand-mixer, but since neither of us have one, we used a hand mixer instead. Unfortunately, I hadn't softened the butter beforehand, this took about 20 minutes, and a significant amount of arm strength.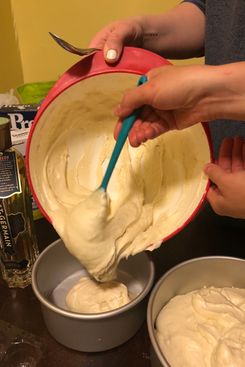 After adding eggs into the butter and sugar mixture, we poured in the dry ingredients in three parts, and added the wet ingredients in between. When everything was mixed together, the batter needed to rest for 15 minutes, which further confirmed my impression that baking is too fussy and needs to get over itself.
We poured the batter into two cake pans, one larger and one smaller so we could have two tiers — it is a wedding cake, after all — and stuck them in the oven, which had been pre-heated to 350 degrees. Then we got to making the icing.
We started by pouring ourselves some shots of the St. Germain, an elderflower liqueur, to get a sense of the flavor, and then because it was flowery, herby, and delicious, we poured a couple more. Besides the fact that, once again, the butter hadn't been chilled beforehand, making the buttercream icing was fairly straightforward. After creaming a cup and a half of butter, we added powdered sugar, the St. Germain, vanilla paste, and salt, and mixed it all together with the hand mixer for about five minutes.
"I'm so excited about this!" I gushed as we checked on the cakes in the oven.
"You know we won't be able to ice these for a while, right?" Amanda said.
I froze. "What."
"You need the cake to cool before you put the icing on it. Otherwise the icing will slide off, or soak into the cake and make it mushy. Some recipes say you should wait up to 12 hours."
Twelve hours! That's over a quarter of Britney Spears's entire 2004 marriage to Jason Alexander (not the Seinfeld one, another one.) Silently, and also out loud, I cursed baking, and I cursed Harry and Meghan for not choosing a simple, yet elegant Betty Crocker yellow smiley face cake for their wedding.
About 45 minutes later, the cakes were done, and I brought them and the icing home with me in an IKEA bag so I could assemble them the next day after work. During the day, the icing had hardened, but since I didn't have time for it to warm up and soften, I stuck it in the microwave for a minute. This was not the preferred course of action, of course, but it … kind of worked? Icing ended up being a pretty messy process, and what I had intended to be an elegant, sleek wedding cake ended up looking like that beat up, misspelled birthday cake Hagrid gave Harry Potter in the first movie.
Ptak often adorns her cakes with flowers, so on my way home, I had grabbed some peonies from a store by my house, and after the cake was iced, I added a blossom and some leaves. When it was all put together, I was pretty pleased with how it looked, until my roommates told me it reminded them of an old lady's derby hat, which wasn't really the hip, Meghan Markle, Instagram influencer vibe I was going for.
Like many marriages, though, it seems the time, effort, love, and boundless frustration put into this cake was worth it. The cake itself was sweet and lemony, and denser than I had expected, and the floral flavor of the elderflower buttercream was pronounced without being overwhelming. When I brought it into work the next day, several people said it was "great," and in a statement (to me; on Slack) the Cut's royal expert Lisa Ryan said, "I really enjoyed the cake and I ate three slices because I didn't feel like spending $10 on a salad for lunch."
That being said, I don't know if I'm at a point in my life where I'm ready for the commitment of baking. I still want to travel the world, and date different people, and grow in my career, and I can't be tied down by batter that needs to rest, and cakes that need half a day to chill before they can be iced. I'm happy for Harry and Meghan and Claire Ptak, who are all ready to commit to each other and to this cake. I'm just not there yet.
My report card
Preparation: B
Taste: A
Patience, loyalty, and devotion to this cake: C
My Overall Performance: B+