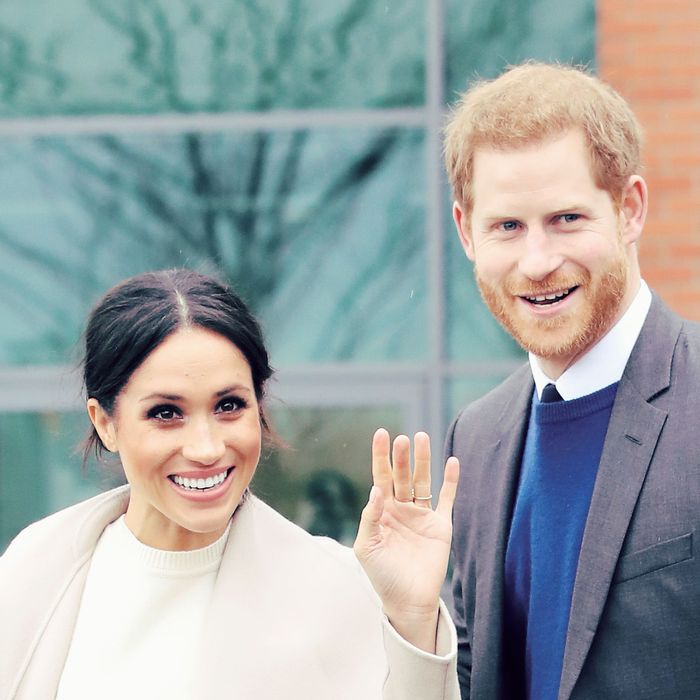 Meghan Markle and Prince Harry.
Photo: Chris Jackson / Staff/2018 Getty Images
Family drama aside, it's time to refocus on what truly matters about the royal wedding — the aww-inspiring moments. The palace has announced who will be in Harry and Meghan's respective wedding parties and they're very cute.
Markle had previously announced that she would not choose a maid of honor, and Harry had (obviously) chosen William for his best man. But the rest of the wedding party had been a mystery until today. There will be ten bridesmaids and page boys in total.
Prince George and Princess Charlotte will lead the pack as page boys and bridesmaids. Joining Princess Charlotte on the bridesmaids side will be Prince Harry's goddaughters, 3-year-old Florence van Cutsem and 2-year-old Zalie Warren. Meghan's goddaughters, 6-year-old Remi Litt and 7-year-old Rylan Litt, will also join along with 4-year-old Ivy Mulroney, the daughter of Markle's stylist/friend Jessica Mulroney.
Harry's side is equally adorable. Mulroney's two 7-year-old sons, Brian and John, will be page boys along with Harry's godson Jasper Dyer.
Their outfits will be revealed the same day as the wedding. At least Meghan won't have to worry about being Pippa-ed.