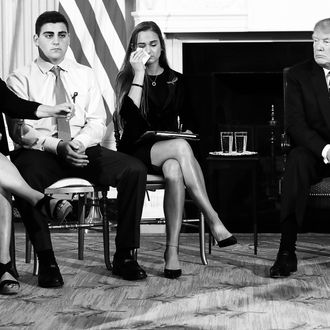 President Donald Trump hosting a listening session with Marjory Stoneman Douglas High School shooting survivors.
Photo: Chip Somodevilla/Getty Images
Many families of the 17 students and adults who were killed in the horrific school shooting at Marjory Stoneman Douglas High School in Parkland, Florida, say they still haven't heard from Donald Trump, BuzzFeed News reports.
It was nearly two months ago, on Valentine's Day, that 19-year-old suspect Nikolas Cruz walked into the Florida high school and carried out what has been called one of the deadliest school shootings in U.S. history. While Trump met with some survivors a week after the massacre, and has invoked the tragedy at multiple political events, seven out of the eight families of victims that BuzzFeed contacted said that Trump has not yet contacted them to offer his condolences.
Philip Schentrup, whose daughter, Carmen, died in the shooting, told BuzzFeed, "I have not received any communication from the president or anyone in his administration. Having said that, other lawmakers from both Republican and Democrat parties have reached out to my family."
Fred Guttenberg, whose daughter Jaime died in the shooting, told BuzzFeed that he too had received no phone call or letter. While he stressed that no one is required to comfort him, he finds Trump's invocation of the shooting at political events to be distasteful.
"I'm at a point where it's like, you know what, if he doesn't want to reach out to me, nobody has the obligation to offer condolence," he said. "To me, in his position, it would have been the right thing to do, but no one's obligated … However, don't use my daughter's life for a political moment, and that's what he did, and that pisses me off."
While Trump did reach out to and meet with one family that BuzzFeed contacted — the Pollacks, who lost their 18-year-old daughter Meadow — they have proven to be an exception.
"You would think all 17 families would receive a letter," Guttenberg told BuzzFeed when he found out that Trump had spoken with the Pollacks.
The White House did not respond to BuzzFeed's multiple requests for comment.