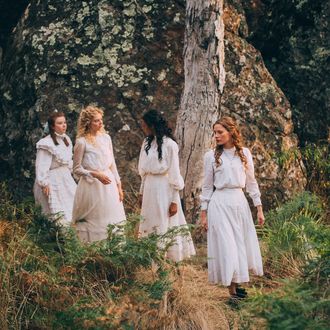 Photo: Courtesy of Amazon Studios
What's Good is a weekly column collecting TV, music, movies, and miscellaneous cultural ephemera worthy of your time. Why? Because we like it. Check back Fridays at lunchtime for your guide to what is good.
You can't avoid Picnic at Hanging Rock. The 1975 movie is a perfectly trippy adaptation of Joan Lindsay's novel about a 1900's all-girls school in Australia, and the disappearance of three students and a teacher on a Valentine's day field trip: Film people love it because Peter Weir's dreamy mindfuck of a movie was a watershed moment in Australian cinema; fashion people love it because Edwardian collars are a trend that refuses to die. The general population of people who just want to sound cool and cultured love it — even if they haven't seen it or read it (do both!) — because Chloë Sevigny once said it was her favorite movie.
Now Amazon's adaptation offers another entry point for people who missed the boat on this cult classic the first few dozen times it resurfaced. The new six-part miniseries, available today, isn't a totally faithful remake. Writers Beatrix Christian and Alice Addison worked hard — sometimes too hard — to make it feel really contemporary and relevant — but it preserves a lot of the dark, stylish elements that make the original book and film so fascinating. The 2018 version is an easy introduction to an enduring cult classic that people can appreciate without having to use phrases like "Rodarte-approved" and "Australian cinema." Weirder and more explicitly nightmarish than the original, it retains these irresistible elements:
A Well-Defined Aesthetic: As previously mentioned, Weir's version was all dreamy and ethereal. That vibe, paired with Edwardian collars and floaty white dresses, has inspired a ton of designers' collections — Rodarte's last spring collection and Gia Coppola's 2016 Gucci ads come to mind — and honestly probably some weddings too. The movie is right up there with Twin Peaks, on the list of style inspo. Amazon's version isn't a trendsetter, but an early adopter. The vibe is like a mood board for a hypothetical Lana Del Rey video: it's shot in this hyper-saturated way that feels like you took a little bit too much acid; there's a vague witchy vibe. The clothes are a little punkier and modern and feel right on trend with our current, mysterious embrace of Prairie dresses. The title cards that pop up between scenes have the same retro, hot-pink font that's been slowly taking over book cover design since Lena Dunham's Not That Kind of Girl made it a thing. And just look at Natalie Dormer's tiny glasses! Bella Hadid would cop.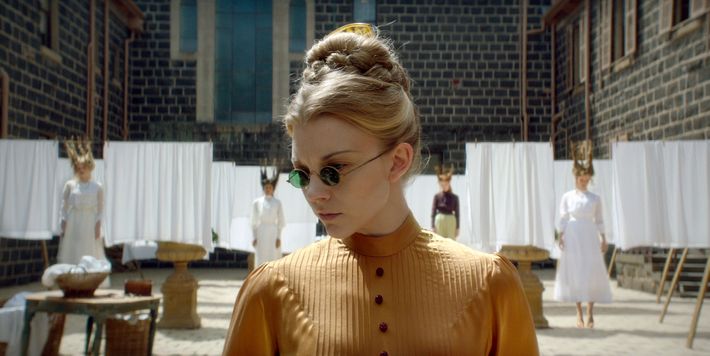 A Captivating Matriarch:  In the original, the school's proprietor and headmistress Mrs. Appleyard is imposing because she's stern and sort of old; in the Amazon adaptation, Natalie Dormer plays a younger Hester Appleyard, and she's probably the best part of the show. Snide, psychologically abusive, and charismatic, she buys a big ass house without a husband, turns it into a school, and fills it with her secrets. (The other teachers and students round out a cast heavy on "strong female leads," because it's 2018 and that's what we want from TV.)
All-Girls School Intrigue: I went to an all-girls school, and I find few things more fascinating than roving packs of teenage women. This show picks up where The Beguiled left off last summer, digging into the mysterious realm of single-sex education and all the things that can go wrong. Picnic has it all, from the mundane — all-white outfits, forced phys-ed, co-dependent teacher student relationships — to the truly messed up: that vague cultish feeling, that vague Children of the Corn feeling, a vague sense that everyone has terrible secrets and is doing something weird behind closed doors. (What are you doing to Sarah with that brush Miss Appleyard?). None of these women are particularly interested in marriage or men, but they are interested in psychological warfare and intense romantic longing for one another. It's a fertile ground where anything can happen — including murder and sex.
Horniness: Which leads us to the evergreen subtext — sex, sex, sex. This version really leans into the erotic undertones of the original — students write each other yearning poems. Groups of girlfriends practice kissing. Every glance is an eye-fuck. Scenes feel like they could morph into orgies at any minute.
The new Picnic at Hanging Rock is not a classic of Australian cinema. It's probably not even a classic of Amazon original programming. But if you've already mainlined Killing Eve, want to feel like you're in a Rodarte dreamscape, and are looking for something to digest in one sitting: you've come to the right place.