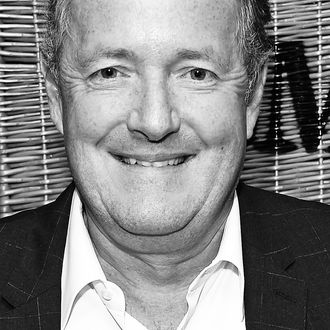 Piers Morgan.
Photo: David M. Benett/Dave Benett/Getty Images for For
Piers Morgan is not particularly well-known for having upstanding opinions, but he certainly loves to discuss them, and very publicly. On Thursday afternoon, the British media personality took to Twitter to work through his many feelings about one of his all-time favorite (or least favorite?) subjects: the gender pay gap.
In response to news presenter Jon Snow announcing that he had voluntarily taken a 25 percent pay cut in an attempt to close to gender pay gap, Morgan figured it was an appropriate time to remind his followers that he doesn't get that whole pay-equity concept.
"I don't understand why men are taking pay cuts to establish 'gender equality,'" he tweeted. "Snow was worth his previous salary — he's brilliant at his job — and any women who are as good as him should be paid the same, or more if they're better. THAT is equality, surely?"
And then he, a man who reportedly earns £22,500,000 a year, tweeted again.
While it's no secret that Morgan loves to own himself online, his inclination to repeatedly comment on the pay gap, despite having an incomplete understanding of it, is concerning. For years, he's been trying to grasp the concept, but it still doesn't fully make sense to him.
In February 2018, Morgan argued on Good Morning Britain that the only reason women don't receive equal pay is because they're afraid of asking their bosses for a raise (not untrue, but it's more nuanced). He added, "It's not really about equality because if women are better than men at the job they just get paid more."
But in his opinion, he's much better at his job than, say, his Good Morning Britain co-host, Susanna Reid. In July 2017, the BBC published a list of presenters making over £150,000, which revealed a major pay discrepancy between men and women at the company. Morgan, however, didn't think Reid would care that he was being paid an atrociously large amount of money.
"I don't think it would matter to her, even if she found that I was
being paid more, because she, I think, would be the first to accept that
I've slightly redone the wheel here," Morgan said. "I bring a completely different kind of feel [to the show]." Hmmmm.
Time to bring in ol' Daniel Radcliffe to explain the gender pay gap to him.