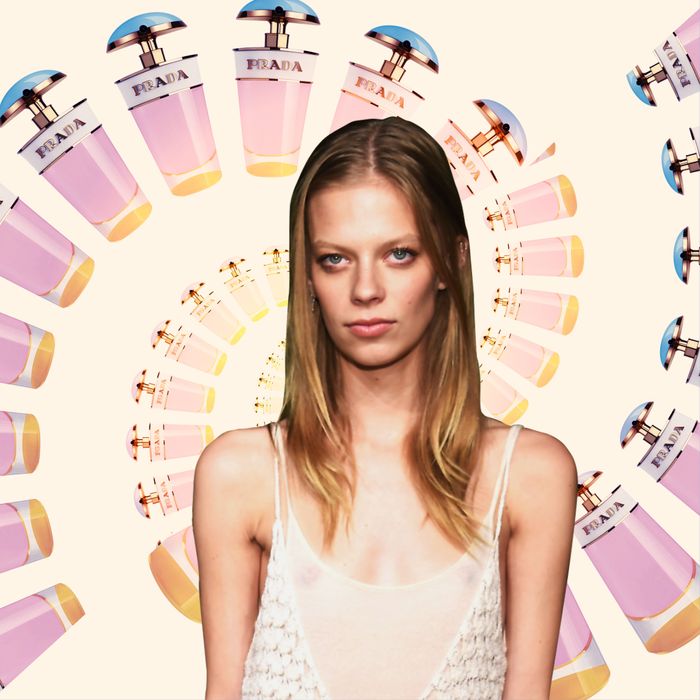 Photo-Illustration: Stevie Remsberg/Getty Images
Call it the Proust effect: Memories are best triggered by smells. Scientific studies confirm that out of all the senses, smells and fragrance evoke the best recall. Our new feature, Scent Memories, will ask its subjects to talk about the scents they associate with different emotions and thoughts. Next up is model Lexi Boling, who is the face of the Prada Candy fragrance collection and its newest addition, Prada Candy Sugar Pop. The perfume, a Sephora exclusive, has notes of vert de bergamote, vanilla, lime zest, and apple extract. "I love the new scent, it smells really sweet and it lasts a long time," Boling said "It smells really warm and friendly." Boling spoke to the Cut about her favorite scents, including her boyfriend's custom colognes, Jamaican food, and the smell of pancakes. 
My first scent memory: I always really loved the amazing, old fragrance that my grandmother wore. I always remember how she smelled and how her house smelled. I don't know the name of it, I should ask her. It smelled really warm, homey, and comforting — like flowers.
The smell I associate with love: Probably my boyfriend's fragrance that he wears. He made it himself, actually. It smells really warm, manly, and masculine. I know he picked a bunch of things and just mixed them together and hoped for the best.
Happiness smells like: Pancakes. I love chocolate-chip pancakes, strawberries, and powdered sugar. Nice brunch.
Loss or heartbreak smells like: Maybe a fragrance that I would've worn in high school. Times were hard in high school and dealing with being an adolescent teen. I think I wore Chanel Chance.
My favorite vacation smells like: Jamaican food and rum, jerk chicken and barbecue food. I know how to barbecue. I had one in my old apartment, but I need to get another barbecue. It always reminds me of my childhood, my home and being outside and with family.
Sunday morning smells like: Like coffee and breakfast food.
Friendship smells like: Like all the fragrances that my other friends wear. I always know when they leave clothes at my house whose it is and also what it smells like. I know some of them wear Tom Ford and the other Prada fragrance.
My home smells like: Candles — I have these Tom Dixon Water candles that I'm obsessed with. I'm always burning them, that's what my house smells like. I live by McCarren Park. Right now, it smells like flowers and grass, it smells really nice.
A pleasant surprise smells like: Bacon in the morning. That would wake me up, when my boyfriend's home and cooking.

My going-out fragrance: To be honest, I still wear a lot of Prada Candy. Every time I wear it people tell me I smell good, which is nice. I like to mix Prada Candy and Gucci Guilty.
If you could have one smell on your hands forever, what would it be and why? Maybe tea tree. I really, really like the smell of tea tree oil. It's also sort of minty. It smells really fresh to me.
I smell like: Fresh and fruity but with a touch of masculinity. I grew up with boys, I have two brothers. I've always been drawn to how good they smell, and I also think their fragrances tend to last longer. Maybe that's just my nose. I also really like YSL Black Opium fragrance. It's in a black bottle.
If you buy something through our links, New York may earn an affiliate commission.