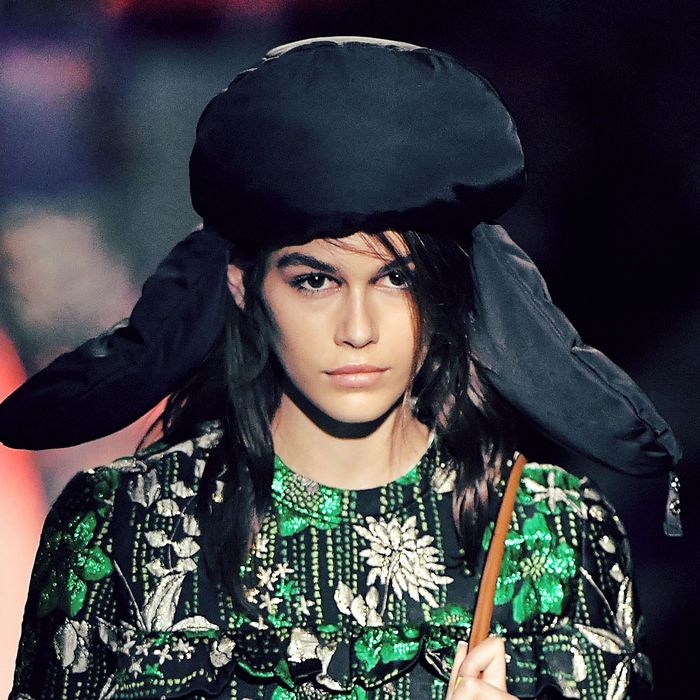 Photo: Mike Coppola/Getty Images/2018 Getty Images
Celebrities like Sarah Paulson, Claire Danes, and Tracee Ellis Ross gathered in a former piano factory to see Prada's neon, '90s rave of a Resort 2019 show. Scored by Donnie Darko, Daft Punk, and REM, models took to the runway in giant trapper hats, mixed prints, embellished tights, and lots of suede. It was a throwback not only to the decade of chunky shoes and layered tops, but to Miuccia Prada's eclectic style that made her famous in the first place.
Prada generally shies away from large cruise shows (unlike Chanel) and also typically does not show in New York. But this time, the label went all out — the show was displayed in real time in Times Square. Despite the optics, it was more of a reflection of real life than fantasy, at least from Miuccia Prada's perspective. She told WWD, "It's my fantasy of what is real for me today … This [show] is more about reality — things that you want to wear, a presentation of the real today, from my point of view."
Creatives like Ava DuVernay, Lena Waithe, Zadie Smith, and Raf Simons mingled with Gen-Z darlings Selena Gomez and Ansel Elgort. After the show, Prada hosted a dinner of salted cod, pasta, and langoustines by chef Chicco Cerea.