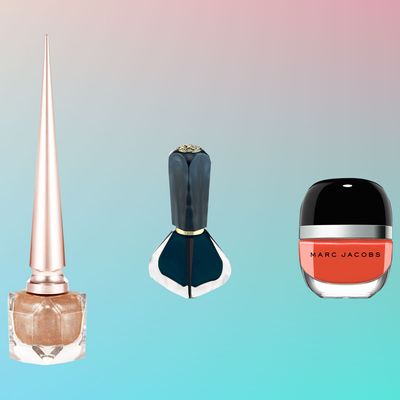 Photo: Courtesy of the Vendors
Pretty Things: A week dedicated to beautiful objects.
Perhaps the only feeling better than not messing up your nails the second you finish painting them is when you get your nails done and can wave them around and show them off every chance you get. While most nail polishes come in basic square and rectangular bottles, there are a few that blur the lines between beauty and art. Here, the Cut highlights three of the prettiest polishes that you'll never want to hide in your makeup drawer.
While everyone goes on about how great light nail polishes are and how they make chips virtually invisible, dark ones pack a punch and, no matter the color, always seem to match everything. Taking a break from creating more cult-favorite hair-care products, Oribe made beautiful nail polish bottles that are shaped like diamonds and topped with a cap stamped with Oribe's seal. The polishes range from a blush hue to this Deep Teal shade that looks like the open ocean.
Don't you want a Fanta-stic nail polish shade that makes you wanna sing the Fanta jingle each time you catch a glimpse of your nails? Of course you do! The vibrant, in-your-face orange hue of Marc Jacobs's Fanta-stic is perfect for summer, and would look amazing on those with darker skin tones.
Sometimes metallic polishes can be a bit much, but the gold Goldissima and rose-gold Preciosa shades are just enough, along with Christian Louboutin's equally extra dagger bottle. The tall pointy cap is actually practical — it has more surface area than regular caps so there's more control when applying, and it can ward off anyone who's looking to take your polish collection. And most importantly, it's really prettyyy.
If you buy something through our links, New York may earn an affiliate commission.