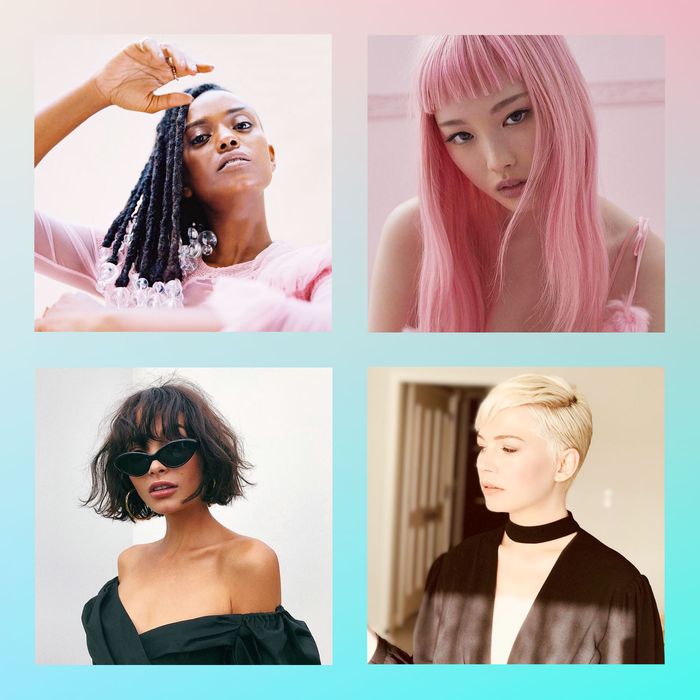 Pretty Things: A week dedicated to beautiful objects.
With every new season you might change your clothes, your skin-care routine, and your preferred cocktail — but your hair? Well, maybe you should take a look at that, too. My favorite place for hair inspiration is Instagram. There, a catalogue of creative twists on braids, buns, and barrettes awaits. Below are 11 hairstyles I found particularly inspiring and easy to re-create.
A bob is no longer boring when you add loads of texture and soft waves.
Cap dreads or box braids with golf-ball-size beads.
Better yet: Go wild like Solange and stack a few dozen beads around any type of braided style.
You can get creative with short hair, too. Create a strong part on one side and slick the remaining hair back with a little help from some gel.
It's not quite millennial pink, but this Pepto-Bismol pink is oddly charming. You can use a temporary rinse-out version, if you're a commitment-phobe.
High buns are great and all, but what about a sophisticated low one? Use this one for inspiration, if Meghan Markle's assortment of buns isn't enough.
Give in to the siren song of scrunchies. Choose one that stands out from your hair color.
Whether your hair is curly, wavy, or straight, add a dainty accessory to a half-up, half-down hairstyle for an easy adjust.
Pin the front of your hair back and at an angle to rev up a ho-hum chin-length hairdo.
Add a slight under-curl to shoulder-length hair if you want to look like a Bond girl.
Or just draw a side part and add a few bobby pins. Easy enough.