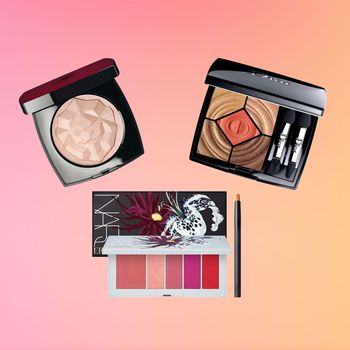 Pretty Things: A week dedicated to beautiful objects.
Palettes and compacts are the workhorses of beauty. They're not just pretty objects to look at, but they help jazz up your own look, too. The Cut couldn't help focusing on three jaw-dropping sets that are new to stores this spring. Below, a hypnotic eye-shadow palette, a dainty highlighter, and an unconventional take on lipstick.
What's summer without a little heat? Dior's 5 Colors — excuse me, 5 Couleurs — eye-shadow palette takes on three shimmery browns, a
Champagne nude, and an unexpected, but oh-so fun, coral. All five are powders that melt into a creamlike finish on your lids. Just last March at the Oscars, makeup artist Daniel Martin, who most recently made up Meghan Markle on her wedding day, applied the palette's lightest shade to the inner corner of Elisabeth Moss's eyes. The effect was a glamorous glint of highlight.
Speaking of highlights, Chanel's lion-embossed one is ferociously pretty. The rose illuminator leaves a soft, pearly glow on your skin. Want proof? Here's Olivia Munn wearing the highlighter at this year's SAG Awards.
Erdem's powder lip palette for NARS is pretty and original. The large pot on the left is a creamy rose-nude primer. Pair that under one of the palette's four powder lip shades for a velvety finish. The pigments deliver a really big color payoff, and while a powder lipstick sounds horribly drying, fear not: Your lips won't look shriveled and sad.
If you buy something through our links, New York may earn an affiliate commission.