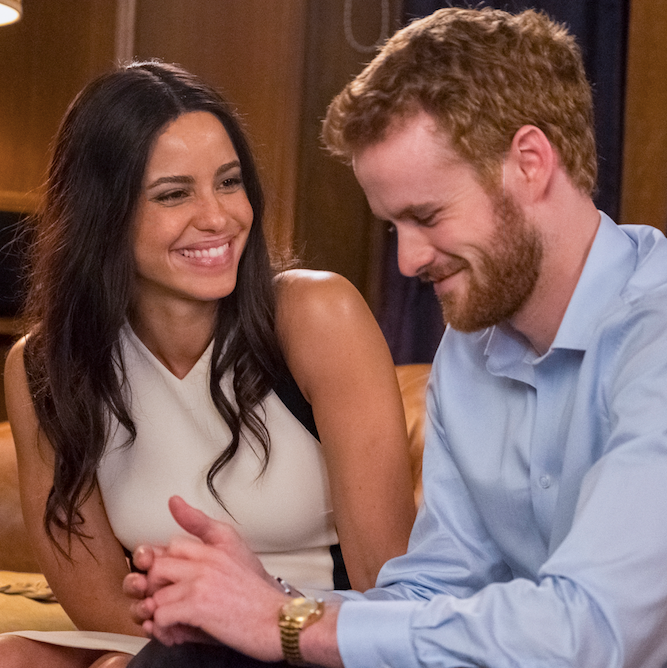 Parisa Fitz-Henley and Murray Fraser in
Harry and Meghan: A Royal Romance.
Photo: Courtesy of Lifetime
Lifetime has honored the upcoming May 19 wedding between Meghan Markle and Prince Harry the only way it knows how: by releasing a soap opera-y original movie about the couple less than one week before the very royal affair. (Naturally, Lifetime did the same back in 2011 just before Kate Middleton and Prince William's nuptials.)
For those of us who love Lifetime movies, Harry & Meghan: A Royal Romance — which premiered on Sunday night — is a dream. It's got lions (as a metaphor for the late Princess Diana watching over her son), one-liners about "showbiz," Fake Prince Harry's (Murray Fraser) passionate defense of a lifestyle blog, and Fake Meghan (Parisa Fitz-Henley) proving she's a feminist by fighting to change lines on Suits.
The fun film is so ripe with Lifetime's typical cheesy lines and over-the-top scenes — the only things missing from it are plotlines about teen STDs and evil stepmothers. Here, pour yourself a glass of wine and join us on a journey through the most quintessentially Lifetime moments from Harry & Meghan: A Royal Romance.
Fake Prince Harry in the club.
Did you know that before Prince Harry met Meghan, he was quite the partier? If you're a person who's been on the internet in the past decade, you probably knew that. As a nod to his party-boy lifestyle, the movie has a scene of Fake Prince Harry dancing with ladies in the club as he sprays Champagne all over the place to really drive the point home.
Fake Meghan proving she's a feminist by making scene suggestions on the set of Suits.
We all know that Meghan has a passion for women's rights, and Lifetime proves this by having the fake version of her balk at a suggestion that her Suits character Rachel Zane look "coquettish" while talking about law-related things or wearing a towel in the middle of the day.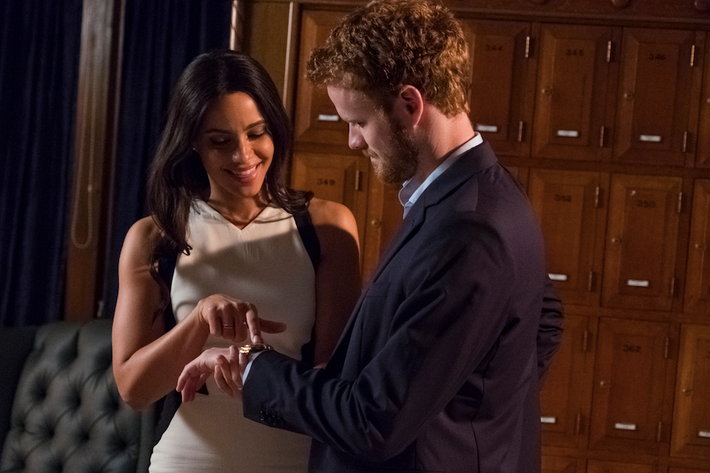 Fake Prince Harry falls in love with Fake Meghan when she shows him how to use a watch.
According to Lifetime's interpretation of events, Fake Prince Harry was forty (40) minutes late for his blind date with Fake Meghan. When he arrived, she called him out on being late and then showed him how watches work. He was so charmed!
The "show business" exchange.
Meghan is an actress, so she's officially in show business. But Prince Harry has to live his life in the spotlight, so Fake Meghan tells Fake Prince Harry on their first date, "Maybe you're the one who's in show business." Wow, makes you think.
The lion metaphor.
In the film, young Fake Prince Harry stops his dad from shooting a lion because he thinks it's his late mother, Princess Diana. Then, on a date with Fake Meghan (to Botswana), he tells her about the experience, and they bond. Later, around the 20th anniversary of Princess Diana's death, Fake Meghan and Fake Prince Harry are confronted by a lion when they go back to Africa. Deep.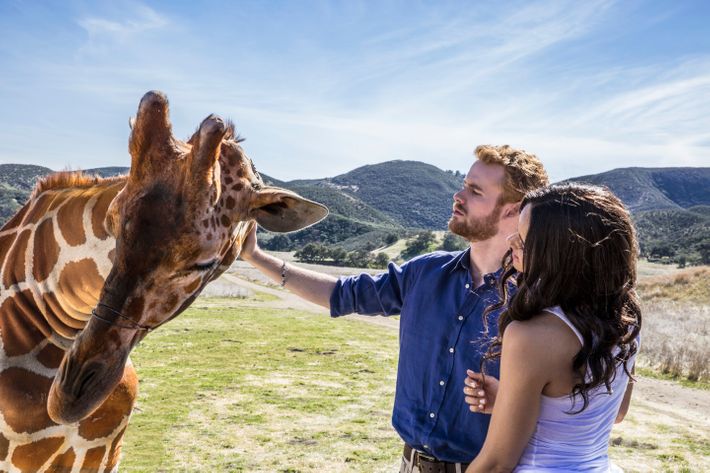 The Africa love scenes.
They kiss and bang for the first time in Africa! Lots of thematic music and sweeping visuals turn these into the ultimate Lifetime love scenes.
Fake Prince Harry defends Fake Meghan's lifestyle blog.
Prior to announcing her royal engagement, Meghan shuttered her lifestyle blog, The Tig. In the movie, the Fake Palace tries to get Fake Prince Harry to force Fake Meghan to shut down the blog, to which he replies, "Not a chance in hell. That blog's part of her identity! … It's a community of inspiration."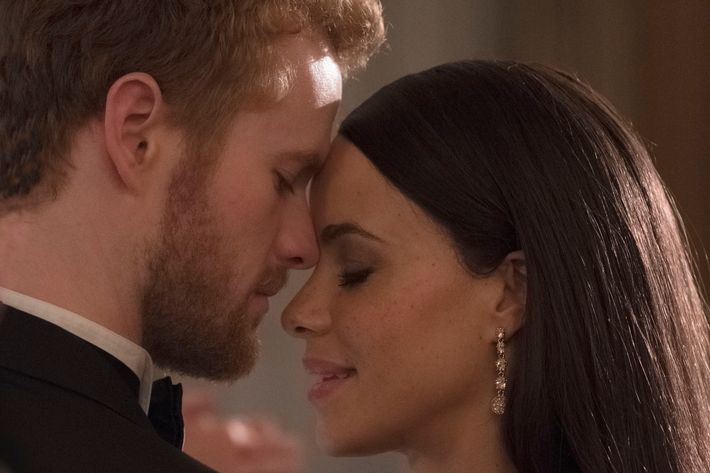 The our love can conquer anything shtick.
Fake Meghan: "I'm American, I'm from California, I'm divorced, and then I'm half black."
Fake Prince Harry: "I don't care about any of that."
Fake Meghan: "This can never be my world. It's just how things are."
Fake Prince Harry: "Let's fight how things are. If anyone can, it's you and me."
And then later in the movie …
Fake Prince Harry: "I don't need my life to be this perfect royal picture. I just need you."
Fake Kate Middleton as the voice of reason/ romance.
Throughout the movie, Fake Kate Middleton is Fake Meghan's biggest royal supporter who's not Fake Prince Harry. After Fake Prince Harry releases a statement about the harassment Fake Meghan has received, Fake Kate tells Fake Prince William, "Honestly, I think it might be the most romantic thing I've ever read."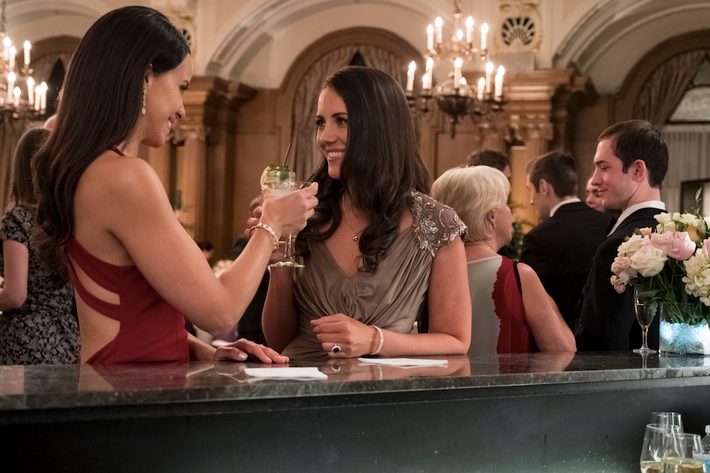 Fake Meghan encourages Fake Prince Harry to talk about his feelings.
Fake Meghan to Fake Prince Harry about his late mother: "You don't need to be strong with me. I know that your family is supposed to represent the strength and dignity of an entire nation …"
(The lion reappears and Fake Prince Harry sobs in Fake Meghan's arms.)
Fake Queen Elizabeth revealing a surprising detail about Fake Prince Harry's heritage.
To make Fake Meghan feel welcome into the Fake Family, Fake Queen Elizabeth takes her over to a portrait of Queen Charlotte at the palace. She then says, "I've always loved this portrait of our ancestor Queen Charlotte, because the painter, Ramsay, didn't try to hide her African heritage. Oh yes, you're of mixed race, Harry. So am I." Fake Meghan and Fake Prince Harry are amazed.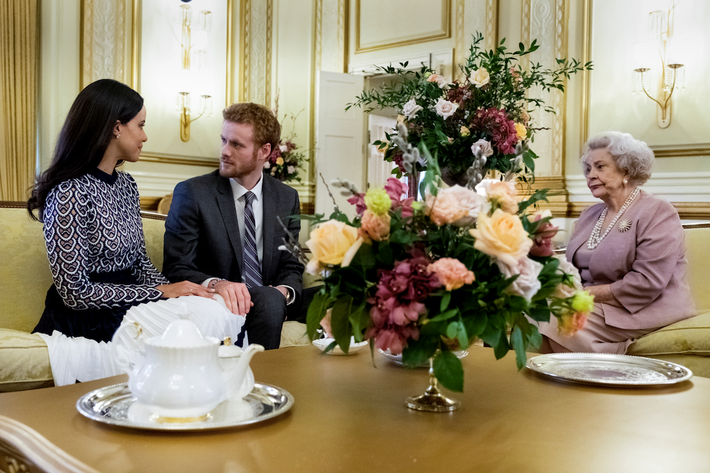 What a very Lifetime movie!