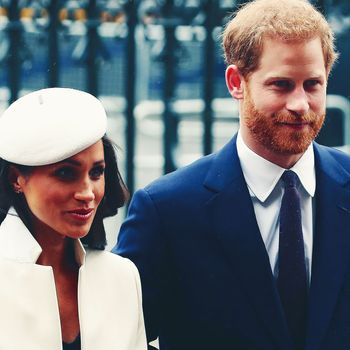 Meghan Markle and Prince Harry.
Photo: Daniel Leal-Olivas/AFP/Getty Images
As expected, Queen Elizabeth gave Prince Harry an official dukedom (of Sussex!) on Saturday, his royal wedding day to American/ Suits princess Meghan Markle.
According to a statement put out by Buckingham Palace, Prince Harry was actually given the royal title of Duke of Sussex, Earl of Dumbarton and Baron Kilkeel. The statement reads, "Prince Harry thus becomes His Royal Highness The Duke of Sussex, and Ms. Meghan Markle on marriage will become Her Royal Highness The Duchess of Sussex."
In case you're wondering (which I'm sure you are), a dukedom is often given as a wedding gift to senior males in the British royal family. As you'll recall, on the day he married Kate Middleton, Prince William became the Duke of Cambridge (and she, the Duchess of Cambridge). But picking the right dukedom can be tough (apparently). It can't already have a bad reputation (so the title of the Duke of Windsor is out, since that's what former King Edward VII became when he abdicated the throne to marry an American divorcée) and isn't already bestowed upon other living claimants.
So that's why bookies had been pretty sure that Sussex would be the chosen dukedom for the new couple. And according to the Guardian, Sussex is simply not controversial:
There has only been one previous Duke of Sussex: the eccentric Prince Augustus Frederick, the ninth child and sixth son of King George III. The title became free on his death in 1843 because, although he married twice, both happened without the king's consent, thus rendering his two children technically illegitimate. Previously and later, Sussex was an earldom.
Of course, this means that Meghan will be the first "official" Duchess of Sussex.
CNN also notes that the actual place of Sussex (in the U.K.) has its own dessert: a pudding made with a ton of butter. How fancy and nice for the happy couple.